The world's largest pension fund aims to boost and broaden its socially responsible assets after buying them for the first time this year.
Hiromichi Mizuno, who helps manage $1.3 trillion in assets for Japan's Government Pension Investment Fund as chief investment officer, said the fund wants to increase allocation to the point where it impacts results. For that to happen, GPIF President Norihiro Takahashi has said ESG assets should reach around 10 percent of its Japanese equity holdings, Mizuno said. GPIF announced last week that 3 percent of its domestic stock portfolio of 35 trillion yen ($310 billion) is in three environmental, social and governance (ESG) indices.
"Just 3 percent doesn't have much effect on our performance, there's no point unless it makes a difference on our performance from a fund manager's perspective," Mizuno said in a July 11 interview in Tokyo. "If you think about the holdings having an effect on our performance, 3 percent is just too small."
The monolith is balancing its desire to promote ESG awareness and disclosure with its fiduciary duty to keep returns from falling below the Topix index. GPIF's Japanese stock holdings returned almost 15 percent last fiscal year to outperform the benchmark by more than two percentage points. Total investment returned 5.9 percent in the best performance in two years, pushing total assets to a record 144.9 trillion yen.
Limiting ESG investing to Japanese equities would be "strange," though GPIF hasn't decided whether it will invest in indices or take a different approach such as buying ESG focused overseas funds, Mizuno said.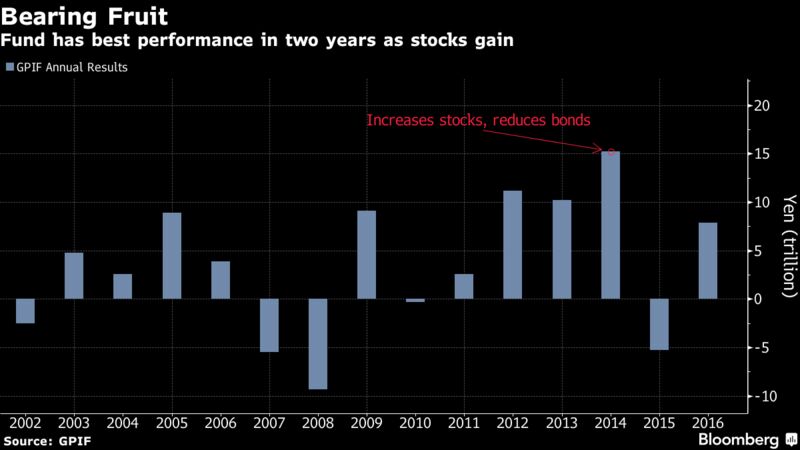 Among the biggest asset owners — funds that have more than $10 billion — almost 70 percent felt that ESG factors were important in determining long-term risk and should be taken into account in their investment strategy, Mark Makepeace, the London-based chief executive officer of FTSE Russell, said in a July 13 interview, citing a survey in June. The FTSE Blossom Japan Index, which facilitates ESG integration into passive investment strategies, was one of the indices picked by GPIF.
Wider Acceptance
"ESG investing has gone from being a sort of theme for retail investors to actually being adopted within the core portfolios of institutional investors," Makepeace said. "For institutional investors in the past, ESG was about engagement, getting companies to recognize the need for them to understand and improve their performance. Now it's gone beyond engagement."
Assets being professionally managed under sustainable investment strategies have increased 25 percent since 2014, totaling $22.9 trillion as of last year, according to The Global Sustainable Investment Alliance. Japan was the fastest growing region from 2014 to 2016 amid greater reporting and sustainable investing activity by institutional asset owners, the group said.
New Rules
Japan rewrote its rules for companies and investors under Prime Minister Shinzo Abe, aiming to make executives use cash hoards better for generating profits. Since a corporate governance code introduced in 2015, firms must appoint two independent directors or explain why they didn't.
GPIF has become a major leader among pension funds in the world not only in all aspects of social, environmental and corporate governance, but also gender equality, according to Henry Fernandez, MSCI's chief executive officer. The MSCI Japan Empowering Women Index, which aims to represent companies that maintain gender diversity, and the MSCI Japan ESG Select Leaders Index were the other two indices the fund picked.
"Societies have become very intolerant of a lack of governance in all of our institutions," Fernandez said in an interview in Tokyo on July 13. "This trend is big, and it'll get bigger because there will be more transparent information, especially through social media."
As a "universal" and long-term investor, minimizing so-called negative externalities isn't just about doing the right thing, it's also about protecting returns, according to Mizuno. If a company produces anything externally negative, that risk will be observed in another part of GPIF's portfolio, he said.
"We don't expect only smaller investors will follow our lead in ESG index investment," GPIF's Mizuno said. "We also expect all global peer asset owners to join us. The reason why is there's a global movement."
Also Read: 
Japan pension fund GPIF allocates $8.9b to ethical investments
Japanese pension fund Chikyoren places 5% limit for alternative assets
Bloomberg