With pent-up demand from 2016 and the challenges of an unpredictable U.S. administration ahead, companies seeking to get deals done kicked off this year with a bang.
Global M&A activity amounted to $224 billion in January, the highest volume since 2000 in the first month of the year, according to data compiled by Bloomberg. For the first time since 2008, Europe topped North America on the list of target regions, as firms from Swiss drugmaker Actelion Ltd. to Italian eyewear maker Luxottica Group SpA agreed to be bought.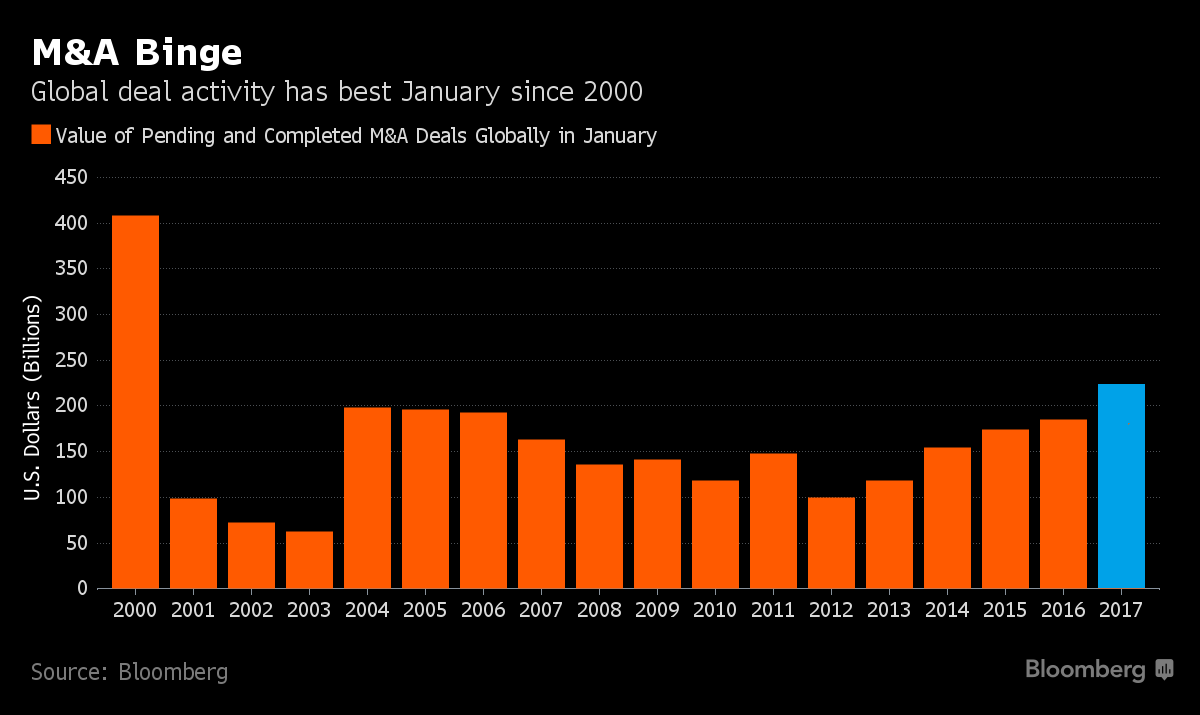 Pent-up demand from last year, when investors had to contend with volatile markets, and rising bond yields, which make debt financing for deals more expensive, have contributed to the surge, analysts say. But this January, investors have received an additional incentive: Donald Trump. While some speculate the U.S. president's appointment of a pro-business cabinet signals a deal-friendly approach, others note his repeated objection to the mega-merger between AT&T Inc. and Time Warner Inc. as cause for concern.
"There might be a sense of 'Let's get these deals done and dusted before Trump really gets into a stride,' " Jasper Lawler, a market analyst at London Capital Group, said by phone. "Stock markets are close to all-time highs, yields are slightly firmer and there is a general sense of confidence; at the same time, the Trump administration could be a bit more hostile to deals, if you go by some of the rhetoric in his campaign."
Trump's actions over the past week, including an executive order on immigration and the firing of the acting attorney general when she refused to defend it, have unnerved investors across markets. His recent decisions have dimmed the enthusiasm that had gripped investors since his election, with the most popular trades showing signs of fading.
"There might be unpredictable action of the kind we've seen over the past few days concentrated in the M&A space," according to Ken Odeluga, an analyst at brokerage firm City Index in London. "It makes sense for companies to rush through M&A activity at this stage because at some point, the administration will catch up."
Bloomberg