Goldman Sachs Group Inc. expects South Korean mergers and acquisitions to increase further after rising 60 percent this year as deal-makers flush with cash look for targets that are key parts of the global supply chain.
M&As involving Korean companies have totaled $92 billion so far in 2017, from $58 billion a year earlier, Bloomberg-compiled data show. Deals include Unilever's $2.7 billion purchase last month of Carver Korea Co., the maker of AHC skincare products, and SK Hynix Inc.'s participation in a group that acquired Toshiba Corp. in an $18 billion transaction.
"When assets around the world come up for sale, we receive numerous inquiries as to potential interest from Korean buyers," said David Chung, the head of Korea investment banking at Goldman Sachs, the top adviser on Korea M&As. "With the growth of its multinational conglomerates, interest from global and homegrown private equity funds and large sovereign wealth funds, the positive momentum around Korea-related M&A looks to continue."
There's plenty of cash to go around, with private equity managers sitting on more than $900 billion of dry powder, as they call money raised but not yet invested. Korean suppliers of finished products such as ships and smartphones along with vital components like displays and semiconductors are key targets.
Korean firms have lots of money to make acquisitions themselves, with companies in the Kospi index holding the equivalent of $220 billion of cash and cash equivalents on their balance sheets, Bloomberg-compiled data show.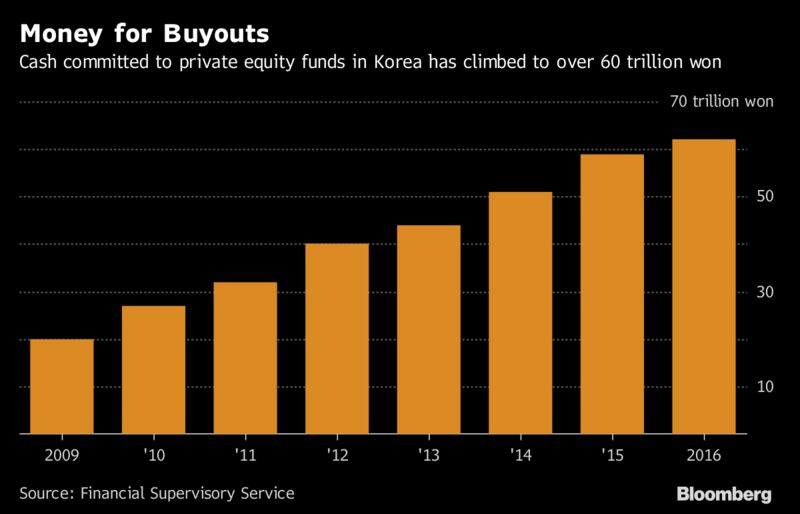 Korea's chipmakers including industry leaders Samsung Electronics Co. and SK Hynix produce almost two-thirds of the world's memory semiconductors. About 17 percent of Apple Inc.'s suppliers are from South Korea, according to Bloomberg-compiled data.
"Even if you look at solely the global IT sector, whether it be the likes of semiconductor chips and OLED screens, Korean firms are a vital part of the global manufacturing and supply food chain," Goldman's Chung said.
Goldman Sachs arranged deals with a total value of $25 billion this year, while Morgan Stanley ranked second with about $22 billion, Bloomberg-compiled data show. The deals Goldman Sachs arranged include those involving Carver Korea, Toshiba and Deasung Industrial Gases Co.
Unilever agreed in September to buy Carver Korea from shareholders including Goldman Sachs and Bain Capital Private Equity. Carver sells cosmetics products in countries such as Korea, China, Japan and the U.S.
The pipeline for deals is healthy. Lotte Shopping Co. is selling its Lotte Mart discount stores in China, while Korea Development Bank plans to receive initial bids by Nov. 13 to sell a 50.75 percent stake in Daewoo Engineering & Construction Co.
Cash committed to private equity funds in Korea has been increasing, coming to about 62.2 trillion won ($55 billion) as of end-2016, from 20 trillion won at the end of 2009, according to the Financial Supervisory Service. And there will likely be plenty of funds in the market seeking investment targets as the nation's population ages — the National Pension Service, the country's biggest retirement fund, manages more than 600 trillion won.
There have also been more so-called secondary buyouts, which are sales of companies from one private equity firm to another. An example is the purchase by Korea's biggest buyout firm MBK Partners Ltd. of Daesung Industrial Gases this year from a consortium including Daesung Group Holdings Co. and Goldman Sachs, in a $1.6 billion deal.
Korea's fundamentals also look good. The economy grew at the fastest pace since 2010 in the third quarter despite tensions in the peninsula, buoyed by exports and the government's supplementary budget. The Kospi index rose to a record high while the Korean won was the best-performing currency among Asian countries this month.
Samsung Electronics posted Tuesday its second straight quarter of record profit on a revived smartphone business and strong sales of chip and display components.
"Despite tensions, market indicators have held up reasonably well," said Goldman's Chung. "Over the past few years, we have seen a deepening of the Korean capital markets. This is evidenced by activities symbolizing further maturity of a market, such as more secondary buyouts and the emergence of asset securitization."
Also Read:
Korea's IMM Private Equity to acquire 60% of W Concept for $54.2m
S Korea's CJ Group said to be hunting down assets in U.S.
Bloomberg