Ezra Holdings Ltd., a Singapore-listed offshore services group, filed for bankruptcy in the U.S. after weeks of facing hostile actions from creditors at home and abroad as it struggles to recover from a slump in oil prices over the past three years.
Ezra and two affiliates, Ezra Marine Services Pte. Ltd. and EMAS IT Solutions Pte. Ltd., filed for Chapter 11 protection March 18 in U.S. Bankruptcy Court in White Plains, New York. Ezra listed consolidated long-term assets with a value of $1.3 billion and current assets of $623 million for the fiscal year ended Aug. 31, 2016, according to court papers.
The 20 largest creditors of Ezra without collateral securing their claims are owed about $607.6 million as of Feb. 28, according to court papers. DBS Group Holdings Ltd. and Oversea-Chinese Banking Corp. are the two biggest creditors listed in the filing, with unsecured claims amounting to more than $457 million. The two Singapore lenders were also listed as the biggest creditors of secured debt, with more than $94 million in claims.
"Suitable provisions" have been made for DBS's exposure, which the bank moved to classify as nonperforming in the third quarter of 2016, the lender said in an emailed response to a Bloomberg News query.
OCBC has pro-actively reviewed several related accounts for close monitoring, and made provisions for "potential further deterioration in the oil & gas portfolio," Koh Ching Ching, a spokeswoman for the bank, said in an email. The bank declined to comment on specific customer loans.
Company Restructuring
Ezra will hold an informal meeting as soon as "reasonably practicable" to update and provide further information on the Chapter 11 filing to holders of its debt, it said in a company statement. The company has also reached out to and intends to work with the Securities Investors Association (Singapore).
Ezra will carry out a "transparent restructuring process" under the supervision of the U.S. Bankruptcy Court, the company said in a statement to the Singapore exchange.
"The Ezra Chapter 11 filing is intended to optimize the scope and extent of the restructuring options available and to protect the interests of all stakeholders of the company, including its creditors and shareholders, from hostile actions that could harm the company and its stakeholders by diminishing the group's value," according to the statement.
Ezra's S$150 million 4.875 percent 2018 notes were indicated at 5 cents on the dollar on March 20, according to DBS Group Holdings prices, versus 30 cents at the start of the year. Six companies have defaulted on S$1.2 billion worth of notes since November 2015, the worst distress in the local junk bond market since 2009.
Stock Plunges
Shares of Ezra have fallen 78 percent this year, the worst among Singapore-listed companies in total return. That followed declines of more than 50 percent in each of the past three years. The stock has been halted from trading since March 15, and the company reiterated the suspension in a statement to the Singapore Exchange on Monday following its bankruptcy filing.
A S$2 billion ($1.4 billion) company at its peak a decade ago, Ezra's market value has shrunk to about S$32 million. The fallout may spread to other sectors related to the offshore and marine services company.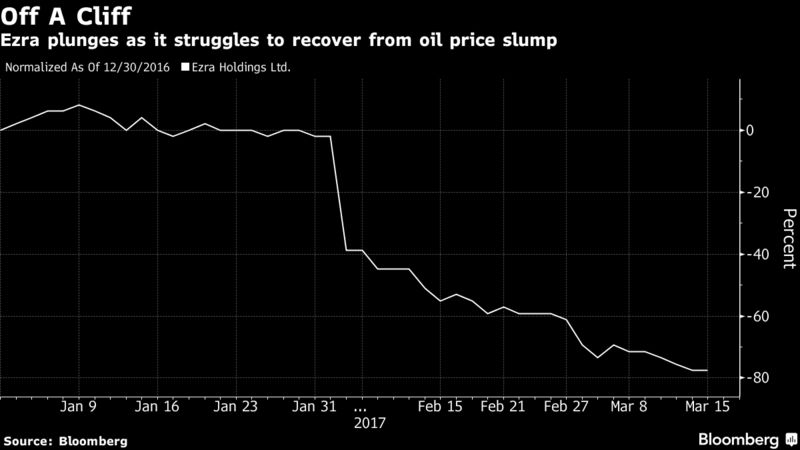 "The prolonged deterioration of the financial performance of Ezra's business divisions and the inability to carry out fundraising in the oil and gas industry resulted in Ezra facing a cash crunch and an inability to pay their debts as they come due," Robin Chiu, Ezra's chief restructuring officer, said in court papers. The group which incurred expenses, including administrative expenses of more than $835 million, had a net loss from continuing business operations of about $850 million for fiscal year ended August 31, 2016, Chiu said.
Knee-Jerk Reaction
"Offshore and marine companies and banks would be negatively affected by this development. No one knows if they have fully provided for Ezra," Foo Zhiwei, an analyst at UOB Kay Hian Pte. in Singapore, said by telephone after the filing was released. "There would be a knee-jerk reaction in the shares of Ezra and related sectors."
Ezra last published its earnings in November, when losses widened to $339.6 million for the quarter ended Aug. 31 from $7.8 million a year earlier. It listed about $623 million of total assets and $1.51 billion of total liabilities. The group hasn't disclosed earnings for the quarter ended Nov. 30. It has requested a time extension while it seeks to consolidate funding requirements.
The latest filing adds to the troubles faced by offshore oil and gas services companies in Singapore whose contracts have been pushed back or canceled as a slide in crude prices forced explorers to cut spending. Swiber Holdings Ltd. and Swissco Holdings Ltd. earlier won court approval to reorganize their debt, while others like Ezion Holdings Ltd. and KrisEnergy Ltd. sought and won forbearance from creditors and lenders.
"Shareholders will get wiped out," Joel Ng, an analyst at KGI Securities Pte. in Singapore, said by phone. "Bondholders will take a haircut or get converted into equity."
Ezra Group Distress Deepens With Refinancing Delays at EMAS Unit
Ezra, founded in 1992, offers seabed-to-surface engineering, shipbuilding, marine and production services to oil and gas companies.
In late February, Ezra and its Japanese partners Chiyoda Corp. and Nippon Yusen KK placed their EMAS Chiyoda Subsea Ltd. venture under bankruptcy in Texas, owing creditors about $966 million, according to court papers filed in Houston. Ezra owns 40 percent of EMAS, Chiyoda 35 percent, and Nippon Yusen Kabushiki 25 percent, according to court records.
The move came after Ezra said Feb. 3 that it faced a $170 million writedown for amounts owed by the venture, and also flagged the possibility of a "going concern issue" if its restructuring wasn't favorably completed. Ezra said at the time it will continue to work with advisers to review all options to restructure its businesses, operations and balance sheet.
Payments Demand
The group has since received demands for payments from trade creditors, including from Forland Subsea AS for chartering a vessel, and from VT Halter Marine for a loan agreement.
Ezra had $655.3 million of short-term bank loans due within a year on its balance sheet on Aug. 31, according to its latest accounts. It also had $321.6 million in bills payable to banks due within a year. Cash and equivalents at Ezra fell to $34 million from $378 million a year earlier, the data show.
"It will be interesting to see who would be the new owners of Ezra and its assets because banks will take control of it for now," said KGI's Ng. "It won't be as impactful as Swiber, as market has had time to digest."
The case is In re Ezra Holdings Limited, 17-22405, U.S. Bankruptcy Court, Southern District of New York (White Plains).
(By Ranjeetha Pakiam , Abhishek Vishnoi , and David Yong)
Also Read: SGX-listed Ezra Holdings may relook investments in Malaysia's Perisai Petroleum
SG Dealbook: UMS invests in Malaysia's ASF; Ezra in JV with Japan's Chiyoda