Asia outpaced the rest of the world in terms of the proportion of chairwomen among total senior employees in private equity (PE) and venture capital (VC), according to Preqin's Women in Alternatives 2023 report. 
The chair, often referred to as chairman, or, very rarely, chairwoman, is one of the senior roles which is least likely to be filled by women. Across all alternative asset classes apart from hedge funds, it is the senior role with the lowest proportion of women, the report found.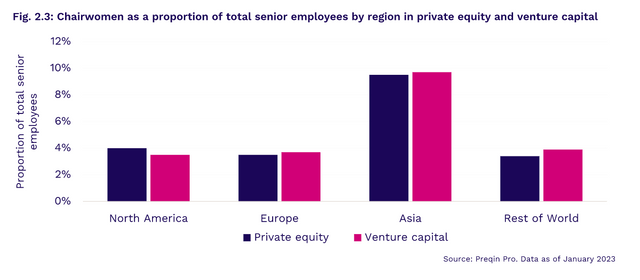 At the general partner (GP) level, Hong Kong leads with the highest proportion of women in senior roles, at 17.3%. It was the only Asian region to be on the list. In hedge funds, Asia has the highest percentage of women holding the position of chief operating officer in the world at 30.3%. Likewise, the position of chief financial officer is also occupied by a relatively high percentage of women in Asia at 29.5%.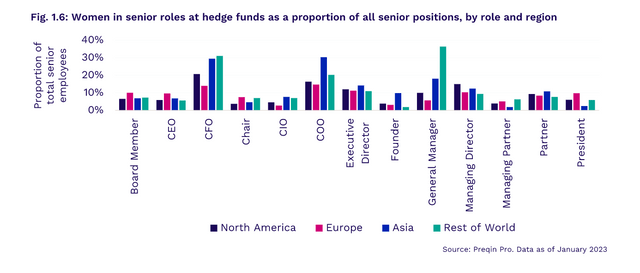 Gender inequality, however, continues to run through the VC ecosystem. According to Preqin data, women make up only 23.8% of the employees in VC firms as of January 2023. In a study on the top 10 locations by aggregate capital raised, Preqin found that China and Hong Kong ranked first and second respectively for the number of senior female employees at VC fund managers as a proportion of total senior employees. India, South Korea, and Japan ranked 7, 9 and 10 respectively among the mature VC markets.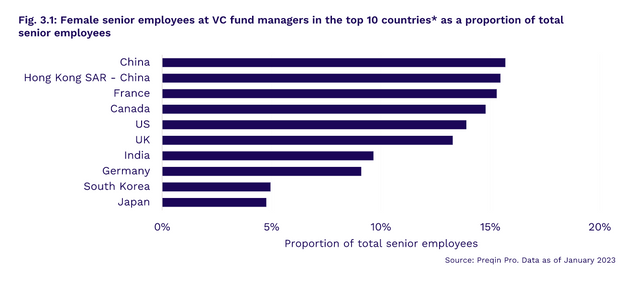 In terms of fundraising, startups founded or co-founded by women in India garnered about $3.46 billion in funding in 2022, accounting for nearly 13% of the total private capital raised by startups during the year, according to DealStreetAsia's Female Founders in India 2022 report. Funding for female-founded startups dropped 48% from the previous year. 
Meanwhile in Southeast Asia, female-founded startups garnered about $2 billion in equity funding in 2022, according to DealStreetAsia's Female Founders in SEA 2022 report, accounting for nearly 12.6% of the total capital raised by startups throughout the year, and 32% drop from the previous year. 
While the female startup fundraising numbers declined from the previous year, it is important to note that fundraising across the board was down as global markets were hit with uncertainty and instability in 2022.
However, some improvements were seen in the landscape. Fundraising by startups founded solely by women in India and SE Asia improved their share of total capital raised, according to the DealStreetAsia reports.
Regionally, North America has the highest proportion of women working in alternatives, per the Preqin report — they represent 22.3% of the alternatives workforce, while Europe comes in at a close second with 20.9% and Asia is not far behind with 20%.
Overall, women's progress in entering the alternative assets industry continues but it is still marginal. The number of women working in the industry went up to 21.3% from 20.9% the previous year.