An analysis of the top 20 equity deals in Southeast Asia in the first quarter of 2023 shows that big-ticket funding transactions are becoming scarcer—a sign of waning investor confidence amid the uncertain economic climate.
Of the 195 funding transactions in the region in Jan-March, only five deals were valued north of $50 million, according to the SE Asia Deal Review: Q1 2023 report by DealStreetAsia DATA VANTAGE. This is a 75% fall from Q1 2022 when there were 20 such deals in the region.
There were also only four deals worth over $100 million in Q1 2023, as opposed to eight such deals in the year-ago quarter.
The size of the biggest transaction, too, dipped in the period. Flash Express's $447 million Series F round was the largest in Q1 2023. In the year-ago quarter, Princeton Digital Group had raised $500 million in a private equity transaction.
The top twenty fundraisings had an average ticket size of $77 million in the latest quarter, down 43% from $135.2 million in Q1 2022.
Deal sizes shrink across stages
From early to late stages, deal sizes shrunk across the board as the startup funding winter showed no sign of letting up, said the report.
In particular, there was a significant year-on-year drop of 69% in the number of deals worth between $2 million and $5 million to 23 in the third quarter. The number of deals worth below $1 million also fell to 24 from 51 a year ago.
These factors may help explain why there was a drop in the median value of seed rounds in Q1 2023, compared with the previous quarter. "The median value of seed rounds in the past three quarters suggests that valuations have come down for Southeast Asian startups," said the report.
Unlike seed deals, the median value of Series A and Series B funding rounds showed some stability in Q1, following notable corrections in the second half of last year. "Although inconclusive, this may indicate price stabilisation for Series A and B investments. Price corrections for Series C rounds, however, may still be ongoing. The median value for these rounds stood at $30 million in Q1, down from $38.8 million in Q4 2022 and $80 million a year ago," the report added.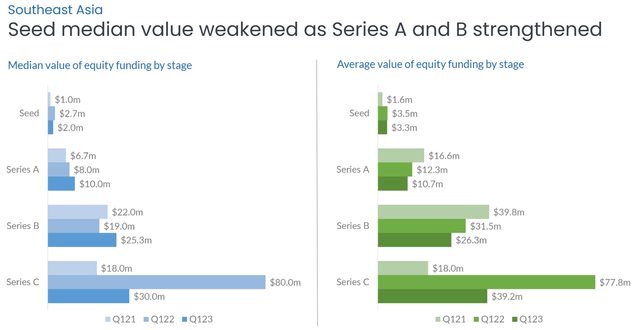 Strong appetite for seed rounds
Despite the fall in their median value, investors' appetite for seed-stage startups was relatively resilient in Q1 2023. A total of 75 seed rounds were sealed in the quarter, up from 60 in the previous quarter. While it was still lower than the historical peak of 128 seen in Q1 2022, the number of seed rounds in the first quarter remained above the annual quarterly average in 2021 and prior.
Also noteworthy is that the number of Series A deals continued to fall since its peak in Q3 2021. There were only 22 Series A rounds in the first quarter of this year—the lowest in three years. Separately, only seven Series B funding rounds were recorded in Q1, down from 15 in Q4 2022 and a sharp drop from the historical peak of 32 in Q1 2022.
Fund managers who were interviewed for the report expect the ongoing "winter sentiment" in Southeast Asia's venture capital industry to continue into 2024.
"Across the board, deal volume is down as a whole. There are fewer growth-stage and late-stage rounds and a particular dearth of mega-rounds. All indications point to this winter as a symptom of an overarching 'fear cycle'," said Eddy Chan, founding partner, Intudo Ventures.
---