AcadArena, a campus gaming startup based in the Philippines, allocated Series A shares worth $7.5 million last week to Blockchain Capital, Kingsway Capital, Hustle Fund and other investors.
Series A lead investor Blockchain Capital provided $5.15 million in fresh funding, while Spartan Group contributed $500k, according to the Philippine firm's filings with Singapore's Accounting and Corporate Regulatory Authority (ACRA).
ACRA filings only reflect the equity funding received so far by a company. The round could be larger and have other components such as debt.
AcadArena had last announced a $3.5 million seed round in Dec 2021.
Top shareholders in AcadArena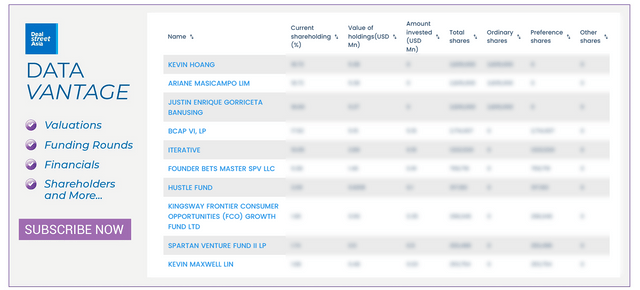 Vietnamese e-commerce company Tiki reported a net loss of $116.25 million for the financial year ended March 31, 2022. Its revenue for the period stood at $197.9 million.
As of March 31, 2022, its current and total liabilities exceeded its total assets by $168.9 million. Its cash and cash equivalents stood at $59.26 million as of November 30 last year. According to its regulatory filing, Tiki's directors believe the available cash balances are sufficient to execute operating plans and strategies and meet working capital requirements for at least 12 months from the date of issuance of its financial statements.
In addition, the company plans to continue "exploring public or private equity financings, debt financings or other capital sources, potential collaborations with other companies or other strategic transactions to fund future operations".
Other updates from DATA VANTAGE
Doctor Anywhere received $8.17 million last week from Asia Partners and Parkway Holdings as part of its Series C1 round announced in December. The round was led by life sciences investor Novo Holdings and backed by existing shareholders, including Kamet Capital, Square Peg and EDBI.
Singapore-based food delivery platform foodpanda received $5.5 million from parent Delivery Hero last week. The unit had secured $34.1 million in funding from its parent company last year.
Singapore-headquartered fintech startup iLex, which builds and operates public and private market infrastructure for syndicated loan and private debt markets, issued shares worth $4.25 million last week. Recipients include QBN Capital, iLex founder and CEO Bertrand Billon, and Christian-Laurent Bonte.
Gaming and eSports company RSG received $600k from Tembusu Partners and other investors last week. The startup has now raised $1.7 million since April 2022 as part of the same round.
Data analytics company Handshakes received a little over $773k from individual investors last week. It had last raised $1.5 million from S&P Global in August 2o22.
Ayurveda startup NirogStreet received $10k from DoorDash's Gokul Rajaram as part of its Series B funding. The round comprises $6.8 million in fresh equity funding and Series B shares worth $4.76 million allotted to convertible noteholders.