Indonesian aquatech firm eFishery is in advanced talks to raise around $100 million in a fresh funding round led by the UAE-based G42 Global Expansion Fund (42XFund), a source familiar with the talks told DealStreetAsia.
The 42XFund is a partnership between the Artificial Intelligence (AI) firm G42 and the Abu Dhabi Growth Fund. It operates as a PE fund and has $10 billion in committed capital and a team of professionals based in the UAE, Shanghai, Singapore and Jakarta, according to its website.
Bloomberg was the first to report on Wednesday that 42XFund is in talks to lead a funding round in eFishery at a unicorn valuation of $1.2 billion.
However, DealStreetAsia was the first to report, in March, that eFishery is set to become a unicorn. At the time, the startup was in talks to raise $150 million in a funding round led by Malaysia's sovereign wealth fund Khazanah Nasional Berhad. While the wealth fund did not participate in this funding, it could still join at a later tranche of the round, the source quoted above said.
DealStreetAsia has reached out to 42X Fund for comment.
Despite the so-called funding winter for tech firms, eFishery has been able to garner both venture capital funding as well as bank loans to fuel its growth plans that include exploring markets outside Indonesia.
eFishery's last major round was closed in January 2022 when it raised $90 million in a Series C round co-led by Singapore state investor Temasek, SoftBank Vision Fund 2, and Sequoia Capital India. Existing investors including the Northstar Group, Go-Ventures, Aqua-Spark, and Wavemaker Partners also participated in the round.
The aquatech firm raised an undisclosed amount in its Series B round in August 2020, co-led by Northstar Group and Go-Ventures, with the participation of Aqua-Spark and Wavemaker Partners.
Aqua-Spark, The Northstar Group, Wavemaker Partners, and Go-Ventures are the top institutional shareholders in the firm, according to DealStreetAsia – DATA VANTAGE.
eFishery's top shareholders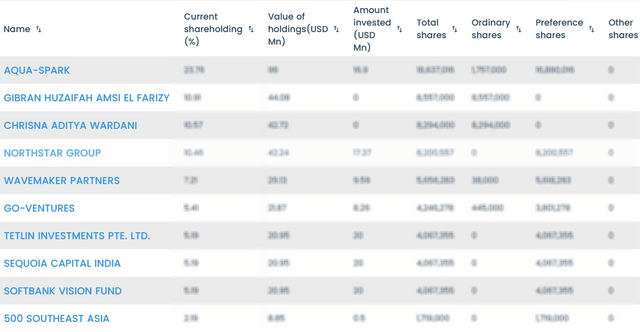 Founded in 2013, eFishery caters to nearly 100,000 farmers who work across 270,000 ponds, selling up to 12,000 tonnes of fish every month. The farmers currently export their produce to China, Japan, Korea, and several countries in the Middle East.
The company is planning to double down on the US market as it looks to significantly ramp up the export contribution to its top line.