Sequoia- and Tiger Global-backed GoMechanic has laid off 70% of its employees, as the automotive repair firm struggles to raise funds and admitted to making "grave errors in financial reporting".
According to The Morning Context, the firm has asked the remaining employees to work without pay for three months.
The company's founder Amit Bhasin on Wednesday took to LinkedIn and said the company's leadership "got carried away" in following the path to growing at all costs and that "took the better of us and we made grave errors in judgement, particularly in regard to financial reporting".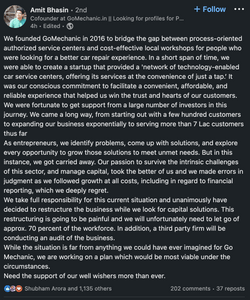 Founded in 2016 by Kushal Karwa, Amit Bhasin, Rishabh Karwa, and Nitin Rana, GoMechanic is a network of tech-enabled car service centres. Currently, GoMechanic has over 800 car repair workshops across 35 cities in India, including Delhi-NCR, Hyderabad, Mumbai, Pune, Bengaluru, Chennai, and Kolkata.
Bhasin in his LinkedIn post, mentioned that a third-party firm will be conducting an audit of the business. According to a Bloomberg report citing an EY research, about 60 of the more than 1,000 GoMechanic service centres may have violated accounting norms to overstate revenue and divert funds.
Bhasin also said that the company will seek "capital solutions".
Reuters in September reported that SoftBank Group was in talks to invest $35 million in GoMechanic. However, no such deal has been reported since then. According to media reports, the firm was valued at $300 million last year.
After fintech BharatPe, Singapore's Zililngo and social commerce startup Trell, GoMechanic is the fourth Sequoia-backed firm to have been caught in the crosshairs of financial irregularities. Sequoia did not immediately respond to a request for comment by DealStreetAsia.
According to Traxcn, Sequoia has a roughly 27% stake in GoMechanic, followed by the founders' 25.5% stake, 17% is held by Orios Venture Partners and 10% by Tiger Global.