Dealmaking by private market investors in Greater China remained elevated in the third quarter of 2023, in sharp contrast to other emerging Asian markets, including India and Southeast Asia.
Startups headquartered in mainland China, Hong Kong, Taiwan, and Macau sealed 670 deals in Q3, marking the second-most active quarter since DealStreetAsia started tracking private market investments in the region in October 2019.
Deal volume previously exceeded this level only in Q3 2022 when 690 transactions were recorded, according to DealStreetAsia DATA VANTAGE's latest report Greater China Deal Review: Q3 2023.
August, in particular, saw the completion of 257 deals, which was on par with the record-high dealmaking seen in August 2022.
A total of $14.1 billion was raised by the region's startups in the July-September period, up 28.5% from the previous quarter. The fundraising was only marginally (-6.7%) down from year-ago levels when $15.1 billion was raised, but is nowhere close to the levels seen in Q3 2021 when over $23 billion was raised by Greater China startups.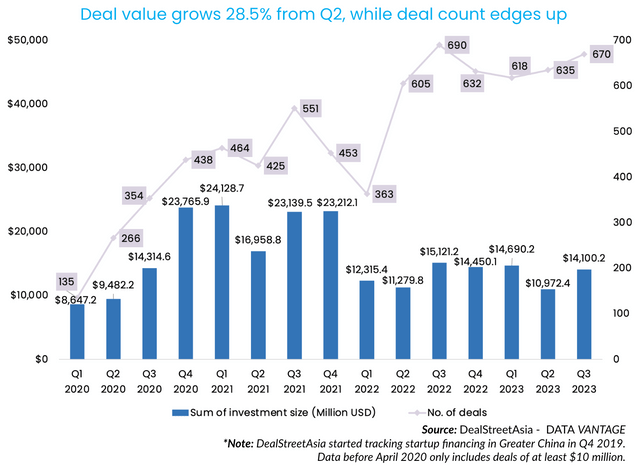 The robust Q3 numbers have put this year on track to beat 2022's performance.
The first nine months of 2023 (9M 2023) saw 1,923 deals secure a combined $39.8 billion, versus 1,658 deals that raised $38.7 billion during the same period of 2022. For all of last year, Greater China startups completed 2,290 deals raising $53.2 billion in total.
This suggests 75% of 2022's total fundraising has already been raised by startups so far this year.
There may still be room for fundraising growth, as more government-driven, RMB-denominated dry powder piles into the venture market for backing domestic startups in the face of continued geopolitical tensions.
"We have identified areas that we can invest in, which are not national security concerns. Our feeling is that the areas [that concern national security] are well-defined. So the playing field for us as a Europe-based investor or global investor in China is clear," said Alexander Kremer, partner and head of China, Picus Capital.
Green vehicle and chip ambitions drive big-sized dealmaking
Big-cheque investments lifted the fundraising sum in Q3 amid investor enthusiasm for startups promoting the development of green vehicles and semiconductors in China.
The third quarter clocked 25 megadeals, which are defined as investments worth at least $100 million. These megadeals raked in more than $8.6 billion, accounting for 61.3% of the quarter's fundraising total.
Shanghai-based automotive chipmaker GTA Semiconductor and ROX Motor, a Tencent-backed smart car developer, were the two biggest fundraisers in Q3 securing close to $1.9 billion and $1 billion, respectively. 
There were another three $500 million-plus deals by electric vehicle (EV) maker Hozon New Energy Automobile; energy storage firm Hithium; and Geely-owned electric and hybrid truck maker Farizon. In Q2, there was only one deal in the $500 million-1 billion bracket.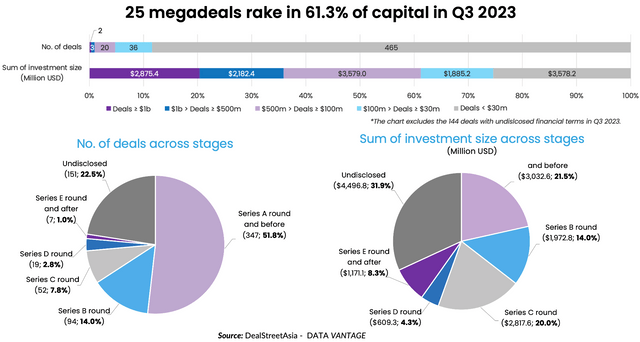 Early-stage investments continued to dominate the fundraising scene as a cooling IPO market deterred late-stage investments. Series A and earlier stages saw the completion of 347 deals, or 51.8% of the Q3 deal count. The over-$3 billion proceeds raised at the early funding stages accounted for 21.5% of the quarter's total.
The preference for early-stage financing is a reflection of tighter liquidity and a sluggish stock market. The number of venture-backed IPOs by Chinese firms globally dropped 13.3% YoY to 216 in the first nine months of 2023. IPO proceeds totalled 250.2 billion yuan ($34.2 billion), down 27.6% year-on-year (YoY), according to market researcher Zero2IPO Group.
Investors' appetite for new equities in near-IPO projects will likely be limited in the next quarter. We can expect more stringent due diligence on the fundamentals and financial health of potential targets.
Q3 was the worst quarter this year for Greater China IPOs
Although dealmaking was strong, Q3 was by far the worst quarter this year for public listings for Greater China firms. 
Only 77 companies went public in the past quarter, down 18.9% from Q2. The total IPO proceeds of $12.4 billion marked a 35.5% fall from the earlier quarter, according to DealStreetAsia's analysis of Dealogic data.
Traditional IPOs continued in Q3, but there were no SPAC or secondary listings. Furthermore, only one Chinese firm went ahead with a US IPO in the quarter, putting in question the attractiveness of Wall Street listings even after greater clarity over cross-border listing regulations.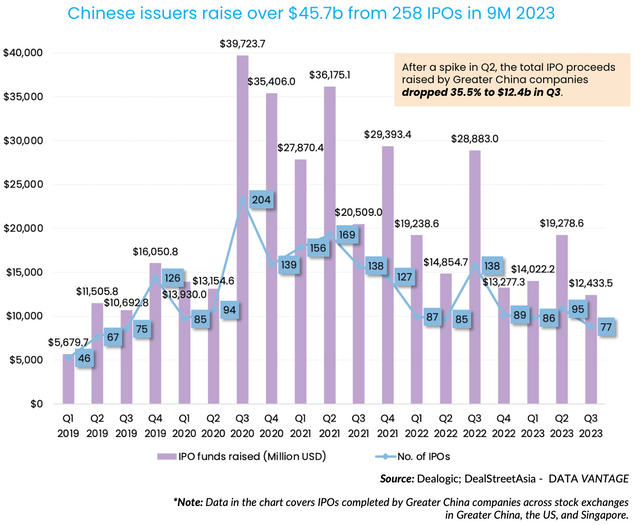 IPO activities by Greater China firms in the first nine months of 2023 remained slow. The total IPO proceeds of $45.7 billion marked a 27.4% drop from the same period last year, while the IPO count of 258 was down 16.8% YoY. The high-interest rate environment and slowing economic growth could continue to block Chinese IPOs in the near future.
---
The Greater China Deal Review: Q3 2023 report has extensive data on:
Quarterly and monthly startup fundraising trends
Top deals of Q3 2023
Most popular industries for venture investors
Top IPOs by Greater China firms in 9M 2023
Insights from prominent China-focused investors
The report is available exclusively to DealStreetAsia–DATA VANTAGE subscribers. Subscribe/upgrade your subscription now to access our entire set of reports. Still not sure? Opt for a one-month trial for only $208.