Indian startups raised $3.8 billion in funding in the fourth quarter (Q4) of 2022, registering a quarter-on-quarter growth of 20% despite the ongoing funding winter, show data from DealStreetAsia DATA VANTAGE's latest report India Deal Review: Q4 2022.
The increase came despite an 8% fall in deal volume — 317 in Q4 vs 345 in Q3 — suggesting big-ticket megadeals and late-stage deals shored up fundraising.
Despite the sequential growth in startup funding — the first after four consecutive quarters of decline — the capital raised in Q4 was nowhere near the levels seen in 2021 or even Q1 and Q2 of 2022. Indian startups had raised $12 billion and $7.5 billion in the first and second quarters of 2022, respectively.
On a year-on-year basis, the deal value fell 72% from the $13.7 billion raised in Q4 2021. Deal count, too, was down 39% from 514 in the year-ago quarter.
PE-VC fundraising by India's startups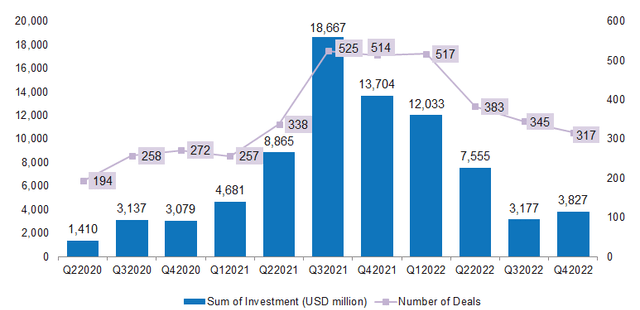 For the entire 2022, startup fundraising stood at $26.5 billion, down sharply (-42%) from the $46 billion raised in 2021.
While 2022 started on a strong footing with more funds raised in H1 than in the year-ago period, the momentum fizzled out in H2. The third quarter of 2022, in particular, was the weakest period for fundraising in the last eight quarters.
"Any sector or business model that relies on regular capital infusions for survival will find it extremely hard to raise in the near future," said Siddarth Pai, founding partner, 3one4 Capital.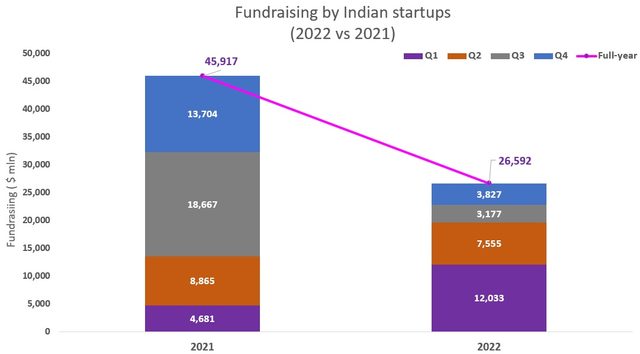 Deal volume, though, was relatively unscathed — 1,562 in 2022 vs 1,634 in 2021 (down 4%). Deal volume in the first nine months of 2022 had exceeded that in the year-ago period, but a weak Q4 led to the fall in annual dealmaking activity. The December quarter witnessed the weakest deal volume in the last seven quarters.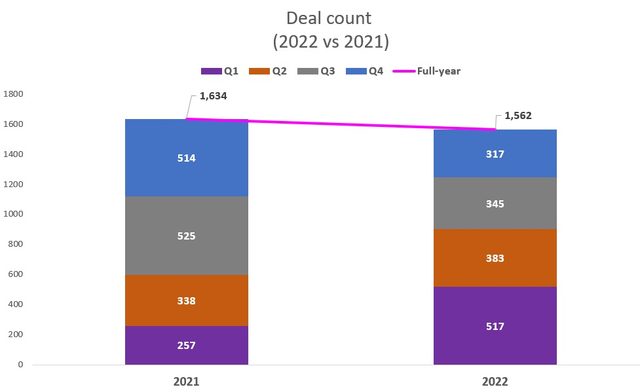 A sharp fall in fundraising in 2022 even as deal volume held up suggests dealmaking activity has not frozen but investors are writing smaller cheques in earlier stage deals.
"Late-stage investments are unlikely to come back to 2021 levels anytime soon. Early-stage deals seem to be picking up quicker but there has also been some rationalisation in valuation. On the flipside, VCs have raised record amounts of capital and there will be pressure to deploy. We may see the thawing of the funding winter in 2023, especially in the early stages," said Pratip Mazumdar, co-founder & partner, Inflexor Ventures.
Megadeals shore up Q4 fundraising
The rebound in startup fundraising in Q4 2022 was partly on account of the uptick in megadeals, or deals worth at least $100 million. There were seven mega deals that cumulatively raised $1.05 billion — up 68% QoQ. The megadeals accounted for 28% of Q4's total deal value, up from 19.6% in Q3.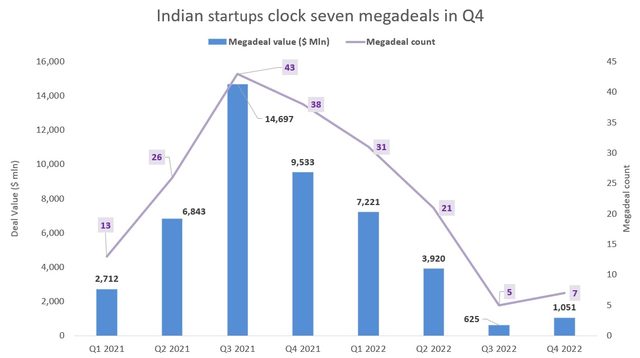 The $250-million funding round of BYJU's from existing investors, including the Qatar Investment Authority, was the biggest fundraise of Q4. The edtech decacorn was also the top startup fundraiser of 2022 amassing $1.05 billion from two deals.
Meanwhile, Dailyhunt's parent VerSe Innovation's $805-million round was the biggest single round raised by a startup during the year.
Oct-Dec was also the first time in many quarters that India did not produce a single unicorn. Only 23 unicorns were minted in the whole of 2022 as against 45 in 2021.
Fundraising by industry
Software pipped financial services to emerge as the most funded industry in Q4. Software startups raised $697 million in Oct-Dec from 62 deals, compared with $512 million from 54 deals in the previous quarter.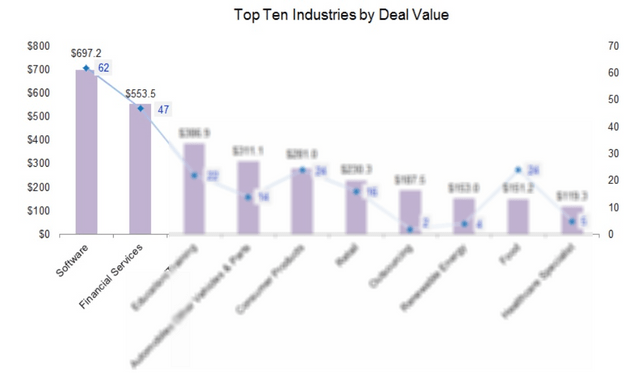 Funding by stage
Q4 proved to be a breather month for growth-stage startups. Growth-stage deals — or investments at the Series B stage and later (including private equity) — accumulated $1.92 billion across 51 transactions. This marks a growth of about 6% over Q3.
Bengaluru, Mumbai, and Gurugram were the top three destinations for venture investments in India in Q4. The three startup hubs together closed 207 transactions worth $2.8 billion.
According to industry experts, the first half of 2023 will closely resemble 2022 as the macroeconomic headwinds —higher interest rates, the Russia-Ukraine war etc.  — have not abated yet. 
---

The India Deal Review: Q4 2022 report covers fundraising by startups in the region in the fourth quarter and full year 2022, with extensive data on:
Top deals of Q4 2022 and full year 2022

Top sectors by fundraising

Most active investors in Q4

Insights from prominent investors

The report is available exclusively to DealStreetAsia – Professional subscribers. Subscribe/upgrade your subscription now to access our entire set of reports. Still not sure? Opt for a one-month trial for only $208.