In the past 2-3 years, Indonesia has witnessed the launch of a number of standalone digital banks, which have been born out of e-commerce, ride-hailing, and fintech players.
There are currently around 20 new digital banks in Indonesia launched over the past two years, according to DealStreetAsia DATA VANTAGE's report Indonesian Digital Banks: The Emergence of a New Order.
Most of the digital banks have also managed to fulfil the minimum capital requirement of 3 trillion rupiah by end-FY2022, the report added.
The most successful banks in terms of customer numbers are Bank Neo Commerce, Bank Jago, and SeaBank Indonesia, as well as early starter Jenius, which is owned by Bank Tabungan Pensiunan Nasional.
These four banks along with Allo Bank and Super Bank (Bank Fama) can be seen as the potential front runners in the race for growth, according to the report.
Here's a low-down on some of them:
Bank Jago
Bank Jago is backed by the IDX-listed tech giant GoTo. It has recorded a profit for the past four quarters. Bank Jago booked a net profit of 15 billion rupiah in Q3 2022 versus a loss in Q1 2021, and a surprisingly high CASA ratio of 71% in the quarter.
Bank Jago's KYC'ed customers reached more than 4.2 million by the end of September 2022, a growth of more than 200% from 1.4 million at the end of FY2021.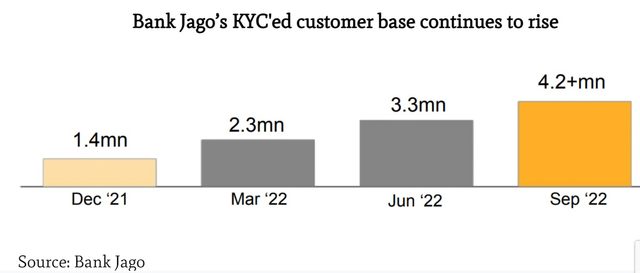 Bank Jago's CASA surged over 433% YoY to 5.2 trillion rupiah. The ratio of CASA to total third-party funds reached 71% in the nine months of 2022, which helped the bank keep its cost of funds relatively low at 2%.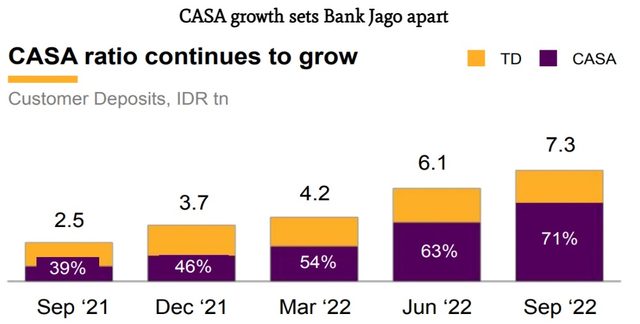 "Bank Jago has only just scratched the surface of the GoTo ecosystem, which includes 2.5 million drivers, 800,000 sellers on Gojek, 11 million merchants on Tokopedia, and 100 million monthly active users. This has the potential to fuel future growth," the report stated.
Bank Neo Commerce
Bank Neo Commerce started operations in only March 2021, but has been incredibly successful in garnering new customers and deposits. It had 19.8 million users by the end of Q3 2022 versus 8.2 million at the end of Q3 2021, representing a 1.4x YoY increase in users.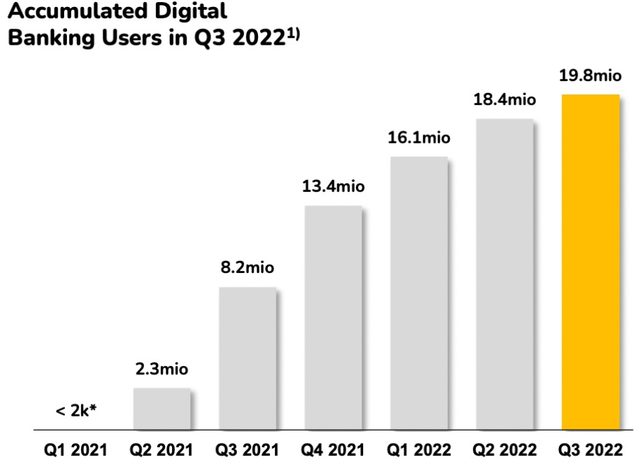 The bank has been making losses but made a small profit in Q3 2022. "Of late, it has been much more focused on profitability versus growth, judging from the comments from its management and the fact that it is no longer offering time deposit rates above 3.5%," according to the DATA VANTAGE report.
SeaBank Indonesia
SeaBank Indonesia (previously Bank BKE) is owned by Sea Ltd and is directly plugged into the platform's ecosystem, most importantly Shopee, giving the bank access to the large number of merchants and consumers in Indonesia.
"Of all the existing Indonesian digital banks, SeaBank Indonesia has seen one of the strongest credit growth along with robust growth in third-party funds. The bank continues to offer attractive deposit rates of 7%, which has played a large part in attracting customers, while its peers have pulled back from this strategy," the report says.
Bank Rakyat Indo Agroniaga
Bank Rakyat Indo Agroniaga, which was earlier largely a rural bank, has been relabelled as Bank Rakyat Indonesia's standalone digital bank. The bank is already profitable and well-capitalised.
"Bank Rakyat Indo Agroniaga is also developing a BRI Agro digital saving technology that uses facial recognition and is in the process of allowing transactions using QR codes. It has the potential to plug into the Bank Rakyat Indonesia ecosystem of 150 million depositors to attract customers," according to the report.
Allo Bank Indonesia
Allo Bank Indonesia, officially launched in May 2022, is owned by CT Group and Bukalapak, with other shareholders including Salim Group, Grab, Carro, and Traveloka adding to the mix. "This represents a rich ecosystem that already reaches over 100 million customers and therefore has the potential to be a leader in the digital banking race," according to the report.
Traditional banks enter modern banking
One should also consider the rapid progress that mainstream banks in Indonesia have made in rolling out their own digital products, according to the report.
The big four banks in Indonesia have not only succeeded in converting existing customers but also in bringing new consumers on board through mobile banking. Bank Central Asia, for instance, is a great example here. BCA mobile banking transactions has risen by 2.4x over the last two years, while the number of mobile banking users has risen by 3.5x over the past four years.
Bank Mandiri, too, has seen its Livin' app take over transaction numbers for the bank.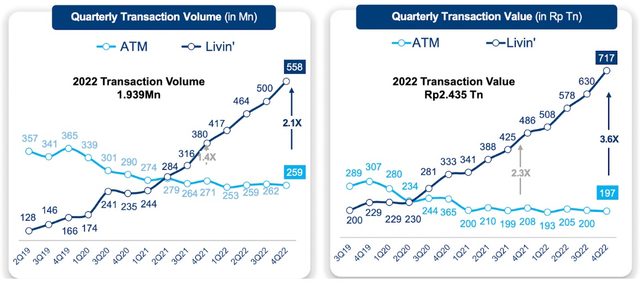 The existing banks also have a significantly lower cost of funds compared with the newer digital banks
---
The Indonesian Digital Banks: The Emergence of a New Order report is available exclusively to DealStreetAsia–Professional subscribers. Subscribe/upgrade your subscription now to access our entire set of reports. Still not sure? Opt for a one-month trial for only $208.