Hong Kong-listed Kingsoft Corporation will form a joint fund with smartphone maker Xiaomi to back companies in the area of integrated circuits, according to the former's filing to the Hong Kong bourse on Thursday.
Kingsoft Wuhan, a subsidiary of Kingsoft Corporation, will be one of the limited partners (LPs) contributing RMB 500 million ($72.5 million) to the fund, which has an overall target size of RMB 10 billion ($1.4 billion).
Xiaomi Wuhan will contribute 3 billion yuan ($434.8 million) to the fund, making it the largest interest holder, while Xiaomi Beijing will be the general partner, contributing 30 million yuan ($4.3 million). 
Other LPs participating in the fund include Kaitai Technology-owned Hainan Huaying Kaitai, Shanghai-listed Industrial Securities Investment, and Nano Star Ventures, the venture capital arm of Shanghai-listed chip maker NOVOSENSE Microelectronics.
The fund also saw the participation of state-owned investors including Yizhuang International Investment, also known as E-town Capital, Tianjin Haichuang, and Beijing Guiding Fund.
The vehicle will help to "conform to the national innovation-driven development and industrial transformation trends", as well as enable Kingsoft Corporation to optimise its asset allocation structure, the firm said. 
The fund will focus on integrated circuits, and related fields ranging from intelligent manufacturing, new materials, artificial intelligence, and automotive electronics. 
Semiconductor firms have continued to ride on China's ambitions of achieving self-reliance in chipmaking, as the US intensifies its crackdown against Chinese companies in the sector.
China's chipmaking startups sealed 90 deals in Q4. While this is down from Q3's record high of 96 deals, it is still far above historical levels, according to DealStreetAsia DATA VANTAGE's Greater China Deal Review: Q4 2022 report. The fundraising proceeds stood at $1.7 billion in the period, which was done 25.3% sequentially and also below the $4 billion raised in the year-ago quarter. Yet, semiconductor startups remain popular among investors compared to other sectors.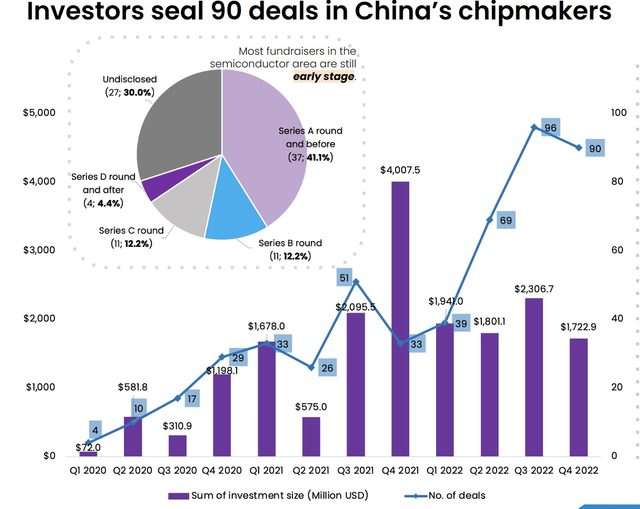 China is the world's largest semiconductor market since 2005. Monthly sales of chips stood at $13.4 billion in November 2022, or 29.4% of global sales, according to the World Semiconductor Trade Statistics (WSTS). The US was the second largest market, with monthly sales of $12.1 billion, or 26.7% of global sales, in the same month.