Home interior and renovation company Livspace's net loss narrowed for the financial year that ended March 31, 2023, as the firm sold more products in India, its biggest market, coupled with a reduction in fair value losses in the year.
The Singapore- and India-based company's loss after tax for the year stood at around S$130 million, versus S$182 million in the previous financial year, show its filings with Singapore's Accounting and Corporate Regulatory Authority (ACRA).
The TPG- and KKR-backed company's revenue, meanwhile, surged 85% to S$188 million in FY23.
The company recorded a 'net fair value loss on financial instruments and embedded derivatives' of S$501,711, a significant drop from S$68.5 million last year.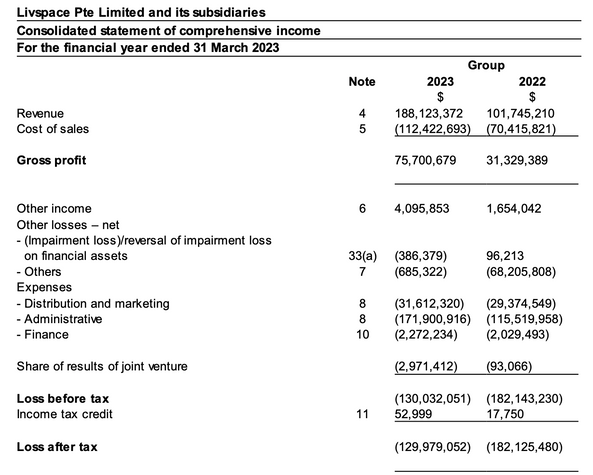 Livspace receives a majority of its revenue from the sale of furniture and home decor products to customers in India. In FY23, this segment generated about S$94 million, versus S$55 million last year, or more than half of its annual revenue.
Its services business, which offers design and interior decor services to residential and commercial customers, raked in S$70.5 million, accounting for the rest.
Founded in 2015, Livspace claims to have delivered over 50,000 homes across more than 40 cities and four countries and offers various services, including renovation, civil work, false ceilings, wall painting, and modular kitchens.
Expenses rise
Earlier this year, Livspace, which set a target to achieve profitability in the next 12-18 months, laid off nearly 2% of its 5,000-strong workforce.
"When it comes to expenses, one has to take into account the kind of growth we have achieved. There were huge investments in people, products, and technology which led to front-loading some of our expenses. While we will continue to invest in these segments and build them better, we will be investing our resources very efficiently," Livspace chief strategy officer Ankit Shah had told DealStreetAsia then.
The reduction in loss after tax came despite a 59.6% increase in the company's cost of sales—including costs of materials and services consumed, and change in inventory—to S$112.4 million in the financial year, from S$70.4 million in FY22
The company also saw a 59% increase in employee compensation in FY 2023 to S$118 million, mainly on account of a doubling in share-based compensation (S$27.8 million vs S$13.7 million)
Livspace's combined distribution and marketing, administrative, and finance costs went up to S$205 million from S$146 million a year ago.
"Our India operations at the city level are already profitable. So that gives us a clear line of sight of company-wide profitability. We are focused on creating a sustainable business and are looking at driving the core business to reach profitability in the coming 12-15 months," Shah had said.
Livspace became a unicorn in 2022 after a $180-million Series F round led by KKR. The financing was backed by existing investors such as Ingka Group Investments, Jungle Ventures, Venturi Partners, and Peugeot Investments.
Livspace had set aside around $100 million for acquisitions in India, Singapore, Malaysia, and the Middle East, according to an announcement last year. Its top executives had then said that the company would look to acquire about three to four companies instead of becoming a minority investor in several firms.
In February 2022, Livspace acquired a 70% stake in Singapore-based home design platform Qanvast in an all-cash deal worth S$17.2 million, its financial statement shows. It has also agreed to acquire the remaining 30% stake at a price linked to Qanvast's EBITDA multiple.
During the year, Livspace also acquired Ukeyo Technologies for a total consideration of S$1.8k and has absorbed a pre-acquisition loss of $126k.
As a group, Livspace had total assets of S$245.4 million as of March 31, 2023, down around 24% from S$322.4 million a year ago. The group had total liabilities of S$114.6 million, up from S$107.6 million a year ago.
The interior designing and home furnishing market in India, which is pegged to be worth around $30 million, is crowded by the likes of HomeLane, Prolance, and interior design software startup Infurnia. Earlier this month, Mumbai-based interior design startup Flipspaces raised $4 million in its pre-series B funding round led by Prashasta Seth, former CEO of IIFL AMC. Earlier this year, Design Cafe raised Rs 40 crore in a round led by WestBridge Capital, Mirabilis Investment Trust and Alteria Capital.