Shares of Indian digital payment services provider Paytm plunged to a record low on Tuesday after brokerage firm Macquarie highlighted a potential threat to the SoftBank-backed firm from Reliance Industries' entry into the payment services sector.
The stock closed down over 11% at Rs 475.25 per share on Tuesday, having lost 77% from its IPO price of Rs 2,150.
In a note, Macquarie Group analysts said Jio Financial Services Ltd "can pose a significant growth and market-share risk" to players such as Paytm and Bajaj Finance, a month after billionaire Mukesh Ambani's firm disclosed plans to demerge its financial services business and list it on the Indian stock exchanges under the name of Jio Financial Services.
Macquarie analysts, who have a price target of Rs 450 with an underperform rating on Paytm, said Jio Financial could be the fifth-largest financial services company in India in terms of net worth behind the HDFC twins, SBI, ICICI Bank, and Axis Bank.
Paytm's stock has been under pressure following SoftBank's move to lower its stake after the mandatory lock-in period expired. It has lost over 25% in one month and closed down for 5 out of the last 6 trading sessions.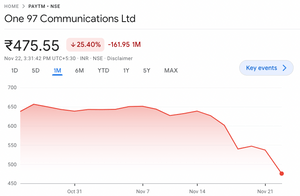 Mehta Securities analyst Prashanth Tapse said, "An overhang on the stock comes from the end of the one-year mandatory lock-in for pre-IPO investors in Paytm. Along with this challenge, PayTM may also feel more heat coming from Jio Financial Services, which would be stepping into the turf of Paytm, PhonePe, and even Bajaj Finance business."
"This is an alarming note for the space, and investors gave a lot of time for such cash-burning companies to sustain and make money, but majority of them failed to keep the profit dream alive. Hence, lots of pre-IPO investors are looking for exits or buyouts of their stakes. Overall, we remain neutral to negative in such development," Mehta added.
Separately, NPCI, which manages UPI, Bharat Bill Pay, RuPay, and other digital products, is reportedly in talks with the Reserve Bank of India (RBI) about the proposed December 31 deadline for limiting player volume to 30%.
Recently, Paytm reported a net loss of Rs 5.71 billion for the September quarter, which widened from Rs 4.73 billion a year earlier, as expenses related to employee benefits and payment processing charges surged. However, the company reiterated that it would turn profitable by September 2023.
Valuations of several new-age companies, including Nykaa and PB Fintech, have taken a beating in the private market as the craze for startups wanes, possibly delaying their plans to go public. Given the low risk appetite in the Indian equity markets at present and the highly uncertain economic scenario in the medium and long term, investors are reluctant to invest in startups.