New York-listed SE Asia property listings platform PropertyGuru posted a 35% year-on-year jump in revenue in 2022 to S$136 million ($101.4 million) on the back of strong performance across all its segments despite challenging operating conditions.
The company said it narrowed its net loss to S$5 million in the fourth quarter from S$27 million in the corresponding period a year earlier, its latest earnings report showed. On a year-on-year basis, the net loss narrowed to S$129.2 million in 2022 from S$187.4 million in 2021.
PropertyGuru said its marketplaces revenue increased 15% to S$38 million in the last quarter compared to the previous year and 34% to S$131 million year-over-year, thanks to continued growth in Singapore and Malaysia.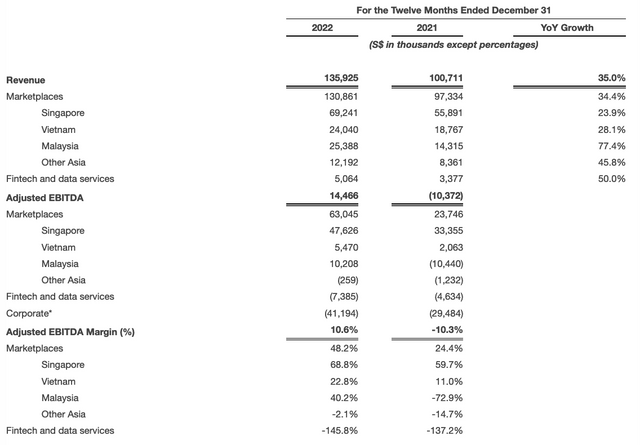 In Singapore, PropertyGuru scored a 15% increase in revenue in the fourth quarter to S$19 million, compared to the previous, and a 24% rise to S$69 million on a year-over-year basis. Its number of agents in Singapore also stood at 15,529 in the last quarter. At year-end, cash and cash equivalents stood at  S$309 million.
Malaysia posted the largest percentage revenue growth of 28% to S$8 million in the fourth quarter and 77% to S$25 million year-over-year, as the company continues to leverage its two brands and benefit from the acquisition of the iProperty business in August 2021.
Vietnam, however, posted weak performance in the fourth quarter, with a 7% revenue decrease to S$6 million, as government actions to tighten credit impacted the overall number of listings in the country. On a year-over-year basis, Vietnam Marketplaces rose 28% to S$24 million.
PropertyGuru's EBITDA also saw improvements. According to the earnings report, its adjusted EBITDA was S$14 million in 2022, up S$25 million from a loss of S$10 million in 2021.
PropertyGuru CFO Joe Dische said proactive cost control actions contributed to a S$25 million year-over-year improvement in adjusted EBITDA.
"Our actions in 2022 have laid the foundation for further revenue growth and improvements in operating performance. We continue to scale the business, accelerate the realization of our investments, and leverage the deployment of further growth capital," he said in the statement.
For this year, PropertyGury anticipates revenues of between S$160 million and S$170 million and adjusted EBITDA of between S$11 million and S$15 million.
"While rising interest rates and government credit intervention weighed on market activity, we remained resilient and delivered good growth by helping our customers navigate the challenges they faced and confirming the value add of our solutions in all phases of the real estate cycle," said CEO and managing director Hari V. Krishnan.
"Going forward, we see great opportunity in 2023 and beyond as we continue to offer our customers differentiated solutions while looking to opportunistically deploy capital to accelerate the company's ongoing expansion," Krishnan said.
The company noted that short-term factors may continue to impact the company's operations and warrant a conservative outlook in 2023. These factors include Vietnam's move to rein in the availability of consumer credit; residual political uncertainty in Malaysia; tightened residential policies in Singapore, among others.
The company also expects profitability to be negatively impacted by the integration and scaling of its Sendhelper acquisition. The impact is expected to cost PropertyGuru about S$3 million to S$4 million in lost profits.
PropertyGuru is one of Southeast Asia's largest online property listing platforms, boasting a total of over 3.5 million listings on its site.
Since its inception, the proptech firm has also expanded into mortgage finance and developed B2B services targeting property developers and agents. The firm was listed on the NYSE through a SPAC merger with Bridgetown 2 Holdings in March last year.