New York-listed PropertyGuru posted a 16% year-on-year (YoY) jump in revenue in the first three months of this year to S$33 million ($24.5 million) and cut its net loss to S$10 million from S$120 million a year ago.
The Southeast Asian property listing platform said its overall YoY revenue rose on the back of the strong performance of its marketplaces in Singapore and Malaysia, which posted 25% growth on an annual basis, even as Vietnam faced challenging market conditions.
The firm's marketplaces posted an overall 14.7% YoY increase to S$31.2 million, with Singapore contributing S$18.9 million of the total.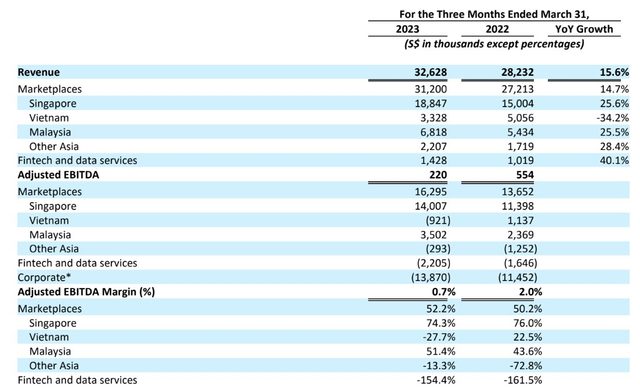 Malaysia posted revenue of S$6.8 million, a 25.5% rise from a year earlier, while Vietnam dropped 34.2% to S$3.3 million from S$5 million during the same period last year. PropertyGuru said governmental actions to tighten credit continue to impact overall number of listings in Vietnam.
The number of listings in Vietnam was down 32% to 1.1 million in the first quarter as compared to the prior year quarter. Marketplace revenue outside of the three markets, meanwhile, rose 40% to S$1.4 million.
"Vietnam remains the primary challenge in the near-term, as governmental monetary policy has significantly impacted real estate transaction activity. We believe that these pressures will begin to abate in the latter part of 2023 and into 2024," said CEO and managing director Hari V. Krishnan
Krishnan said the firm will be focusing on helping consumer find, finance, and other their homes in the following quarters.
"We continue to be excited about the fundamental opportunities available in the markets we operate in," he added.
PropertyGuru's EBITDA declined to S$0.2 million from S$0.5 million in the first quarter of 2022. The company's net loss also dropped substantially from S$120 million a year ago to S$10 million in Q1. PropertyGuru said the 2022 net loss included a S$105 million share listing expense.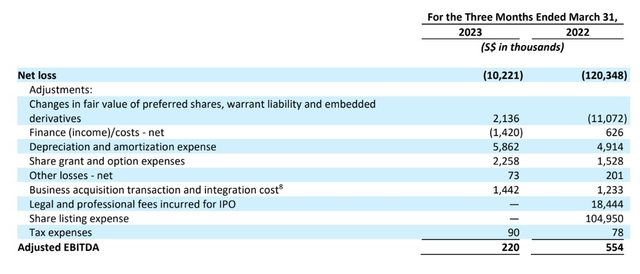 For the entire 2022, PropertyGuru posted a 35% YoY jump in revenue to S$136 million on the back of strong performance across all its segments, despite challenging operating conditions.
PropertyGuru CFO Joe Dische the year started off strongly for the firm despite the challenges in Vietnam as he reaffirmed the 2023 full year financial outlook for both revenue and adjusted EBITDA.
"We remain confident in the underlying strength of our offerings and the opportunities in the Southeast Asian property markets," Dische said.
For this year, PropertyGury anticipates revenues of between S$160 million and S$170 million and adjusted EBITDA of between S$11 million and S$15 million. However, the firm expects to be impacted by several factors outside of its control in the short term.
"As we move into the middle of 2023, we remain positive in both our ability to deliver essential, differentiated property solutions to our agent and enterprise customers as well as the long-term health and opportunity that is characteristic of our Southeast Asian property markets," Krishnan said.
PropertyGuru is one of Southeast Asia's largest online property listing platforms, boasting a total of over 2.9 million listings on its site.
Since its inception, the proptech firm has also expanded into mortgage finance and developed B2B services targeting property developers and agents. The firm was listed on the NYSE through a SPAC merger with Bridgetown 2 Holdings in March last year.