Venture capital funding in Southeast Asia has plummeted to levels unseen in many years. This stark decline, evident in the third quarter (Q3) of 2023, exacerbates an already challenging environment, according to DealStreetAsia DATA VANTAGE's latest quarterly report.
Startups in the region sealed 151 deals in July-September, down 27% from the previous three months, marking the lowest quarterly deal volume in nearly three years.
While the total funding value for the third quarter fell only 2% sequentially, the figure was heavily skewed by Alibaba's $845 million investment in Lazada.
The weakness in the third quarter resulted in a 34% year-on-year reduction in total deal volume of Jan-Sept 2023 and a 52% decrease in total deal value, bringing it below the total amount recorded during the same period in COVID-hit 2020.
Singapore, which generated 60% of the total deal quantum in the region in the first nine months, also saw a 52% drop in deal value as total deal volume contracted 26% relative to the same period last year. Separately, Indonesia, which has seen a gradual drop in deal volume since the third quarter of last year clocked 32 deals in Q3 2023, the same as the previous quarter.
Fund managers interviewed for the report suggested that overall funding activities will remain subdued in the near term. They noted a lack of momentum in the broader investment market, with some investors preferring to hold cash amid rising interest rates.
"Many investors are experiencing their first 'downturn' cycle despite the strong macroeconomic performance in Southeast Asia. That said, professional allocators are already predicting 2023-2024 will be a strong vintage for early-stage VC funds in Southeast Asia," said 1982 Ventures co-founder and managing partner Herston Elton Powers.
Eddy Chan, the founding partner at Intudo Ventures, indicated that the bottom of the market correction will be signalled by high-profile write-offs, a phenomenon not yet witnessed significantly in the region.
"This is Southeast Asia's first real venture downturn, and there is a lack of accumulated knowledge and experience in dealing with such events across the ecosystem as a whole," he said.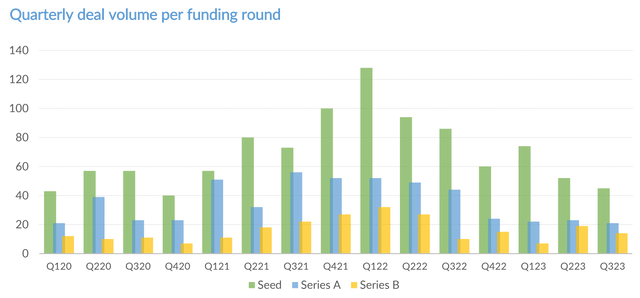 Early stage in distress
Consistent with the assessment in DealStreetAsia's previous quarterly reports, there is a sharp descent across early-stage investments.
The total volume of seed-stage deals hit a three-year low in Q3 2023, extending a gradual decline that started in the second quarter of last year. Over nine months, seed stage deal volume has dropped 44% compared to the same period last year.
In line with the reduced deal flow, the median value, which serves as a proxy for valuation, of seed rounds for the first nine months fell 22% year-on-year, further proof that seed-stage startups, too, have been affected by the funding winter, albeit at a more manageable level.
Series A to Series D experienced significant reductions, particularly Series A, which suffered a 54% year-on-year decline in volume in the first nine months. Series C saw the deepest correction of median value with a 59% drop relative to last year.
Raja Hamzah Abidin, the CEO of Malaysia-based RHL Ventures, estimates valuations have fallen by 20-30% versus similar stage businesses a year ago.
"Generally speaking, investors are waiting for exit events or [distribution to LPs] to happen more frequently before committing capital to the venture space in Southeast Asia. Hopefully, we see a few more exits within the unicorn space, so capital can recirculate itself to different parts of the ecosystem," he said.
Francisco Widjojo, the founding partner and CEO of Arkblu Capital, whose company invests in multiple asset classes such as equities, debt, property, venture capital, and hedge funds, stated that the ongoing asset repricing in the private capital market represents a systemic shift, rather than a seasonal change.
"I think it's a good thing for investors like us who are very concentrated and have a very balanced approach. Because it means that there's less noise in the market," said Widjojo.
Looking at deal activities from a sectoral perspective, fintech remains the most popular vertical in the third quarter, but deal volume fell to a level not seen in more than five years. E-commerce is also in a similar predicament as deal volume fell to a new low.
Looking at the Jan-Sept period, equity funding for fintech and e-commerce fell 68% and 45% year-on-year, respectively.
Amid the widespread market correction, healthtech and green tech sectors stand out as resilient areas. Their resistance to the funding decline aligns with increased attention to addressing major issues like climate change and chronic diseases.
This positive trend amid a generally strict fundraising environment highlights the lasting potential of impact-driven investments, even in a wary market.
---
The SE Asia Deal Review: Q3 2023 report covers fundraising by startups in the third quarter of 2023 and the first nine months of the year, with comparisons to previous years. It includes:
Funding trends across quarters, sectors and countries
Deal volume and value across funding stages
Median and average deal value across stages
Investor perspectives, and more.
The report is available exclusively to DealStreetAsia – DATA VANTAGE subscribers. Subscribe/upgrade your subscription now to access our entire set of reports.