Private funding for companies in Southeast Asia hit a two-year low in the fourth quarter of 2022 as investors slammed on the brakes, finds DealStreetAsia's latest report. 
Venture-backed companies in the region raised $2.88 billion in equity funding in Q4, according to SE Asia Deal Review: Q4 2022. Companies closed 191 deals during the quarter — the least in 2022.  
The weak quarterly performance capped a down year that saw total private funding drop 32% to $15.8 billion from 2021's record highs. Annual deal volume defied the trend, closing 9.6% higher at 1,062.
In addition, venture-backed startups completed at least 51 debt deals last year to raise a total of $1.97 billion. This compares with just 30 deals in 2021 worth $2.57 billion.
Equity versus debt funding across quarters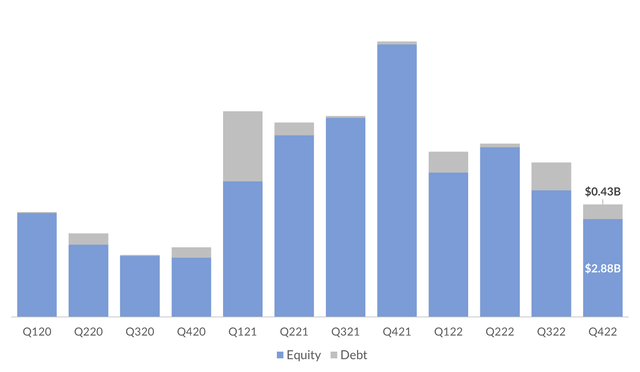 This year is likely to present more challenges to startups in the region. The fundraising environment is set to get tougher as the correction in public market valuations—2022 saw a precipitous drop in stock prices of some of the most hallowed tech upstarts—is expected to percolate down into the private markets.
"We already see a higher quality of founders and companies getting built… That means all the capital on the sidelines will be put to better use [in the future]. And there'll be some tough choices to make. That is why maybe 2023 will be a good and a bad year, but it is a necessary part of the process that is very much needed," said B Capital partner Karan Mohla at DealStreetAsia's Indonesia PE-VC Summit 2023 earlier this month.
Flat is the new up
The median value of Series B, C, and D rounds weakened in 2022, indicating a drop in overall valuations, the Q4 report showed. Series D rounds recorded the largest decline of 77%, followed by Series B (30%).
Median deal value per investment round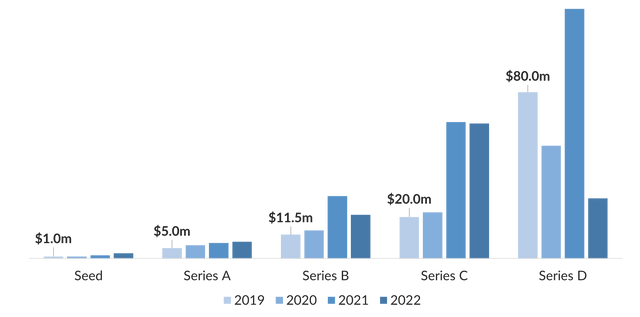 Meanwhile, seed and Series A deals saw a 56% and 8% growth in median values, respectively, as competition for early-stage startups intensified. The rise was partly driven by a strong appetite for blockchain-powered fintech and gaming startups.
Fintech pie grows
Fintech accounted for a third of all private funding last year, up from a quarter in 2021. This was largely due to a lack of mega funding rounds in other areas, primarily super apps, e-commerce and logistics, in 2022.
Fintech startups were responsible for 22% of deal volume last year, down from 31% in 2021 as the easing of COVID-19 restrictions spurred investments in other verticals.
Top 10 verticals based on equity funding deal volume and value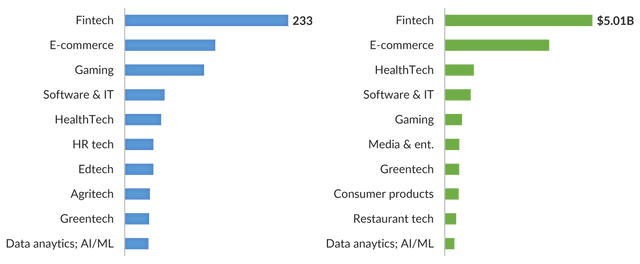 Lazada props up e-commerce funding
Chinese tech giant Alibaba injected $1.68 billion in fresh capital into its Southeast Asian e-commerce subsidiary Lazada last year, which helped drive a 31% growth in e-commerce deal value to $3.55 billion.
Lazada's massive haul comes at a time when Sea Ltd and GoTo, the parent companies of its top competitors Shopee and Tokopedia, have witnessed significant erosion in their market value. A massive war chest could prove to be a gamechanger in the current environment.
---
The SE Asia Deal Review: Q4 2022 report covers fundraising by startups in the fourth quarter and the previous quarters. It covers:
Funding trends across quarters, sectors and countries
Deal volume and value across funding stages
Median and average deal value across stages
Investor perspectives, and more.
The report is available exclusively to DealStreetAsia – DATA VANTAGE subscribers. Subscribe/upgrade your subscription now to access our entire set of reports.