Amid looming recession fears and a challenging fundraising environment, Indian startups raised a total of $3.36-billion funding in the first quarter of 2023, recording a drop of about 12% over the previous quarter, according to data from DealStreetAsia DATA VANTAGE's latest report India Deal Review: Q1 2023.
March alone contributed to nearly 60% of the $3.36 billion raised in Q1 2023, led by Lenskart, PhonePe, Mintifi, and Bicara Therapeutics. Deal volume was down 23% at 245 as investors continued to tread cautiously amid macroeconomic uncertainties, the data showed. 
On a year-on-year basis, fundraising was down 72% owing to a couple of factors, including the rise in global interest rates, geopolitical tensions in eastern Europe, COVID-related supply-chain shocks, etc. With the funding winter showing no signs of thawing, a lot of companies are resorting to mass layoffs to cut costs and stay afloat.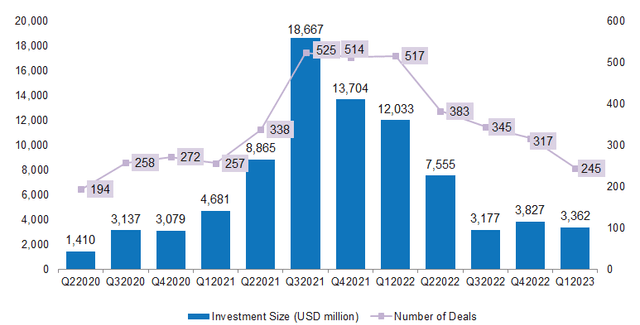 The average deal size, among disclosed deals, in the first quarter of 2023 was a tad higher than the last two quarters at $15 million. The Q1 performance, however, was driven largely by some mega deals and does not really indicate a broader improvement in deal momentum from the lows of Q3 and Q4 of 2022.
Mega-deals — PE-VC transactions worth at least $100 million — led by the likes of PhonePe, Lenskart, InsuranceDekho, Bicara Therapeutics, and Mintifi accounted for 51% of the total deal value during Jan-Mar 2023.
There were 14 deals in the quarter with a funding size of at least $50 million. While they represent only around 6% of disclosed deals (224), these deals accounted for 59% of the capital raised in Q1.
The top three deals — PhonePe, Lenskart and InsuranceDekho— cumulatively raised $1.3 billion.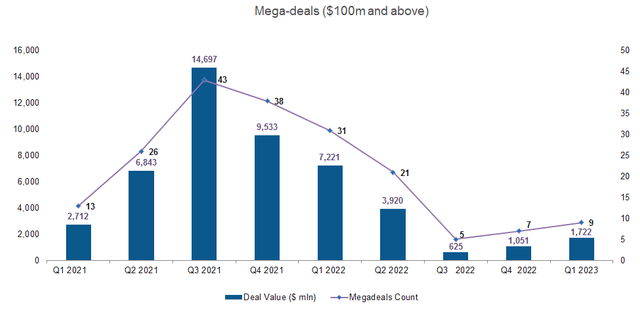 Financial Services top the charts
Financial services emerged as the most funded industry in Q1 with a total investment of $1 billion across 32 transactions, marking an increase of 81% over the previous quarter. This is even as the deal volume was down 32%. Top deals included PhonePe ($650 million), Mintifi ($110 million), KreditBee ($100 million), SarvaGram ($35 million), Turno, and NeoGrowth.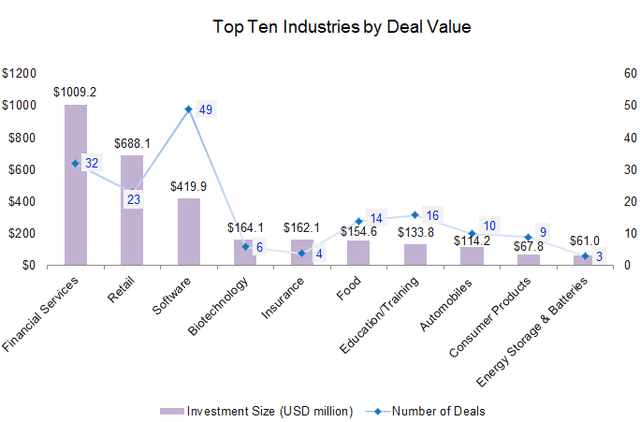 Retail moved up to the second spot with a total of $688 million in financing led by eyewear retailer Lenskart's $500-million investment  from the Abu Dhabi Investment Authority. Meanwhile, the software industry slipped to the third spot with nearly $420 million in funding from 49 transactions in Q1 as against $697 million from 62 deals in the Oct-Dec quarter.
Together, the top three industries — financial services, retail, and software — accounted for 62% of the total deal value in the Jan-Mar quarter. 
Among verticals, which are subsets of industries, e-commerce startups continued to lead with a total of $970 million in their kitty, which is an increase of about 60% over Q4 2022. Deal volume, however, dropped to 57 in Q1 2023 from 64 in the previous quarter. Apart from Lenskart, the other prominent e-commerce deal was FreshToHome's $104-million Series D round, which was led by Amazon Smbhav Venture Fund. 
Early-stage emerges as the sweet spot
While the late-stage deal value tanked during the quarter, early-stage startups (pre-seed to Series A) kept the momentum going by recording a 20% growth in value, the data revealed.
Pre-Series A and Series A deals rose 38% to $707.7 million in Q1 from $513.5 million in the previous quarter. However, the deal value of pre-seed and seed-stage deals, too, dropped 33% to $115.4 million in Q1 2023 from $173.4 million in Q4 2022. Deal volume was down to 76 in Q1 2022 from 112 in Q4 2022.
There were four private equity deals worth $441 million and 15 debt deals worth nearly $174 million. 
Sequoia Capital India, along with its accelerator fund Surge, topped the investors' list in Q1 2023 with at least 13 venture capital transactions as against seven in Q4 2022.
Bengaluru was once again the top destination for venture investments. Capital inflow into Bengaluru was marginally lower at $1.58 billion in Q1 from $1.61 billion in the previous quarter. In terms of investment value, Faridabad moved up to the second spot, while Mumbai slipped from the second to the fourth spot. The value of investments in Mumbai was down almost 51% over Q4 2022.  

The India Deal Review: Q1 2023 report covers fundraising by startups in the region in the first quarter of 2023, with extensive data on:
Top deals of Q1 2023 

Top sectors by fundraising

Mega-deals clocked by startups in Q1

Most active investors in Q1

Insights from prominent investors