Tiger Global Management has emerged with the highest number of profitable Indian unicorns in its kitty, having backed five out of the 13 unicorns that are in the black.
Even as India ranks third globally, after the US and China, on the unicorn charts with a total of 107 billion-dollar startups, the ones making profits are still few and far between.
These include health-tech platform Molbio Diagnostics, online payment gateway BillDesk, B2B commerce business OfBusiness, information technology company Nxtra, B2B construction materials platform Infra.Market, baby and mother care products retailer FirstCry, media technology startup Amagi, financing solutions provider Oxyzo, and edtech platform PhysicsWallah, among others.
Of the 13 profitable startups, four bagged the unicorn tag only last year — Molbio Diagnostics, PhysicsWallah, Amagi, and Oxyzo. According to DealStreetAsia's proprietary data, India saw 23 companies enter the coveted unicorn club in 2022.
According to data available with Tracxn, the profitable startups in Tiger Global's portfolio are Oxyzo, CoinSwitch, OfBusiness, Infra.Market, and High Radius. Temasek follows Tiger Global with three profitable startups in its kitty, namely Molbio Diagnostics, FirstCry, and Bill Desk.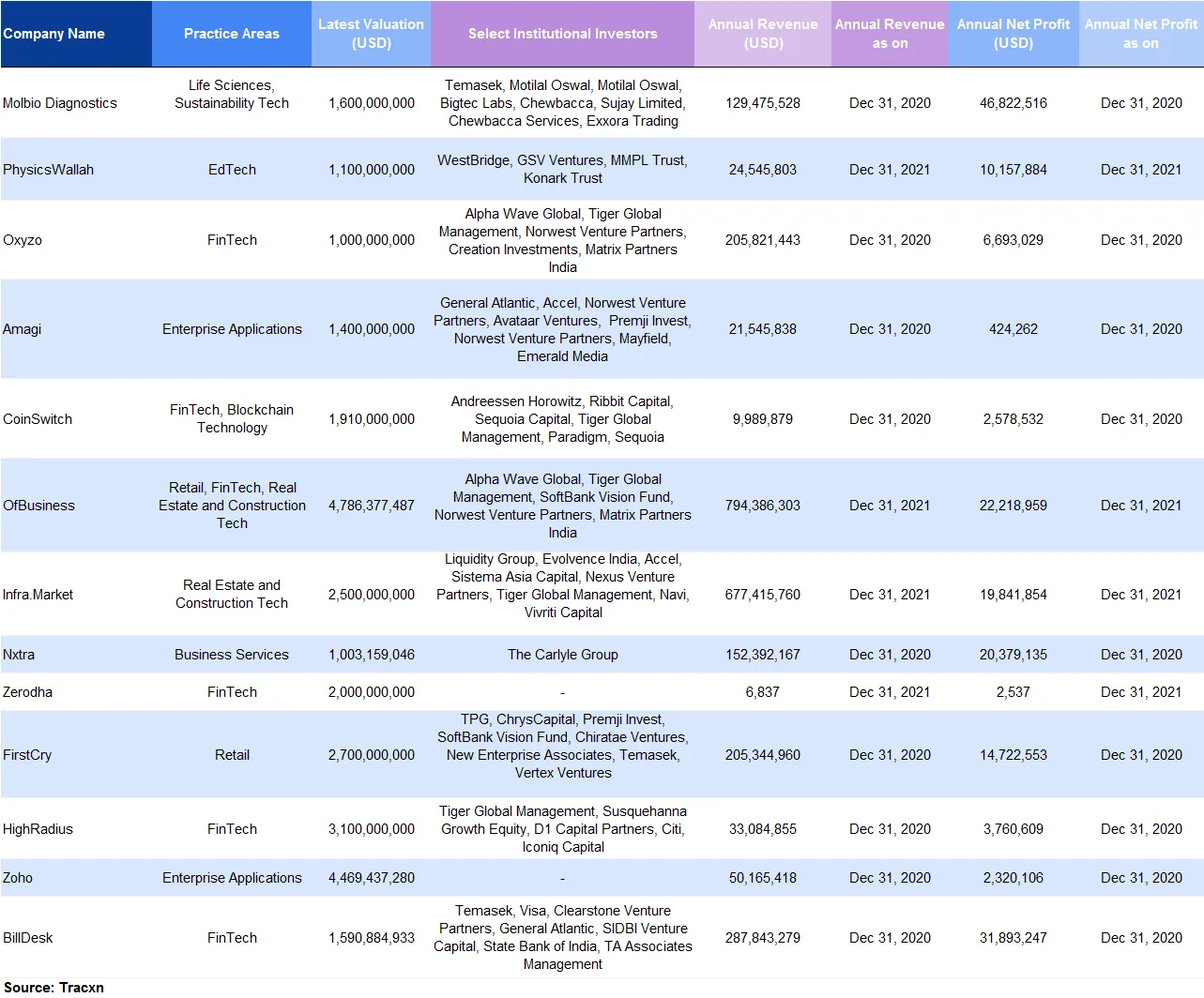 "The reality is that Tiger is perhaps behind most unicorns in the country and is a prolific investor and, hence, behind the most number of profitable unicorns. It is the sheer law of numbers. In addition, they have developed relationships with many earlier stage funds and see more number of companies than most other foreign funds,"said  Ashish Kumar, Co-founder and General Partner, Fundamentum Partnership.
Tiger Global is also behind the most number of unicorns in India, followed by Sequoia Capital. However, Sequoia has only one profitable unicorn, namely CoinSwitch, in its kitty.
"It boils down to stringent criteria around profitability before the investment. If you look at Tiger's set of profitable unicorns, most of them like Ofbusiness, infra. market, High Radius, etc were profitable prior to the investment round," Bharat Birla said.