Indian foodtech unicorn Zomato has ceased operation in the Philippines, nearly 10 years after entering its first market in Southeast Asia.
Without mentioning the reasons for its exit, the multinational restaurant aggregator signed off on February 2 through a short notice posted on its Philippine website. "It has been a great run but we have, sadly, stopped our operations here," Zomato said. The post said users can still explore dine-in restaurants on Zomato in India and UAE.
Zomato entered the Philippines in April 2013 — its first market in Southeast Asia.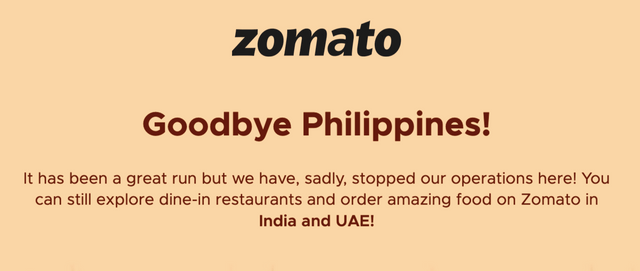 During the Philippine launch, Zomato said the choice for where to launch in Southeast Asia was between the Philippines and Thailand. However, it found the Philippines to be a bigger market.
In November 2020, Zomato abruptly halted its Zomato Pro membership programme in the Philippines. A month earlier, it ceased operations of its premium service in Indonesia.
Zomato has been witnessing a series of high-profile exits last year. In November, in the third high-profile exit, co-founder Mohit Gupta resigned after a four-and-half-year stint.
His departure closely followed the resignations of Rahul Ganjoo, Zomato's new initiatives head and former food delivery chief, and Siddharth Jhawar, the head of its Intercity Legends service.
It also reported a 42% smaller year-on-year net loss for the September quarter, as more people ordered from the platform. However, losses widened sequentially by nearly 35% during the quarter on the back of its Blinkit acquisition.
In December, Temasek Holdings bought a 1.14% stake in Zomato, a day after Alipay Singapore Holding Pte offloaded 3.07% of its shares in the food delivery startup, according to data from the National Stock Exchange.
Zomato is an online restaurant guide and food ordering platform that allows users to order meals from restaurants and have them delivered. In the Philippines, Grab and FoodPanda offer the same service.