The pandemic has made GrabKitchen's offering more relevant to a far wider range of partners, backed by the firm's data and delivery infrastructure 
What started as an attempt to crack online food delivery has turned into a lifeline during COVID-19 for Indonesia-based restaurant chain Dailybox. Even as pandemic induced headwinds have resulted in restaurant closures across the globe, at Dailybox it has been a time of month on month double-digit growth, and geographic expansion, with five new locations including an operation in Surabaya.
The Singapore operations of Taiwan-based bubble tea brand Playmade had a similar experience. Crystal Wee, director, Playmade said, "Because of the pandemic, a lot of F&B startups like us were unable to operate. GrabKitchen was a saving grace. We continued to sell through them at the time when our retail stores were completely closed."
Dailybox and Playmade are part of GrabKitchen, a cloud kitchen platform created by Grab. Speaking about the goals for the platform, Sai Alluri regional head of GrabKitchen said, "It is to enable merchants to expand their footprint via a capital light model, and to bring more high-quality food options to consumers." He added that typically merchants see up to an 80 per cent increase in daily orders after their first month of listing on the platform.
The origins of GrabKitchen
It was the prospect of growth that appealed to Kelvin Subowo, co-founder of Dailybox, when he first joined the platform in 2018. He said, "We wanted to maximise the potential of online food delivery in Indonesia at an affordable price. And so, we needed to scale our business. That's where we fell in love with GrabKitchen."
Being part of GrabKitchen saved the fledgling operation from dealing with complex logistical issues in setting up a restaurant. Land acquisition and other initial expenses such as equipment and setup were accounted for by becoming a part of the platform.
Indonesia is currently GrabKitchen's largest market and Dailybox just one of the over 200 F&B brands in the country that have used the platform to increase their footprint. Launched in Jakarta in 2018, GrabKitchen boasts the largest network of cloud kitchens in the Southeast Asia region. The 56 kitchens include 48 in Indonesia, 3 in Thailand, 2 each in Vietnam and Singapore, and one in the Philippines. Explaining how the GrabKitchen model works, Alluri said, "Across the region, we work with homegrown food brands and international restaurants to bring their respective flagships to more cities."
Merchant partners find the platform a low risk opportunity to test new food concepts, without hefty capital expenditure investments on rent, operations and marketing. The flexibility has made it easier for a restaurant owner to retire an old non-performing brand or launch a new one, with a greater scope for success.
Another advantage is GrabKitchen's granular, region-specific insights on customer tastes and preferences. Thanks to its association with Grab, the platform has a significant edge over other cloud kitchens. Alluri said, "We leverage customer insights derived from the Grab app across multiple verticals, as well as market research. This helps to identify locations with pent-up demand for cuisines and brands that are less accessible to consumers in an area. GrabKitchen is strategically located to bridge consumer demand and availability of food selection, giving merchants immediate access to a new customer base."
Freed from the responsibilities of catering to dine-in customers, the locations are optimised for food delivery. Alluri said, "Our delivery-only kitchens are between 200 square metres to 250 square metres in size. We are much less reliant on foot traffic than traditional restaurants that pay a premium to be in high footfall locations. The cost of operating a GrabKitchen is therefore less fixed-cost dependent."
The platform has deliberately picked distressed assets that come with ample parking space to keep rentals low for its merchants and to ensure that the delivery partners have easy access. For instance, the first GrabKitchen in Singapore at Hillview is located within an industrial building, connected to a parking garage. Alluri said, "It's surrounded by residential buildings in a densely populated area. Its unique location makes it a choice site for deliveries."
The location has helped Playmade with distribution. The franchise had stores skewed towards the East and North East of Singapore. GrabKitchen helped it develop an island-wide presence. The option to cross sell and bundle beverages with other brands or products has also worked well for Playmade. Wee said, "It is like a virtual food court. Customers order food and drink at the same time, giving us a lot of mix and match opportunities."
The impact of the COVID-19 pandemic
The pandemic has brought many changes in its wake, some of which GrabKitchen was poised to benefit from. With movement restrictions and lockdowns of varying severity across Southeast Asia, ordering-in became the default option. Alluri said, "From an industry perspective, consumers are going online more frequently for food. This shift and prolonged social distancing measures continue to impact the dine-in businesses but also present new opportunities." Grab was an obvious choice for consumers, given its ubiquity and rigorous safety measures implemented for both merchant and delivery partners.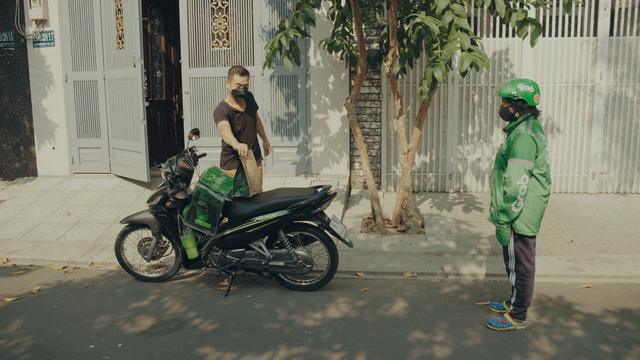 However, an even larger impact is on F&B businesses who are now actively diversifying their sales channels and re-evaluating business models to ensure long term sustainability. There has been a sharp rise in inbound interest from merchant-partners and F&B brands that are not yet part of GrabKitchen. It has helped accelerate a longstanding goal – to bring many small homegrown businesses including single-outlet, family-run food stalls across Southeast Asia to new locations through Grab's cloud kitchen network.
Grab has forged partnerships with large local chains like Indonesia's Geprek Bensu and Kopi Kenangan, who have a strong offline presence as well as medium-sized chains such as Dailybox and Nona Judes. However, Alluri finds brands like Nasi Goreng Maut Seafood the most inspiring – a restaurant that expanded from a single-outlet offline store to a virtual chain, operating out of five GrabKitchen locations in Indonesia. He said, "These are what we call 'new-age F&B chains' that have leveraged the power of data and insights, coupled with operating via virtual kitchens to scale effectively."
Speaking about his experiences on the platform through the pandemic, Dailybox's Subowo said, "We were grateful about having been on the cloud kitchen path even before the pandemic. Our growth with GrabKitchen has been amazing and beyond expectations. Data is an important facet of online delivery and helps improve our performance. Everyone wants to save cash and spend as little of capital as possible, at a time like this. Adapting to a cloud kitchen, makes it easier than a brick and mortar dining concept." His experience leads him to believe being part of such a structure is critical when it comes to surviving the pandemic. He said, "Depending on the situation, every country and maybe even every city has different regulations. The key is to adapt and execute your plan at speed. We cannot do this alone. We used to think about owning the business, but now we have to create a sharing business and cooperate for mutual benefit."
When asked for her advice to restaurants that are as yet reluctant to come on board, Wee said, "Go ahead and embrace the opportunity. GrabKitchen has given us a lot of exposure to new customers and segments. We used to only be able to reach walk-in customers who would pass by our doors, but now, we have managed to cover the whole of Singapore." Wee adds that the platform helps with marketing, leaving a F&B business with more bandwidth to work on innovative products.
The pandemic has also made Grab re-evaluate some of its own ideas – like a dine-in operation that was being trialled, pre-pandemic. Asked if that concept is likely to be revisited, Alluri said, "There is really no one-size-fits all approach. If the location has potential to serve dine-in customers, it's something we would consider as long as the conditions are right and safe."
Avoiding the pitfalls in the cloud kitchen space
Globally, cloud kitchens have frequently not met growth expectations of investors. The pandemic has had an adverse impact on many companies in the sector, with reports of firms scaling back operations from across the Asia region. Asked how GrabKitchen will avoid the errors that many in the space have made so far, Alluri said, "A common pitfall is to expand for its own sake. We've learnt from our early days, the importance of having a robust due diligence process. And to base decisions strictly on data. We only expand where there is inherent customer demand, and high-quality merchant-partners."
Another core principle is about maximizing every square foot at GrabKitchen. The kitchens are used to pilot concepts such as GrabMart Daily – a grocery chain that focuses on fresh produce, pantry and household essentials. Partnerships with popular FMCG, beverage and dessert brands like Coca-Cola and Danone, allows GrabKitchen to pair these products with meals. Alluri believes this gives brands an opportunity to cross-sell or test new products. He said, "By enabling multiple revenue streams across different business models, we are able to better maximize the utilisation of every square foot in GrabKitchen."
Alluri is confident that the trend of consumers going online for food – cooked, semi-cooked, or raw – will persist. He sees GrabKitchen evolve into a multi-functional space for restaurants to cook and deliver to customers, and a distribution point for food companies like bakeries, confectionery stores and FMCG brands. He said, "Cloud kitchens will continue to ride on the back of the deliveries boom in Southeast Asia to enable global and local brands to more efficiently capture this tremendous market opportunity."
---
This article was created in partnership with Grab. Please visit the website to know more about GrabKitchen's latest initiative in Indonesia