Everybody loves a good cup of bubble tea (also known as boba), but not everyone can afford it. The good news is a popular Indonesian beverage chain Haus! recognised this desire for bubble tea among the aspiring middle class and introduced their wide and delectable range of beverages across cities at affordable prices. At a starting price of US$0.3, it is now everybody's cup of tea and Haus! is reaping the benefits of this success.
A chilled cup of bubble tea is a fast-growing addiction among consumers in various parts of the world and more so in Southeast Asia where the average temperature remains around 29°C through most of the year. The delicious appeal of bubble tea, thanks to the chewy texture of the tapioca pearls coupled with the creaminess of the milky tea, has many takers. However, despite several large players dominating this saturated 'purple ocean market' ( a market mix of blue and red ocean strategies where there is continuous innovation and numerous traditional enterprises) few were able to make it accessible at affordable prices to the aspiring middle class until Haus! came along in Indonesia. The aspiring middle class is the dominant population in Indonesia making them the biggest potential market in the F&B sector.  
Founded in 2018, Haus! specialises in made-to-order affordable cold drinks popular among millennials and the younger generation. You can buy a great cup of boba for as low as IDR6,000 (USD0.39). Currently, Haus! has 223 outlets across 18 cities on Java Island and seeks to expand and innovate in suburban areas having tasted tremendous success in tier 2 and tier 3 cities across the archipelago.
With the backing of BRI Ventures and several other investments from Atlas Global Kapital, Hong Kong-based Strategic Year Holdings, and venture builder Prasetia Dwidharma, in a short span of four years, Haus! is already a lucrative business. The great thing about this brand is that it has organically grown to be profitable on a day-to-day basis, and any external funding it has received until now has helped enhance and expand its presence in the market.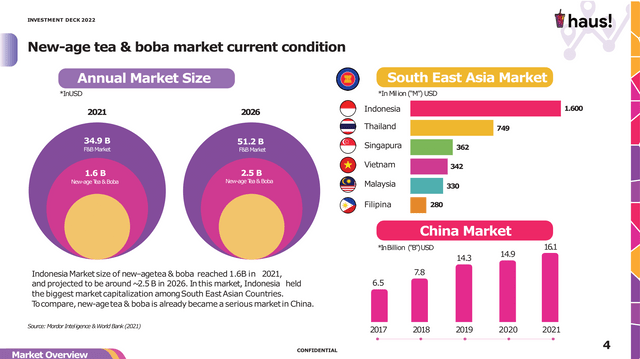 Speaking about why Haus! showed promise of growth, Conrad Tsang, Founder and Chairman of Strategic Year Holdings said, "When we looked at the beverage market in Indonesia, the first question we asked ourselves is if Indonesia is more of a tea tasting country or a coffee tasting country?. We quickly concluded that Indonesians traditionally understand tea more than coffee, hence it should be easier to educate consumers in the country about bubble tea than coffee.  Also the positioning of Haus! serving the gigantic aspiring middle class market with a clear eye on the 2nd and 3rd tier markets in Indonesia resonates well with similar businesses we have come across in other markets that eventually became very successful".
According to a report by Momentum Works, bubble tea is a US$3.66 billion annual turnover market in Southeast Asia and while vast local brands emerged, most remain single country focused. Indonesia and Thailand have the largest bubble tea market in Southeast Asia with Indonesia grabbing a US$1.6 billion share in turnover.
In Indonesia, the share of orders done through delivery platforms increased sharply during the pandemic. While offline retail has been recovering strongly, online continues to be the preferred choice because of the traffic and weather. These external factors have worked in the favor of Haus! which benefited greatly and grew to be profitable despite the pandemic. The surge in online delivery providers also aided the growth of Haus!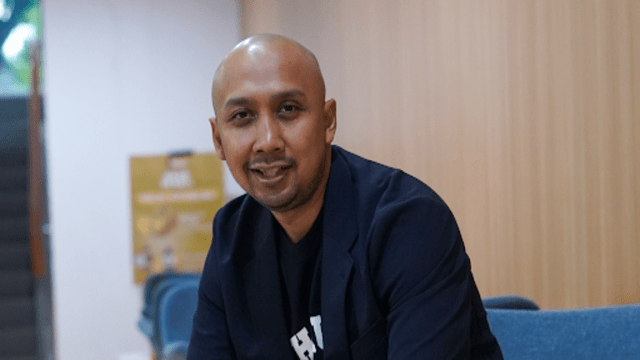 To understand the approach and strategy of Haus! We sat down with their Founder & CEO Syarif Gufron who provided valuable insights into the bubble tea market across Southeast Asia and Haus!' expansion plans.
Gufron is a firm believer that with 45% of GDP in Indonesia coming from Tier 2 and Tier 3 cities, it's essential for any business looking to grow big in Indonesia to focus on these cities. "In fact these cities are becoming a success factor for any brand which wants to grow in Indonesia. About 5% to 49% of the Indonesian population belong to the aspiring middle class and most of them are in Tier 2 and Tier 3 cities. At Haus! we are trying to capture this market and that's why our strategy involves a 'cost leadership approach'. Our entry level product costs approximately US$ 0.3 to capture this market", he said.  
The boba tea market in Indonesia is quite new and it first came to be known when Chatime entered the market back in 2011. Since then many international brands have come to Indonesia with most of the brands only capturing the mid and upper middle class segments. At the time Boba tea was fairly famous as a 'mall' beverage. While these brands educated the market well, their products didn't meet the buying power of most Indonesian people. That's where Haus! recognised an opportunity to become a local brand. "We know our people, their behavior, their purchasing power. So we soon realized the big opportunity for us to enter the boba market in Indonesia and become No. 1 there", Gufron said. 
Speaking of the success formula of Haus!, he said, "First of all, our business has been growing since the beginning. So, it's safe to say we can survive without the funding; but the growth wouldn't be as fast without the funding. We are a healthy business and we've been performing well in 2022 with a couple of months left till the end of the year. Our revenue has increased 73% compared to last year. Notwithstanding the pandemic our business and sales were good. Even after the pandemic when people started to go out, our offline transactions have increased. Our business has already survived the covid crisis and now it has survived what was called the 'winter crisis'."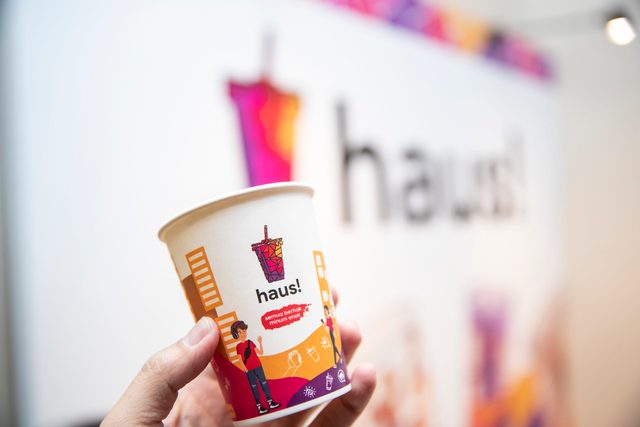 Haus! has already achieved US$18.8 million revenues last year and is looking to grab a larger market share which is there for the taking. The Bubble tea maker is seeking to expand its stores swiftly as they aspire to be top of the line and top of the market for this segment. 
The CEO has confirmed that most of the funds will be used for store expansion and the rest will be used to build the brand, build up technology and expand the team. A portion of the funds will also be used to explore upstream opportunities, which in turn would reduce the company's cost structure even more. 
On expanding into other markets Gufron said, "We learnt about this category from the China market, so we know Boba tea is very popular in China. I think the CAGR (compound annual growth) is almost two digit every year. From the data that we get, the boba tea market has almost reached US$16.1 billion. So I think the growth is not only in China, but it is happening all around the world. I think it's going to be a global culture someday. It is also happening in South East Asia, and especially in Indonesia it has grown to be a US$1.6 billion market. We are fairly optimistic that with the growth of the Boba tea category in Indonesia, soon we'll become part of the culture of the Indonesian market. We already have 223 stores right now in Indonesia and we plan to currently focus on expanding within Indonesia. We are increasingly realizing that in Indonesia itself we can establish another 130 stores. Right now we want to focus on dominating this market and to make sure that we become the local champion here first. After that we can think about expanding to other regions.
Another crucial aspect to closely examine and consider is the success rate of Haus! among the younger generations. Most of Haus!' customer base currently belong to the 15 to 25 years age group and most among them are women; around 65% are women. Usually the younger generation consumes Haus! during their snack time. For example while watching Netflix, doing their homework, while playing games etc. Consuming Boba fits into their current lifestyle and Haus! as a brand is also trying to tap into this behavior. Increasingly Haus! wants to establish itself as not just an F&B brand but also a lifestyle brand for the younger generation.
Towards this intent, Haus! is also planning to launch its mobile app as it is important for them to capture customer behavior and customer data to make them more loyal to the brand. 
The clear USP of Haus! is its price point and the fact that they are available everywhere in tier 2 and 3 cities across Indonesia as admitted by Haus! consumers. Many college students and entry-level workers said they love Haus! not only because of its great taste and range of flavors, but also because it is easily available and cheaper than any other bubble tea provider. While flavors such as Choco Hazelnut, Choco Avocado and Ice Lychee Yakult are popular among the consumers, the pricing makes it more attractive. 
This response by Haus! consumers reiterated the findings of the Momentum Works report, based on interviews with users across different markets. It highlighted that while consumer expectations might vary, the three key dimensions that affect purchasing decisions include exposure, pricing, and product selection.
With a presence of 223 stores within 4 years, Haus! has already established its dominance and ensured easy accessibility for all. Early this year, Haus! has raised the Series B1 funding primarily from strategic investors notwithstanding the winter of funding in the investment landscape. The new investments will further help Haus! grow and expand their business while bringing their interesting offerings to a larger segment of Indonesian consumers. The opportunity is huge because in an F&B landscape where nobody has focused on bringing a good bubble tea experience to the growing middle class, Haus! is making waves by making it more accessible to every type of consumer at a satisfactory price.
If you are interested to know more about Haus!, you may visit their instagram page here.