Backed by SoftBank, India's retail SaaS major Unicommerce is on a rapid expansion path through Southeast Asia with a suite of supply chain solutions for order, inventory, warehouse management, and omnichannel operations
The COVID-19 pandemic has revolutionised the e-commerce industry, with a rising number of online shoppers across the globe, including Southeast Asia. A recent report from Facebook and Bain & Company estimated that 70 million more people shopped online across six Southeast Asian countries since the beginning of the pandemic. The number of online shoppers in the region will reach 380 million by 2026.
This rising demand has however brought several operational challenges in its wake, when it comes to meeting the expectations of the new wave of online consumers. This is reflected in the sharp uptick in demand for e-commerce focused supply-chain solutions. Unicommerce's success in serving this market in India has led to a lot of interest from retail brands and e-commerce players in Southeast Asia, who have similar business needs.
The launch in Southeast Asia comes in the wake of Unicommerce's impressive performance in India, its home market. As per research from consultancy firm RedSeer, Unicommerce is the leader among companies based in India for retail SaaS solutions in the order processing and intelligence category by revenue, for the financial year 2020. In India, the company works with some of the biggest e-commerce players, D2C brands, and retailers across categories.
Unicommerce's solutions are used to manage over 6,000 fulfilment locations, and process in excess of a million order items daily. It has nearly a decade of experience and now boasts a truly global product portfolio designed for any e-commerce business.
Its offering covers e-commerce integration, multichannel selling, inventory management, warehouse management, and omnichannel management. Unicommerce helps its clients elevate the post-purchase experience for the end consumers, and thus enables consistent business growth.
Enabling e-commerce sellers across sectors
Unicommerce is designed to be a sector agnostic platform and can be deployed irrespective of the industry or business size. The company works with leading e-commerce firms across segments In India and is expecting a similar response in Southeast Asia.
In the fashion and footwear segment for instance, Unicommerce works with Myntra, India's largest marketplace in the category, as well as retail brands such as Jack & Jones, Vero Moda, and Forever New among others. In FMCG and healthcare, the company provides solutions to leading brands such as Marico, Emami, Pharmeasy, Dhani pharmacy, and Healthkart as well as body supplement marketplaces. In personal care, the company works with leading brands such as Mamaearth, Plum, Sugar Cosmetics, and more.
This is made by Unicommerce's best-in-class products and robust integration network of over 80 marketplaces and carts, 50 plus logistics partners, and 10+ ERP/PoS systems. Some of its partners in Southeast Asia include Lazada, Shopee, NinjaVan, Amazon, Shopify, Magento, FedEx, and Blue Dart.
 The Southeast Asia gameplan
On the back of its performance in India, Unicommerce has been able to expand to global markets under the leadership of its CEO Kapil Makhija. For over four years, he has been spearheading the development and creation of a global SaaS product out of India. Most recently, Unicommerce raised capital from Softbank, to support its ambitious growth plans.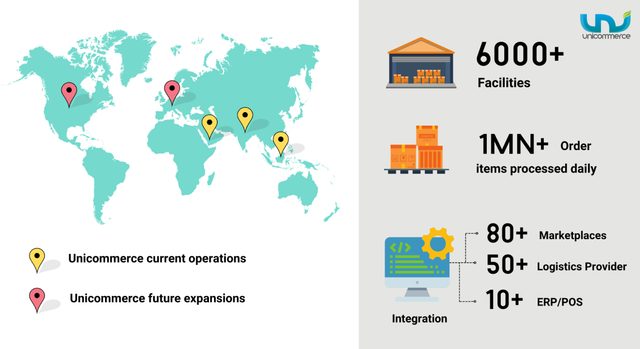 In pursuit of these goals, Unicommerce has already acquired multiple clients in Singapore, Malaysia, and the Philippines.It has been able to establish its presence as a technology platform that truly enables a unified e-commerce selling experience for its clients.
Talking about the expansion strategy, Makhija said, "The e-commerce industry has changed drastically in the last 20 months. Our learning from India has helped us build one of the finest e-commerce focused SaaS platforms and offer a truly unified selling experience. We are confident that our solutions will allow companies to improve business efficiency and accelerate growth. We aim to become a preferred choice of retailers planning to automate their e-commerce operations across the globe."
The company will also be investing capital towards product enhancement and hiring local talent in key markets across Southeast Asia.
The e-commerce environment in the region has leapfrogged several stages of development by adopting best practices from relatively mature markets. This has presented an opportunity for Unicommerce, resulting in business relationships with some of Southeast Asia's leading e-commerce retailers, D2C brands, and sellers. The company has on-boarded over 10 clients, which includes leading brands such as Edamama, Payo Asia, and Luxurious Craving among others.
For the Philippines based e-commerce enabler Payo, Unicommerce plays the role of a one-stop solution provider for last-mile delivery and fulfillment. Payo operates 43 facilities for 30 brands across six locations. Advanced warehouse solutions from Unicommerce have helped Payo increase its total sales order items from 5,000 to over 54,000 in only five months of implementation. This has resulted in a 10x growth in sales. Unicommerce has also enabled Payo with order management solutions to operate multiple facilities across five states, dispatching items from a single panel. This has helped Payo amplify its productivity and ultimately increased its overall profitability.
Unicommerce is also present in the Middle East with a focus on markets such as Dubai, Saudi Arabia, and Kuwait. According to the RedSeer report, Unicommerce is poised to address a global retail SaaS market for order processing and intelligence services worth $7 billion as of 2020, and estimated to grow to $17 billion by 2025.
---
This article was created in partnership with Unicommerce. Please visit the Unicommerce website to know more about the solutions it offers