While closely associated with bright yellow kiosks, Warung Pintar is pursuing the far bigger ambition of transforming and digitalising traditional trade in Indonesia, with comprehensive solutions for all stakeholders 
Modernising traditional trade in Indonesia is not a challenge for the faint of heart. Unorganised channels still account for 74% ($267 billion) of retail in the country. As much as 60% of the unorganised sector is accounted for by warungs or mom-and-pop stores, according to figures from Redseer Research. To add to the complexity, there can be as many as 5 layers of intermediaries between manufacturers and their eventual consumers. It is a vast, interconnected network with a high level of information asymmetry.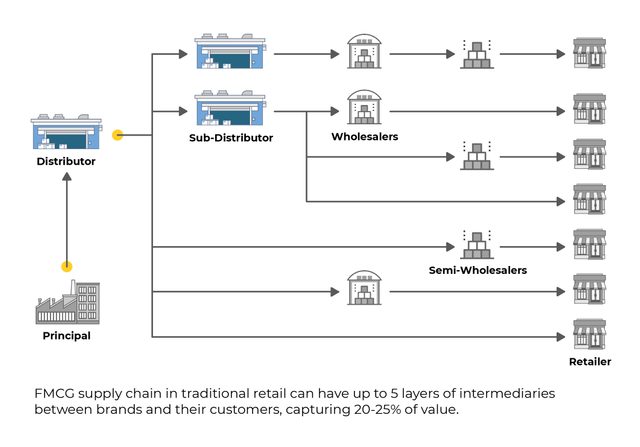 To address this challenge, the Indonesia-based Warung Pintar Group has reoriented itself to become an integrated solutions provider for traditional trade.
CEO Agung Bezharie Hadinegoro candidly admits that dealing with the entirety of the ecosystem was not part of the original game plan. Warung Pintar began in 2017 as a modest attempt to provide a workable solution to a single warung owner in front of investor East Ventures' co-working space. It subsequently grew to become a vast network of modernised retail kiosks delivering a significant uptick in revenue for warung owners. Its expansion over the last few years was fuelled by a high degree of customer orientation and a frugal approach when it came to business, drawing in investors including SMDV, Vertex Ventures, Pavilion Capital, Line Ventures, EV Growth (now part of East Ventures) and OVO.
The expansion is the next step in Warung Pintar's stated mission of digitalising traditional neighbourhood shops and their surrounding community, to make them part of Indonesia's future economy. The acquisition of Bizzy Digital, a B2B marketplace and supply chain platform, in February this year is a key building block of the new framework.
Building an end-to-end solution for traditional trade
Speaking about the strategy driving this new direction, Bezharie said, "We realised how important the supply chain was for our users, the pain points, and how current solutions — both conventional and digital — have not met the service level they require. It was a cue to focus on solving these issues."
The acquisition of Bizzy Digital and combining it with Warung Pintar's pre-existing business model provides an end-to-end integrated service that is set to resolve major supply chain related issues. Bezharie said, "Warung Pintar Group provides the most complete services for all stakeholders within the ecosystem, starting from warung, to wholesaler, to distributor and manufacturers. We digitalise every stakeholder and integrate them with our supply chain excellence, creating higher transparency and efficiency."  It does this via an ecosystem including Warung Pintar app for retailers; the wholesaler oriented Grosir Pintar which is geared towards inventory management, and even manufacturers and brand owners via Bizzy Connect.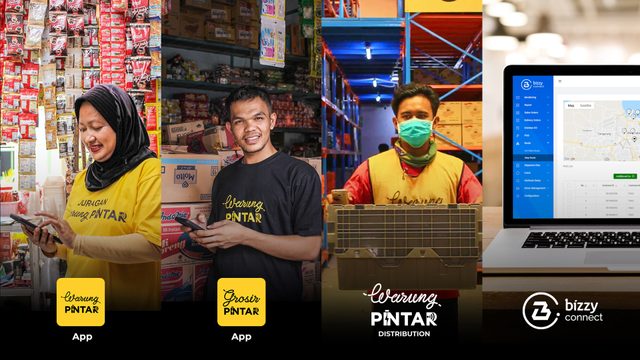 The transformation goes beyond the mere placing and receiving of orders; it also incorporates delivery and powerful insights into consumer demand. It can potentially unlock previously untapped avenues of consumption, growing the entire market.
How micro businesses and wholesalers stands to gain
With its technology platforms in place, Warung Pintar is eliminating many of the inefficiencies that plague traditional trade. The Grosir Pintar platform connects wholesalers to hundreds of potential warung owners within a 5-to-10-kilometre distance. The warung owners can directly access relevant inventory and have multiple sources to choose from including Grosir Pintar, Warung Pintar's own warehouses or the official distribution channel of a brand owner.
Such a direct connection addresses several long standing problems. For instance, warung owners no longer need to rely on dubious third-party middlemen who promise them the "best price" which may or may not reflect the actual optimum rate offered by a manufacturer.
Another area of trust deficit has been retailers believing that they may be compelled to carry suboptimal SKUs by powerful brand owners or distributors. According to Bezharie, this is being addressed by Warung Pintar's data-driven approach. He said, "All stakeholders have a collective understanding of market demand and how it suits each of their intentions to enhance productivity. Warung owners have an overview of the current market demand in the form of product recommendations, to guide them in managing stocks."
Moving in lockstep with a more evolved view of demand are significant improvements on the logistics front, with multiple options for restocks including same day delivery. These benefits do not come at the cost of the business models of existing distributors. Bezharie said, "We came to digitalise the existing distributors of brands, not to replace them. Utilising our platform, brands and distributors can get transparent data that drives operational productivity in every part of the process, from holistic inventory visibility, demand and supply planning, to fleet and salesman management."
How brand owners prosper
Besides being connected to retailers via the Warung Pintar app, brand owners have a live view into the market and distribution through the Bizzy Connect platform. It is a huge step up over previous systems where these companies could not trace the trajectory of their products once they left the factory, given the large number of intermediaries. Any data on market preferences or trends only reached a brand owner after several months.
That gap has been significantly reduced. The insights from a more efficient and transparent distribution system, helps brand owners deploy a targeted approach to marketing and promotions. Rather than running an activity across an entire geography, companies can now focus on specific areas based on sales reports. Brand owners can use Iklan Pintar (Smart Advertising) to run promotions, with eager participation from warung owners who clearly see the benefits of such campaigns.
Summing up the difference Warung Pintar has made to the ecosystem, Bezharie said, "Brands or principals can get data and insights for their overall business operations. They can deepen their market penetration to underserved retailers, and promote products directly.
We accommodate distributors with holistic inventory visibility, demand and supply planning, as well as fleet management. Wholesalers have access to logistic services and can expand their market to warungs that are within their reach, under the auspices of the Warung Pintar Group.
For warung owners, apart from digital adoption, they have a privilege in terms of ease of stock fulfilment and management with fair pricing from multiple sources."
Warung Pintar's business model was previously built around margins on the services offered by its kiosks. Incorporating Bizzy Digital has expanded its business and led to enhanced monetisation with multiple revenue streams.
The Future of Warung Pintar Group
Bezharie said, "In Indonesia, the warung is not only a retailer, but a digital hub — an extension to the local community, where most consumers are unbanked and lack digital touchpoints. By enabling digitalisation for all stakeholders in general trade, our impact goes beyond the growth of micro businesses or brands and distributors prospering. Our aim is to impact the wider surrounding community, with warungs as the main gateway to Indonesia's biggest emerging consuming class to participate in the digital economy."
To date, 500,000 warungs are a part of the Warung Pintar ecosystem which also includes over 350 wholesalers, 500 plus brands and distributors, 50 plus warehouses and depots and a presence that spans over 150 cities and regencies. Its brand partners include Reckitt, Coca-Cola, Danone and Sinarmas.
Given the size of the local opportunity, global expansion is not immediately on the cards. However, Warung Pintar will remain in a constant state of evolution. Bezharie said, "This process stems from a range of perspectives from every facet of our company – not merely founders, but our diverse team members. To bring value to this market is to always be a student and never become a master."
---
This article was created in partnership with East Ventures. Please visit the Warung Pintar website for more information on its holistic end-to-end retail solutions