East Ventures-backed Warung Pintar grew through the pandemic by avoiding excessive burn and by deploying micro-retail solutions built around a reliable supply chain 
Like many other startups, Indonesia-based micro-retail firm Warung Pintar (smart kiosk) also known as 'Warpin' faced the ultimate challenge through 2020 with the onset of the COVID-19 pandemic. However, at a time when many of its contemporaries across sectors burnt through their cash reserves and are currently seeking further funding from increasingly tight-fisted investors, Warung Pintar is still left with a significant chunk of its $35.5 million raise in the bank.
Through 2020, Warung Pintar grew by 12x – up from 5x in 2019. The number of warungs (retail kiosks) it worked with increased from 1,000 in January 2019 to 60,000 in November 2020. The firm is on track to acquire 300,000 warungs in Q1 2021. This remarkable growth is attributed to the prudent approach followed by CEO Agung Bezharie, who avoided many of the missteps made by more established players in the field.
Several startups have mushroomed over the last five years to take on the challenge of upgrading and digitalising Indonesia's 3.5 million to 4 million warungs which constitute the bulk of unorganised traditional retail in the country. These kiosks typically service a neighbourhood and derive 70 per cent of their sales from FMCG according to data from Redseer Analysis.
Warung Pintar traces its origins to a warung located near the Jakarta coworking space of East Ventures. Speaking about how this kiosk inspired a business model, East Ventures co-founder and managing partner Willson Cuaca said, "It was initially a social act to help one of the warung owners who operated in front of our coworking space. The warung's owner approached (East Venture's partner) Melisa Irene and asked to be allowed to continue trading."
In order to prevent disruptions to pedestrian traffic, the warung was relocated to the parking space. East Ventures renovated the kiosk, adding features such wifi, point of sale machines and closed-circuit TV. Cuaca said, "By the end of the month, when we checked with the owner, his revenue had increased by 7x. We knew we had hit product-market fit and quickly thought of how to scale this. Agung Bezharie who had been running the coworking space, took over the project and ran it as CEO of Warung Pintar."
By 2019, Warung Pintar had raised a total of $35.5 million and now counts SMDV, Vertex Ventures, Pavilion Capital, Line Ventures, Digital Garage, Agaeti, Triputra, Jerry Ng, EV Growth and OVO among its investors.
Many of the earlier firms in the space had grown on the back of huge cashbacks to tide over the initial doubts and fears of traditional store owners, providing them an easily understandable incentive. But Warung Pintar opted out of this standard business practice. Speaking of the reasons that drove this decision, Cuaca said, "Excessive cashback to the merchants or business owners is uneducative and puts them in a delusional economy. They are no longer running businesses with actual cost."
With Bezharie at the helm, Warung Pintar picked an approach similar to that taken by warung owners themselves. Cuaca said, "By running the startup as prudently as possible, like most of our warung owners, we were agile and crisis proof." Asked if having a former VC at the helm – Bezharie previously worked for East Ventures – resulted in a more financially prudent approach, Cuaca said, "Not really. It is a personality trait."
With a lower reliance on cashbacks, Warung Pintar took on three of the most common problems that affected the sector – stock availability, delivery time and accuracy. It invested heavily in an efficient supply chain resulting in a cost per order that is 30 per cent lower than the rest of the market. This is especially significant in the throes of a pandemic, when merchant orders are less frequent, have a smaller basket size and delivery costs chip away at order value. These pressures have increased the burn rate of many other players in the field.
But Warung Pintar's approach which includes a more reliable supply chain and the avoidance of unnecessary burn, has resulted in greater merchant stickiness and a higher order frequency. The firm also realised the impossibility of trying to do everything alone. It has instead opted to partner with other companies, wherever possible. For instance, it counts both Grab and Gojek among its payment partners.
Speaking about Warung Pintar's late mover advantage, Cuaca said, "We let the others charge forward and educate the market. Most importantly, they grew expensively and burnt tons of money. It won't last in the pandemic era where sustainability is key and fund raising is getting harder. You can expect more players in this category having problems, soon." On the other hand, Warung Pintar was built around keeping track of burn, defining its key strategy and developing its core capabilities, Cuacca added.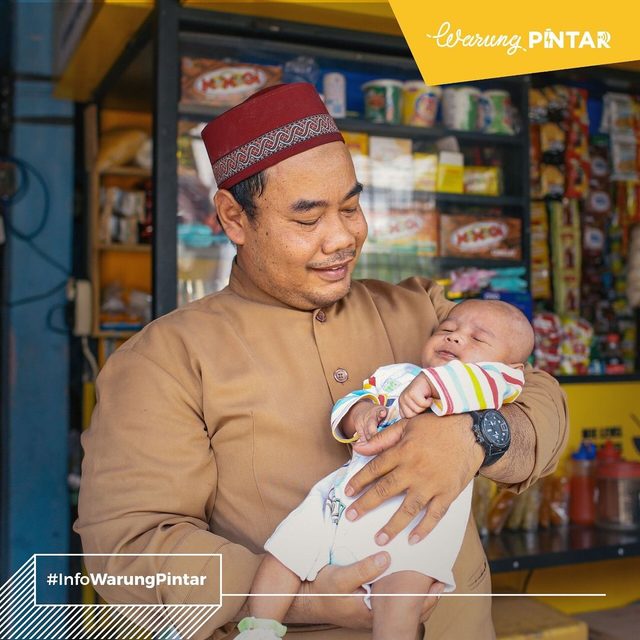 Warung Pintar has helped boost the entrepreneurial ambitions of many Indonesians. Cuaca said, "We are giving people the rare chance to start a new business. There was a man who started a Warung Pintar kiosk when his wife was pregnant, and he was out of a job, looking to feed the family. The business is now running well. He named his son Warpin Rafli Rafasha which sounds very Indonesian and very modern. This kind of story inspires us to do more with Warung Pintar.  The social impact is clear – it has changed people's lives."