There is a lack of awareness and understanding around Employee Stock Option Plans (ESOPs) in Southeast Asia, according to a recent report by Saison Capital and Svested, a Singaporean startup focused on ESOP management.
The findings show that while most Southeast Asian founders are implementing ESOPs for the "right reasons" such as retaining and attracting talent, many still face awareness gaps when it comes to topics such as share buybacks and top ups.
This has led to ESOP policies that may not be fully maximising the opportunities it brings to founders.
For instance, Southeast Asia's ESOP pools tend not to grow as startups progress through different funding stages and hire more employees.
According to The State of ESOPs in Southeast Asia 2021 report, 24% of seed-stage founders had ESOP pools sized at 10-15% of the company's shares on a fully-diluted basis.
This rises dramatically to 44% of founders once they are Series B and above with none offering ESOP pools of 15% and above. (See image below.)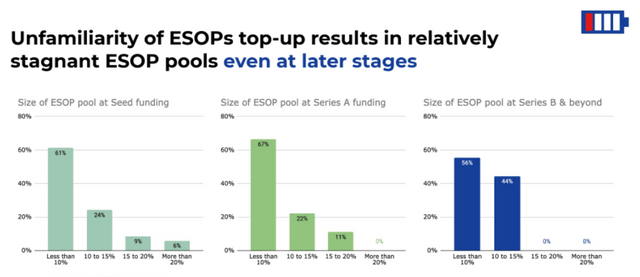 The report, which surveyed 134 companies across various stages and markets, also found that Southeast Asian ESOP plans are largely structured to be more company-friendly than talent-friendly. In some instances, the upside for ESOP holders is even seen to be disincentivising.
For example, 45% of startups were found to have set their strike price at the same level as their valuation in the last round of fundraising, which means employees may be unable to afford the strike price especially at advanced stages of funding. (See image below.)
Separately, one in five startups dissolves all options (including vested ones) upon employee departure. This acts as a golden handcuff used to deter employees from leaving the company. Moreover, 50% of startups give departing employees less than 6 months to exercise their options.