Private funding in SE Asia slipped to a six-year low in H1 2023 amid global macroeconomic headwinds, while the region's digital economy is expected to grow at a slower pace than last year, according to the 2023 e-Conomy report by Google, Temasek, and Bain & Co. 
Titled "Reaching new heights: Navigating the path to profitable growth", the report showed that private funding has reverted to 2017 levels, with deal count more than halving to 564 in H1 2023 from 1,233 in H1 2022. Deal value, meanwhile, fell to a third during the period, from $13 billion in H1 2022 to $4 billion in H1 2023.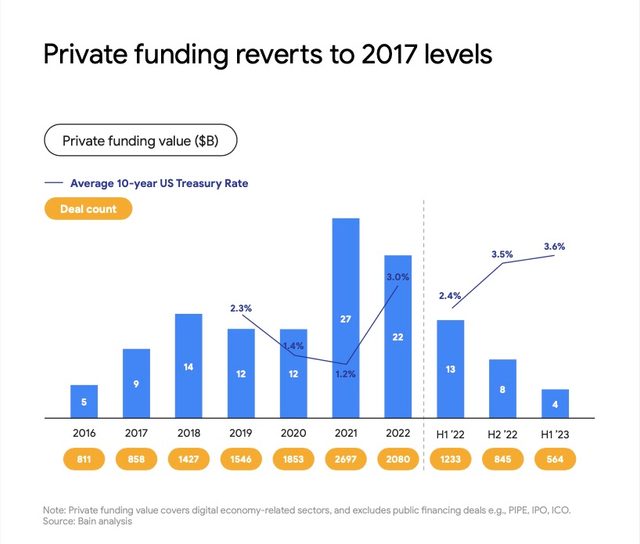 Fock Wai Hoong, Head of Southeast Asia at Temasek, pointed to the year-on-year decline in funding values across all countries, with Indonesia seeing the largest decline of 87%, Singapore 63%, and Vietnam about 25%.
In terms of gross merchandise volume (GMV), the Internet economy in SE Asia is expected to grow at 11% year-on-year to $218 billion in 2023, against a growth of 20% last year, the report showed. The GMV is forecasted to grow to $295 billion by 2025, against a previous estimate of $330 billion.
Their revenue is, however, poised to hit the $100-billion mark this year, growing at a CAGR of 27% since 2021 and 1.7x as fast as its GMV in 2023, as tech companies shift their focus to monetisation and profitability.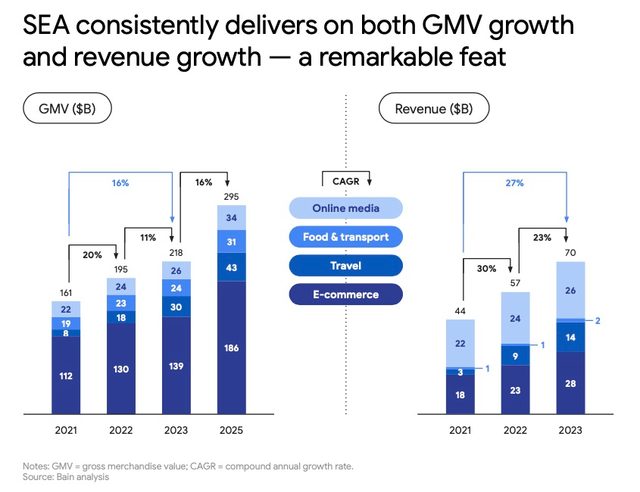 Fock stated that to attract investments, digital companies need clear pathways to profitability and prove to investors that they have dependable exit pathways. He said the decline in funding is in line with global shifts towards the high cost of capital and issues across the funding lifecycle. 
Florian Hoppe, Partner and Head of Vector in Asia Pacific, Bain & Company, said, "It is remarkable that both Southeast Asia's digital economy GMV and revenue continued their double-digit growth momentum, with revenue expected to break the $100-billion mark in 2023. This shows the resilience of the Southeast Asian digital economy and that the key players are making progress towards more healthy unit economics and sustainable business models.
E-commerce continues to shine
E-commerce continues to record strong growth, with revenue expected to grow 22% YoY to $28 billion. The sector's GMV is forecasted to touch $139 billion in 2023 and $186 billion in 2025. While adjacent revenue streams such as advertising and delivery services serve as a long-term growth engine for e-commerce, growing the number of users and transaction sizes is key to growth and boosting profitability, the report stated.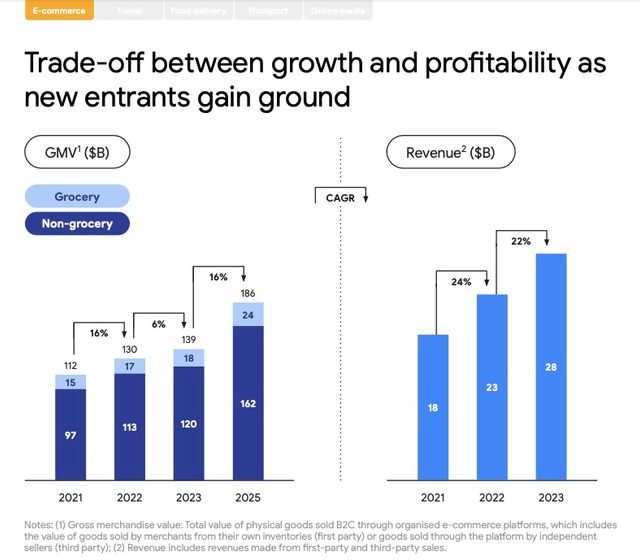 Online travel is also on track to recover by 2024 as flight passenger volume touches near pre-pandemic levels. The sector's revenue is expected to soar by 57% YoY to $14 billion in 2023, while GMV is seen growing 63% YoY, reaching $30 billion in 2023 and tracking towards $43 billion in 2025. Online travel is seeing significant momentum in Thailand where it's the main growth driver in 2023, growing 85% YoY.
The irreversible offline-to-online behaviour shift continues to drive growth in the adoption of Digital Financial Services (DFS), including digital payments. Digital lending is the single-biggest driver of the $30-billion DFS revenue projected for 2023 due to high lending rates and consumer demand, as underbanked consumers and small businesses participate in the digital economy.
Singapore is expected to be the biggest digital lending market in SE Asia from 2023 through 2030, while Indonesia will be the biggest digital payments market.

As competition between DFS players intensifies, pure-play fintechs have extended their lending services to the underbanked segment, while established financial services institutions have been quick to shift their large existing customer bases to digitalised services. 
The increasing interest towards digital wealth presents a lucrative opportunity for established financial services institutions to retain high-net-worth customers, the report stated. 
Fuel for growth
Despite funding falling amid increased prudence by investors, dry powder in the region rose to $15.7 billion at the end of 2022 from $12.4 billion in 2021. This shows that there is fuel available to propel SE Asia's digital economy to the next stage of growth.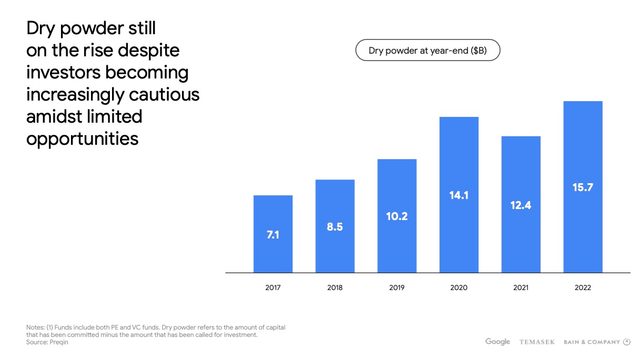 Dry powder, according to Fock, is crucial. "If you think about why we are so optimistic about Southeast Asia as a region, and the investment opportunities it presents, it is because the underlying economic fundamentals continue to be attractive," he added.
He added that the investor is backing great entrepreneurs in the region who have demonstrated nuclear focus, operating efficiencies, and a spirit of innovation, applied these to their businesses, and turned their attention to growing profitably. 
"This coupled with the availability of dry powder sitting on the sidelines is looking for such businesses which will get the flywheel going," said Fock.
The road ahead
Despite the ebbs and flows, SE Asia has substantial headroom to drive long-term growth, with a growing population, room for income growth, and huge urbanisation potential, the report stated.
Fock believes that businesses are actually pivoting in the right direction. He stressed that there needs to be some movement and shift in mindset around valuations — both entry and exit valuations in particular. 
He said that for both companies and investors, there needs to be a recognition that the valuation paradigm, in the last five-plus years, was more the exception than the norm. 
Taking into account the current environment of high interest rates and market volatility, Fock said companies need to refocus their priorities and focus more on partners who can contribute to their long-term growth.
On the other hand, investors need to acknowledge the changing terrain. They should explore avenues to distinguish themselves by strategically assisting companies in achieving sustainable revenue growth, implementing global best practices, and optimising operational efficiencies.
Sapna Chadha, Vice President, Google Southeast Asia, said, "With accelerated revenue and continued GMV growth, Southeast Asia's digital economy continues to show incredible resilience and is successfully increasing its profitability amidst macroeconomic uncertainty. Keeping the focus on the digital participation gap and resolutely removing barriers to enable more Southeast Asians to become active users of digital products and services will help the region unlock further growth in the digital decade."