Wall Street is questioning whether Elon Musk's $2.86 billion plan to combine Tesla Motors Inc. and SolarCity Corp. will go through, even though Musk is trying to persuade investors the proposed marriage is brimming with benefits.
Tesla offered a range of $26.50 to $28.50 a share for the largest U.S. solar provider, about 50 percent less than where the stock was trading six months ago. SolarCity climbed just 3.3 percent to $21.88 at the close in New York, a 23 percent discount to the high end of the buyout offer. Tesla slid 10 percent to $196.66 after falling as much as 14 percent in extended trading Tuesday.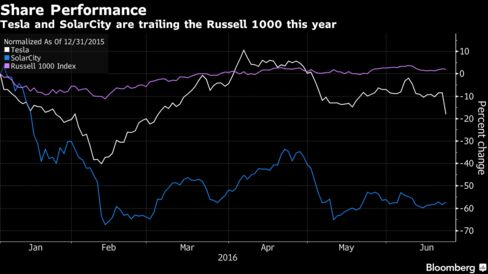 Tesla shareholders are concerned the carmaker is spreading itself too thin, while investors in SolarCity say the price offered is too low. The potential acquisition is setting up a battle for the heart and soul of Tesla, which has struggled to become a high-volume automaker and now is trying to reposition itself as one-stop shopping for clean-energy consumers.
"Tesla faces the most resistance because it's clearly a big pivot from their business model," Patrick Jobin, an analyst at Credit Suisse Group AG, said in an interview Wednesday. "And SolarCity is worth a lot more than Tesla is offering. We give it less than a 40 percent chance of happening."
Corporate-Governance Issues
Musk, the largest shareholder in both companies, and Antonio Gracias serve on both boards and recused themselves from Tesla's June 20 vote to approve the proposed deal. They also will recuse themselves from the SolarCity board vote on the proposal.
There are thorny corporate-governance issues related to the deal because so many board members at the two companies are closely aligned, analysts said. Musk's cousin Lyndon Rive, SolarCity's CEO, also won't participate in the voting.
"It's clearly a corporate-governance mess," Jobin said.
"There may be challenges in getting shareholder approval," wrote Colin Langan, an analyst at UBS, in a research note published Wednesday. "We don't see the premium as particularly rich."
In a conference call with investors that lasted more than 90 minutes early Wednesday, Musk stressed the importance of solar power, batteries for energy storage and electric cars as the "Earth's solution."
'Weird Phase'
"If anything, maybe we should have done this sooner, but I don't think we're doing it too early," Musk said. Eventually, people will look back on gasoline-fueled cars as "a weird phase. And now we want to get out of that weird phase as soon as we can."
Musk owns 22 percent of SolarCity and 21 percent of Tesla, the youngest and smallest publicly held U.S. automaker. The two companies work closely together: SolarCity picked batteries made by Tesla to provide 13 megawatts of electric storage for an array of solar panels to be built on the Hawaiian island of Kauai.
While it's unusual to announce a proposed acquisition rather than a definitive agreement, Musk's holdings in the two companies required him to keep the market informed, which benefits other shareholders, Todd Maron, Tesla's general counsel, said on Wednesday's call.
"On the Tesla side, the board has approved going forward with the offer, which is why we made the announcement," he said."We've delivered our offer to SolarCity."
Due Diligence
After due diligence and a signed merger agreement, there will be a shareholder vote at both companies within two months, Maron said during the Wednesday call. Tesla is working with Evercore Partners Inc. as an adviser on the deal, according to three people familiar with the situation.
Tesla announced its bid for SolarCity in a June 21 blog post, saying the acquisition would "complete the picture." The move comes as Tesla finishes construction of its battery-manufacturing gigafactory east of Reno, Nevada, and prepares to begin output of the Model 3, its more affordable electric car, late next year. Musk has said he wants to build 500,000 cars a year by 2018, two years sooner than originally planned.
If the deal is approved, SolarCity would become a unit of Tesla. It's already part of the family: The solar provider's co-founder and chief technology officer, Peter Rive, is also Musk's cousin. They and Lyndon Rive hatched the idea for the business during a trip to the Burning Man arts festival in the Nevada desert more than a decade ago.
More Generous
With 100.2 million SolarCity shares outstanding, the proposal is worth as much as $2.86 billion. Including net debt, the deal values the company at about $5.7 billion, about 12.6 times revenue, according to data compiled by Bloomberg. That's much more generous than other acquirers in the industry have been: Buyers in the past five years have agreed to pay an average of 5.7 times sales for alternative-energy companies. The data includes at deals valued at $100 million or more in areas such as solar, wind and water power.
Tesla shareholders also may look askance at taking on more debt by combining the money-losing businesses, said Salim Morsy, an analyst with Bloomberg New Energy Finance.
"The company just raised $1.4 billion from an equity issuance in May to finance an accelerated production ramp of Model 3," he said in an e-mail. "Investors will have trouble looking past the $3.2 billion in debt that Tesla moves on to its own balance sheet for a SolarCity enterprise value of just $5.8 billion."
Also read:
Tesla curbs autopilot feature, but Musk says better than human driver
Tesla offers to buy solar panel maker SolarCity in $2.8b deal
Bloomberg