Nomura Holdings Inc. is looking to hire more U.S. bankers to help it capture a greater share of overseas deal-making by Japanese firms, as it seeks to overtake its rivals in the mergers and acquisitions rankings.
The brokerage was looking "once again" to hire bankers to expand its M&A business in the Americas, Nomura Securities Co. President Toshio Morita said in an interview Wednesday.
"I have to face the league tables as a reality, and that will be a challenge," said Morita, 55, who became president this month. "We will have to expand in the Americas once again as Japanese companies are increasingly doing global M&A in the region, and the region will generate the biggest fees."
His comments come after Nomura eliminated about 900 jobs, mainly in Europe and the U.S., over the past 12 months in areas such as stock research, equity capital and leveraged finance. The cuts appear to have helped its overseas business, which is set to return an annual profit for the first time in seven years.
"There are plenty of client needs for the Americas," Morita said. "Listed firms in Japan are anxious that the business landscape would change in 10 years because of the falling and aging population."
Morita added that the hiring round in the U.S. could be bigger than before, with the caveat that it may take time to bring in appropriate talent.
Japanese companies have ramped up overseas M&As in recent years. The biggest deals have been SoftBank Group Corp.'s purchases of ARM Holdings PLC and Sprint Communications Inc.
Triple Crown
Nomura's hiring plan is part of Morita's bid to claim the "triple crown" of Japanese investment banking and climb to the top rung in equities, bonds and M&A advisory business.
Nomura was the No. 6 adviser for M&As in Japan last year, falling behind Mizuho Financial Group Inc., which worked on more cross-border deals, data compiled by Bloomberg show. It came in fourth for bond sales involving Japanese companies, and was the top underwriter for equity sales. The Ministry of Finance last month selected Nomura as a global coordinator for a sale of more shares in Japan Post Holdings Co.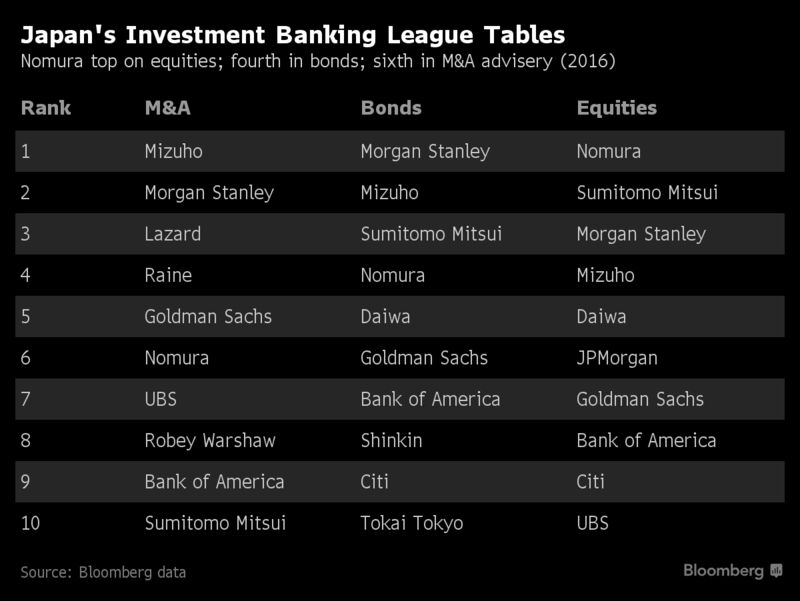 Last month, Nomura increased its executives in the Americas to three from two. It assigned Kentaro Okuda, joint head of the wholesale division and head of investment banking, to lead the brokerage's business in the region, replacing David Findlay, who will become executive chairman in the region.
Nomura is set to announce its first annual overseas profit in seven years on April 27 when it discloses its earnings for the fiscal year ended March. The Tokyo-based firm earned 31.4 billion yen ($289 million) abroad before taxes in the three months ended Dec. 31 — the most since it began breaking out overseas profit in 2002. A year earlier, it lost 19.9 billion yen.
Morita said the brokerage is also looking at ways to return profits to shareholders, with one option being a cancellation of some shares. He declined to give further details.
Nomura fell as much as 1.1 percent in the first few minutes after markets opened in Tokyo on Friday. The benchmark Topix index dropped as much as 0.7 percent.
Also Read: Nomura, Goldman vie for Japan Post's $12.3b IPO mandate
Nomura plans to dismiss 20% of North America staff
Bloomberg