Singapore continues to stand out as the top fundraising hub in Southeast Asia in the first nine months of 2023, in terms of both deal count and value, with local venture-backed companies securing over 60% of the total funding in the region, a report from DealStreetAsia and Enterprise Singapore showed.
The report – Singapore Venture Funding Landscape 2023: A Nine-Month Study – showed that Singapore startups garnered 64% of the region's total deal volume from January to September, up from 56% in the same period last year. They also captured the lion's share of deal value at 63%, on par with a 63% share last year.
Indonesia accounted for 17% of the deal value in Southeast Asia, while Thailand was at 8%. Vietnam accounted for 9%, the Philippines at 2%, and Malaysia at 1%. In terms of deal volume, Indonesia's share was at 16%, Vietnam at 6%, Malaysia at 6%, the Philippines at 4%, and Thailand at 4%.
For the entire 2022, venture capital funding in Singapore slightly weakened following a bumper 2021 as investors took a cautious stance amidst a challenging macro environment.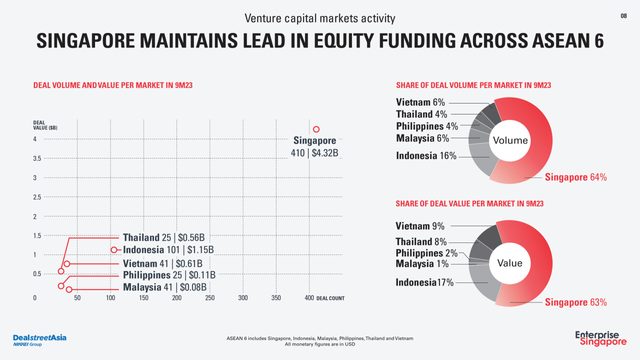 However, the city-state was not immune to the cold spell experienced in key investment markets in ASEAN 5 (Indonesia, Malaysia, the Philippines, Thailand, and Vietnam), which was fuelled by macroeconomic uncertainties, geopolitical tensions, and high-interest rates.
Deal volume and value in Singapore dropped during the nine-month period. Deal volume in the city-state dropped 21% year-on-year to 410 transactions, while deal value plunged 49% to $4.32 billion in the reporting period.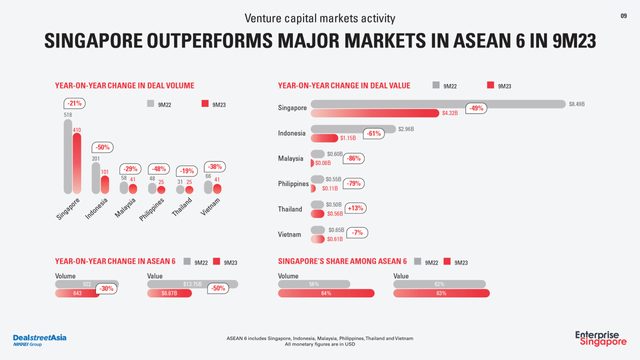 Outside Singapore, deal volume dropped 30% year-on-year in the first nine months of 2023, while the deal value reported a more precipitous decline at 50%.
Singapore's position as a relatively mature and resilient tech hub, however, cushioned the blow for the local startup ecosystem, and industry leaders are optimistic that the market could ride the next growth wave over the next 12 months.
"The decline in venture funding in homegrown startups in Singapore is temporary, led by the macroeconomic environment. It will pick up substantially over the next few years," said Magnus Grimeland, founder & CEO of global venture capital firm Antler.
The report, which cited data based on company announcements, regulatory filings, media reports, industry reports and DealStreetAsia's research, also noted that quarterly deal volumes in Singapore in 2023 have reverted to levels seen in 2019, when dealmaking was yet to be affected by the global pandemic.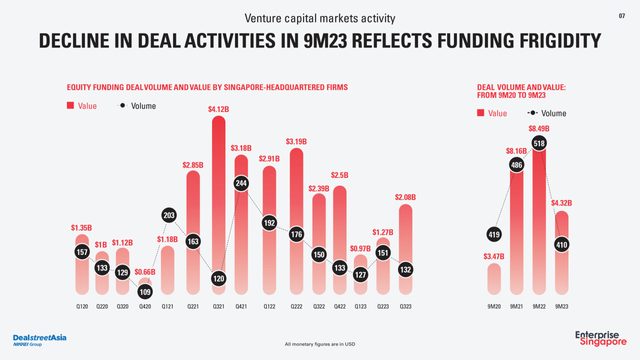 And notably too, startups that bucked the overall funding slowdown trend in the first nine months of the year belonged to the sectors that were considered essential during the pandemic period – healthtech, green tech, agri tech, and food tech – reflecting a growing recognition of the need to rethink these sectors in the aftermath of the pandemic.
According to the report, healthtech deal volume more than doubled in nine months versus the same period last year, as deal value jumped to $292 million. In green tech, which includes renewable energy technologies and waste management, transactions grew by over 300% during the period.
There was also a 24% year-on-year increase in the city-state's agri tech and food tech deal volume to 21 transactions that raised $26 million in total.
"The pandemic has created higher awareness and acceptance of the use of technology to facilitate healthcare delivery. For example, telemedicine and related activities are now more widely used," said Eric Loh, Singapore CEO of Trendlines Medical, a Singapore-based company that invests in and incubates innovation-based medical technologies.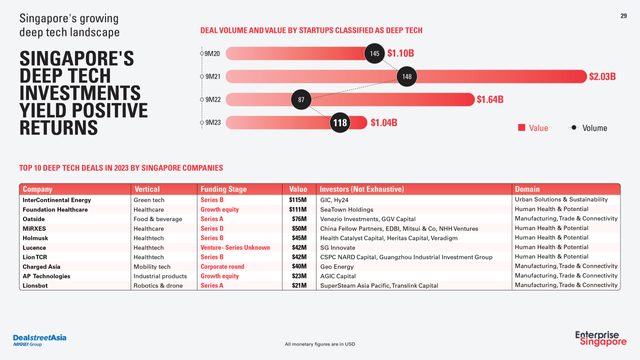 Increasing investor interest in Singapore's deep tech sector was also highlighted, with the city-state recording a 36% year-on-year increase in deep tech deals to 118 in the first nine months.
However, investors continued to demand lower valuations as reflected in the 37% year-on-year drop in deal value to $1.04 billion. Still, 19 startups moved to the Series A stage, while nine graduated to Series B within the period.
"Early-stage deep tech startups typically have longer gestation periods, which may give investors confidence that they can weather the funding doldrums," said Tan Kaixin, general manager at SEEDS Capital the investment arm of Enterprise Singapore.
This is one of the reasons why Singapore saw an increase in deep tech deals in these first nine months compared to this year, she added.
Early-stage deals gain traction
The report also highlighted that early-stage deals – Seed to Series B transactions – have gained a larger share of the funding pie this year, accounting for 95% of deal volume and 53% of deal value, a 90% and 46% increase, respectively, from a year earlier.
But still, in line with the broader drop in funding, early-stage deals recorded an 18% drop in deal volume and a 42% decline in deal value year-on-year.
In contrast, Series C and beyond deals experienced significant correction this year, with deal volume declining by 58% year-on-year to 20 and deal value falling 56% to $2.03 billion.
Deals worth $2.5 million or lower accounted for almost 47% of the total deal count in the January-September period, with deals less than $1 million taking a 24.7% share, the report showed.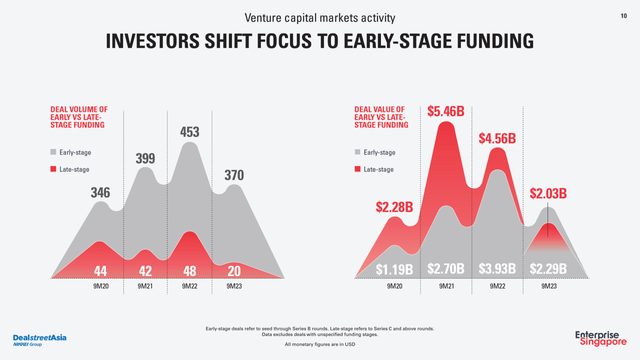 VC fund managers that have successfully closed fundraising rounds in the last couple of years are sitting on record amounts of dry powder and they do not have the option to sit and wait for the tide to turn, according to the report.
"They have instead veered towards early-stage deals that are typically smaller in size and provide them with a longer exit horizon, helping bring the total deal volume in the first nine months of this year to pre-pandemic levels," the report added.
Meanwhile, median values, which act as a proxy for valuations, for early-stage deals show a relatively subdued impact of the ongoing funding winter. Seed deals saw a 23% correction in their median value in the first nine months of 2023. Series A saw no change, while the Series B median value dipped 22%.
The report also noted that 11 of the 20 most funded startups in the first nine months of the year hail from Singapore, led by Lazada Group, which received a capital injection of about $1.2 billion from its parent Alibaba Group.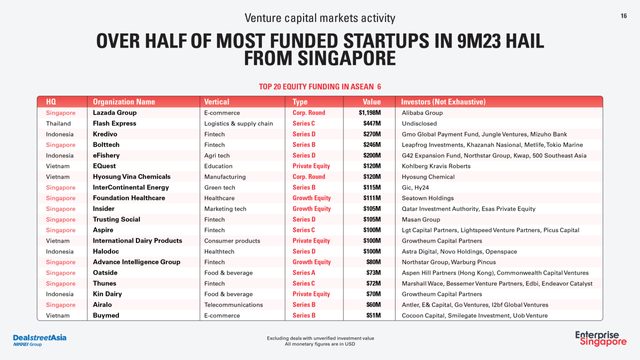 Bright spots
Healthtech, green tech, agri tech, food tech, and AI have emerged as bright spots in Singapore's funding landscape, the report noted. Healthtech has become a focal point of investment while green and agri tech sectors are also seeing substantial traction.
The city-state's ready infrastructure for test-bedding AI tech and enabled solutions and a growing pool of AI professionals also provide fertile conditions for new startups to emerge in this disruptive sector, the report said.
"While Singapore's innovation ecosystem has definitely evolved over the years, it is still very healthy, vibrant, and amongst the leading international startup hubs. Certainly, an attractive one that is expected to draw keen global investor interest for a long time to come," said Chua Kee Lock, CEO of Vertex Venture Holdings, the venture capital arm of Singapore's state investor Temasek Holdings.
Experienced fund managers such as Vertex Ventures view the current 'funding rightsizing' to be good for the ecosystem as the focus is back on prudent management of burn rates, diversified revenue streams, and strong unit economics.
"Our read of the current market is that it's probably experiencing a 'funding rightsizing' phase as opposed to a 'funding winter'," Chua added.
Kabir Narang, founding general partner of Singapore- and US-based venture capital firm B Capital Group, said there is plenty of room for startup growth, particularly as Southeast Asia has showcased its resiliency through the last few months.
"Our key advice to the portfolio is around sustainable growth, managing burn, being prudent, diversifying revenue streams and reducing vulnerability to market disruptions," Narang said.