China Deals Barometer Report: Market recovery continues as startups seal 246 PE-VC deals in June
Startup financing in Greater China rose for a second consecutive month in June to reach $4.8 billion — the highest so far in 2022. At 246, the volume of private equity (PE) and venture capital (VC) deals in the month was also 2022's highest.
While deal value was up 25.7% from May, deal volume rose 29.5% in the period, according to proprietary data compiled by DealStreetAsia.
The record dealmaking activity in June contributed to a substantial rise in the number of venture deals in Q2 to 606 from just 363 in Q1. But due to a shortage of large-sized, growth-stage deals, the quarter's total funding size contracted by 7.6% to less than $11.4 billion, compared with over $12.3 billion in the previous quarter.
In total, the first six months of this year saw the completion of 969 venture deals raising just over $23.7 billion. Investors wrote 9% more cheques in H1 2022, although the level of capital being poured into the market was 42.3% less than the same time last year.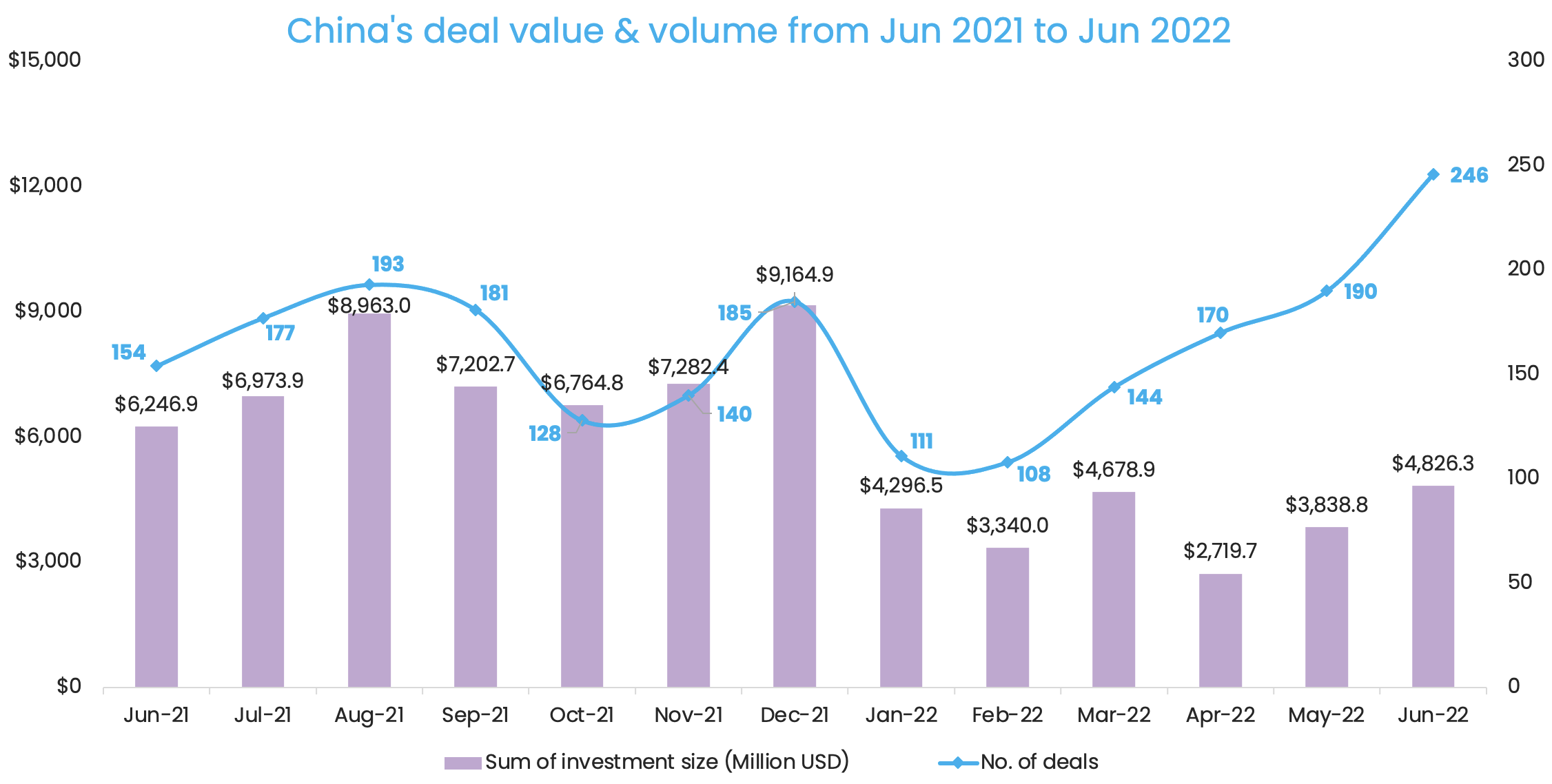 Silicon wafer maker clinches June's largest venture deal
While there were no billion-dollar transactions, June still had two investments worth over $500 million and nine megadeals (worth $100-500 million).
The month's biggest fundraiser was CanSemi Technology, a producer of 12-inch silicon wafers, which raked in about $672 million from Guangzhou Yuexiu Industrial Investment Fund Management, the PE unit of Chinese publicly-listed firm Yuexiu Financial Holdings, and Chinese state-owned automaker Guangzhou Automobile Group's investment arm GAC Capital. Other strategic investors included Guangdong Finance Fund Management, a government-guided fund that manages over 41 billion yuan ($6.1 billion).
Ranking second was a $600-million round completed by WM Motor, an electric vehicle (EV) startup backed by Chinese search engine giant Baidu. The startup filed for an initial public offering (IPO) in Hong Kong immediately after the pre-IPO round, reportedly targeting a public listing of about $1 billion, according to Bloomberg.
A $300-million Series C round in MegaRobo Technologies came third. The Beijing-based startup, which applies robotics and artificial intelligence (AI) in life sciences research, closed the round from lead investors including Goldman Sachs' private investment arm, VC company GGV Capital, and Asia Investment Capital. Its founder and CEO Daniel Huang said that MegaRobo reached the unicorn valuation of over $1 billion following the deal.
The remaining eight megadeals were all within the scope of $100-$200 million and completed by startups across the fields of semiconductor, biotech, auto & parts, cybersecurity, logistics & distribution, and software.
List of megadeals in June 2022
| Startup | Headquarters | Investment size (Million USD) | Investment stage | Lead investor(s) | Other investor(s) | Industry | Vertical |
| --- | --- | --- | --- | --- | --- | --- | --- |
| CanSemi Technology | Guangzhou | $672 | Strategic Investment | | Guangzhou Yuexiu Industrial Investment Fund, GAC Capital, Utrust Fund | Semiconductor | N/A |
| WM Motor | Shanghai | $600 | Pre-IPO | | | Auto & Parts | Electric/Hybrid Vehicles |
| MegaRobo Technologies | Beijing | $300 | C | Goldman Sachs, GGV Capital, Asia Investment Capital | Sinovation Ventures, Pavilion Capital, Starr Capital, Yumeng Capital, Redview Capital, Harvest Capital, Taihecap | Biotech | HealthTech |
| UniVista Industrial Software Group | Shanghai | $164 | Pre-A | | IDG Capital, CAS Investment Management, China Automotive Chips Alliance, Feixiang Capital, SAIC Capital, GAC Capital, SummitView Capital, Mulan Investment | Semiconductor | N/A |
| Doma Biopharmaceutical | Suzhou | $142 | A | | Biocytogen, China Life Private Equity Investment, PICC Capital, China Taiping Insurance's healthcare fund, SDIC Fund, Suzhou Industrial Park, CMB International | Biotech | Biotech |
| MINIEYE | Shenzhen | $120 | D | Cathay Capital | NIO Capital, Shenwan Hongyuan Group, Dongfeng Asset Management, Vision Plus Capital, CICC Alpha, Harvest Capital Management, Guokai Manufacturing Transformation and Upgrading Fund, Unicom CICC Investment, CICC (Changde) Emerging Industry Venture Capital, Chongqing Kexing Kechuang Equity Investment, Oriental Fortune Capital | Auto & Parts | Autonomous Driving |
| TDHX Industrial Network Security | Beijing | $105 | D | | SPIC Industrial Fund Management, China Electronics Technology Group Corporation's CETC Fund, State Grid Yingda Industry Investment Funds Management, Shang Qi Capital, Nanjing Iron & Steel, Cash Capital, Suzhou International Development Venture Capital, Green Pine Capital Partners, Fosun Capital, Chinaleaf Capital Management, Yinxinggu Capital | Cybersecurity | N/A |
| HAI ROBOTICS | Shenzhen | $100 | D+ | Capital Today | 5Y Capital, Source Code Capital, Sequoia Capital China, 01VC | Logistics & Distribution | Robotics & Drones |
| Axbio | Shenzhen | $100 | B | Yunfeng Capital, AstraZeneca-CICC Investment Fund | CBC Group, CMG-SDIC Capital, 5Y Capital | Biotech | Biotech |
| Style3D | Hangzhou | $100 | Pre-B+ | | GL Ventures, CDH Investments | Software | SaaS |
| Flexiv | Shanghai | $100 | B+ | | | Hardware | Robotics & Drones |
The bulk of investments in June happened at the early funding stage, as investors are making more bets on young businesses with a long road to grow before regulatory uncertainties around the US listings of Chinese companies are cleared up.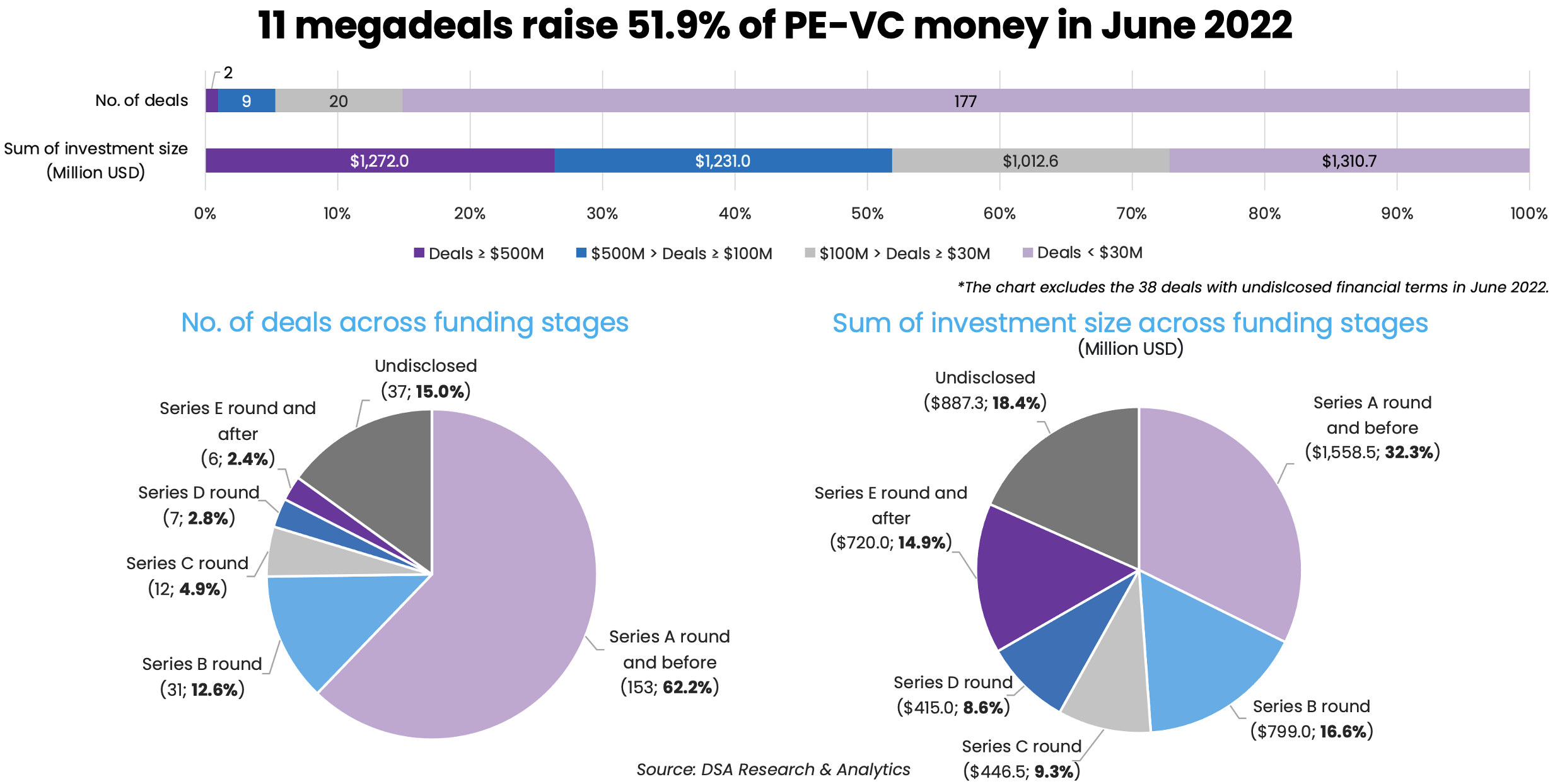 With a virus-induced global economic slowdown and stagnant IPO market, investors are showing more interest in early-stage startups compared with their near-IPO counterparts. Series A and earlier stages booked 153 deals, or 62.2% of the month's deal count, while the near-$1.5 billion capital raised at this funding stage accounted for 32.3% of the total deal value.
Biotech, software ride on tailwinds
Riding on the tailwinds of China's social changes ranging from its ageing population to the authority's pursuit of tech self-reliance, biotech, software, and semiconductor remained as the three most favoured sectors by venture investors with the completion of 32, 32, and 26 deals, respectively.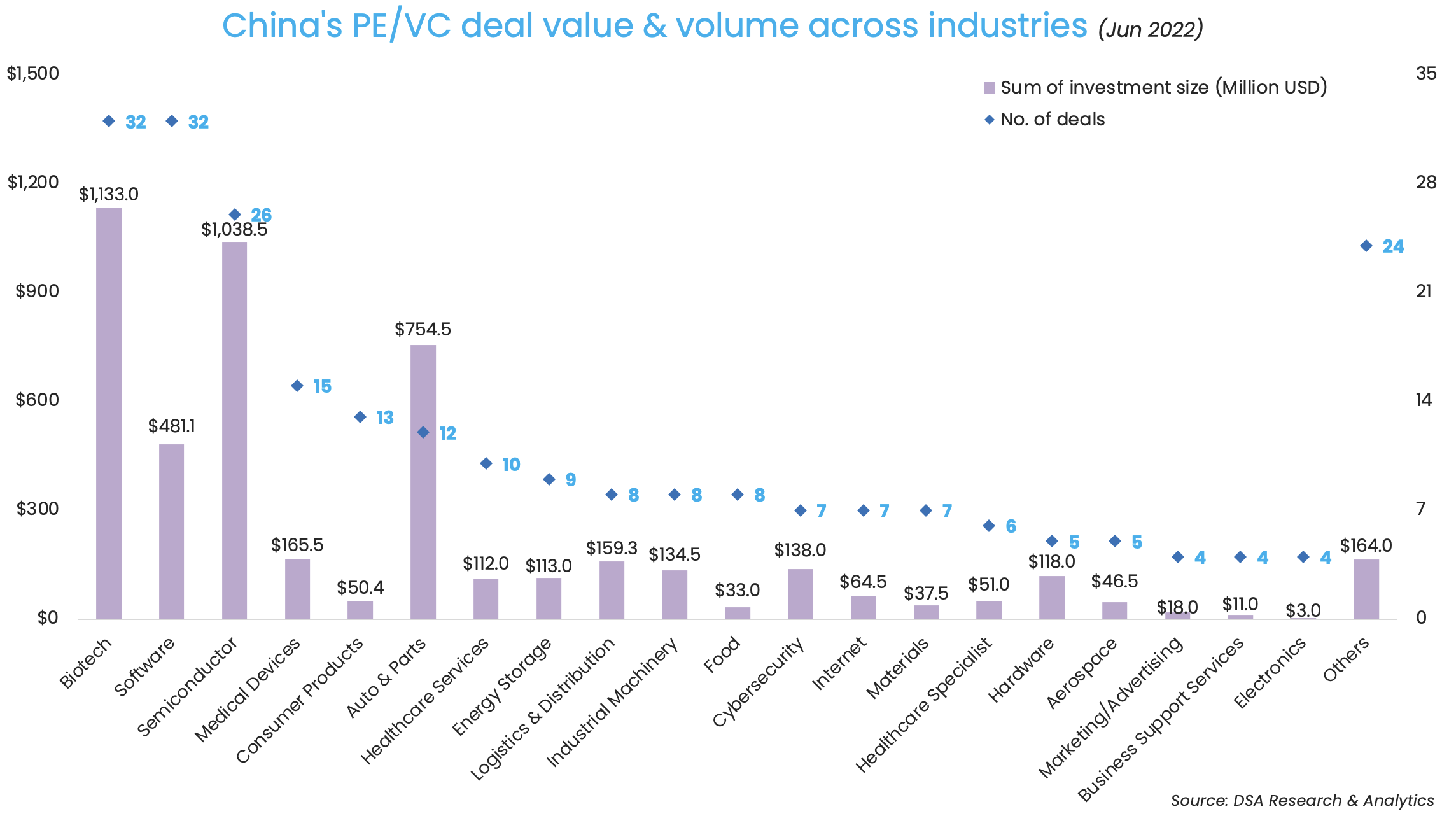 Although biotech and software were tied in deal count (32), the more capital-intensive, research-heavy biotech sector raked in over $1.1 billion in June, more than double the $481.1 million secured by software startups.
Besides MegaRobo's $300-million Series C round were another two biotech megadeals: a $142-million Series A round in Doma Biopharmaceutical to help the newly-launched startup build an integrated platform for incubating innovative drugs and disruption biotech; and a $100-million Series B round in Shenzhen-based gene sequencing developer Axbio.
Most biotech fundraisers completed their new funding rounds at the early stage, i.e., angel/seed, Series Pre-A, A, and B rounds, as the industry is still at its nascent stage with players making heavy investments in product R&D and market validation.
A few of them, such as MegaRobo, are looking to apply AI plus biotech, biomanufacturing, and synthetic biology in the development of even more frontier solutions for cancer treatment, environmental protection, cosmeceuticals, and beyond.
Style3D, a developer of 3D digital modelling software for apparel design, completed the only software megadeal in June. It secured nearly $100 million in a Series Pre-B+ round from investors including Hillhouse Capital's early-stage investment arm GL Ventures, as it planned to upgrade core technologies and move forward with its overseas expansion plans.
GL Ventures last month also backed another sizeable software deal. It invested in Shanghai-based industrial software startup Semi-Tech, which collected a combined $80.6 million across its Series A++ and Series B rounds to enable the smart manufacturing of various products used in semiconductor, rail transportation, electronic packaging, healthcare, and auto parts.
Like biotech, software companies in Greater China are still maturing with more recent fundraisers at their Series B funding stage or earlier. Across verticals, Software-as-a-Service (SaaS) is currently a more sought-after business model than software startups leveraging technologies such as AI, Internet of Things (IoT), augmented reality (AR) & virtual reality (VR).
GL Ventures, Sequoia China tie for first place
GL Ventures and Sequoia Capital China were tied for first place in the list of most active investors in June.
GL Ventures was a notch above Sequoia China as the total value of its participated deals reached $324.1 million, as compared to its rival's $252 million.
The Hillhouse-backed, two-year-old VC unit made more deals in June than in May, when it had backed six venture deals worth an aggregate of $173.6 million. It was the lead investor in five of the nine deals. GL Ventures participated in the $100-million Series Pre-B+ round in Style3D alongside Chinese asset manager CDH Investments, which was its only megadeal last month.
While it wrote more cheques to software startups, GL Ventures also made investments in the areas of biotech, smart agriculture, new materials, and robotic logistics & distribution solutions.
Tech investment heavyweight Sequoia China also stepped up its dealmaking effort in June, with participation in nine deals worth $252 million in total. That compares to its investments in four deals the month before.
It backed a Capital Today-led, $100-million Series D+ round in HAI ROBOTICS, a developer of AI-enabled robotic solutions for warehouses and factories. As its only megadeal in June, the round attracted other local investors including 5Y Capital, Source Code Capital, and 01VC.
Sequoia China, which has backed about 600 companies since its inception in 2005, also made new bets on biotech, SaaS, healthcare services, energy storage, and metaverse startups in June.
Most active investors in Greater China (June 2022)
| Investment company | No. of deals | Total value of participated deals (Million USD) | Lead | Non-lead |
| --- | --- | --- | --- | --- |
| GL Ventures | 9 | $324.1 | 5 | 4 |
| Sequoia Capital China | 9 | $252 | 6 | 3 |
| CICC and affiliates | 6 | $330 | 4 | 2 |
| IDG Capital | 6 | $210.5 | 5 | 1 |
| Source Code Capital | 6 | $167.5 | 2 | 4 |
| Fosun International and affiliates | 5 | $123 | 3 | 2 |
| Oriza Seed | 5 | $34.5 | 3 | 2 |
| CAS Star | 5 | $34.5 | 2 | 3 |
| BlueRun Ventures China | 5 | $32.5 | 5 | 0 |
| GAC Capital | 4 | $856 | 0 | 4 |
| *If one deal is backed by only two investors, we consider neither of the two investors as a lead investor. | | | | |
Note: In our monthly analysis for June 2022, we have put together detailed charts of prominent deals, active investors, deal stages, and the most attractive sectors that have bagged the maximum venture dollars in the Greater China region.
Our database only considers deals officially announced by the related investee, investor(s), and/or financial advisor, while information based on market rumours and news reports citing sources is excluded.
For a more detailed analysis, and to enable comparison between primary and secondary markets, DealStreetAsia has started tracking deals of all sizes since April 2020, as against considering only transactions worth more than $10 million earlier.
We have also introduced a standardised system for industry classification. It currently includes over 50 industries, as well as over 45 new economy and high-tech verticals, which will progressively increase to adapt to local market conditions in our closely watched regions of Greater China, Southeast Asia, and India.
DealStreetAsia Partner Content
'In an era of virtual dealmaking, stakeholders tend to be more transparent' – DFIN's Peter McMillan
Over half the deals in the next 3 months will be hosted virtually according to 79% of the respondents in DFIN's DealMaker Meter Survey. Peter McMillan, Head of Sales for APAC at DCIN speaks of the advantages of virtual dealmaking as well as the pitfalls to be avoided, in an exclusive interview with DealStreetAsia
Bring stories like this into your inbox every day.
Sign up for our newsletter - The Daily Brief