India Deals Barometer Report: Indian startup funding almost halves to $2b in June, hits 13-month low
Fundraising by Indian startups almost halved year-on-year in June to about $2 billion across 127 private equity and venture capital transactions, as mega-deals dropped sharply amid the market slowdown and escalating economic volatility, show proprietary data compiled by DealStreetAsia.
Last June, startups raised a whopping $3.83 billion in funding through 152 transactions even as the deadly second wave of COVID19 raged in India.
The deal value this June was also marginally lower compared with May, when startups had collectively scooped up $2.2 billion across 127 transactions. This is also the lowest amount raised by startups so far this year, which started with a blockbuster $4.4-billion fundraise in January.
Deals worth over $100m in June
| Startup | Headquarter | Investment Size (USD) | Investment Stage | Lead Investor(s) | Industry | Verticals |
| --- | --- | --- | --- | --- | --- | --- |
| LeadSquared | Bengaluru | 153,000,000 | Series C | WestBridge Capital | Software | SaaS |
| Cred | Bengaluru | 140,000,000 | Series F | GIC | Financial Services | Fintech |
| Shubham Housing Development Finance | Gurugram | 112,000,000 | Undisclosed | British International Investment (BII), LeapFrog Investments, Asian Development Bank (ADB), Premji Invest | Financial Services | Fintech Lending |
| PhysicsWallah | Noida | 100,000,000 | Series A | Westbridge, GSV Ventures | Education/Training | Edtech |
Mega-deals, comprising deals worth at least $100 million, also halved in June to four from eight in May, the data reveal. Bengaluru-based sales automation platform LeadSquared led the pack with a $153-million Series C round from WestBridge Capital at a valuation of $1 billion. Other startups to have raised $100-million plus rounds in the month include fintech startup Cred ($140 million), Shubham Housing Development Finance ($112 million) and edtech platform PhysicsWallah ($100 million).
While only one startup made it to the unicorn club (startups valued at $1 billion or above) in May, at least three bagged the unicorn tag in June, including LeadSquared, beauty products retailer Purplle and PhysicsWallah.
Financial services continues to draw investors
Broken down by industry, financial services, comprising fintech and fintech lending startups, topped the fundraising charts with a total of $745 million in its kitty across 32 transactions. Cred raised the biggest round of $140 million as part of its Series F financing led by Singapore's GIC, and joined by Sofina, Tiger Global, FalconEdge and Dragoneer.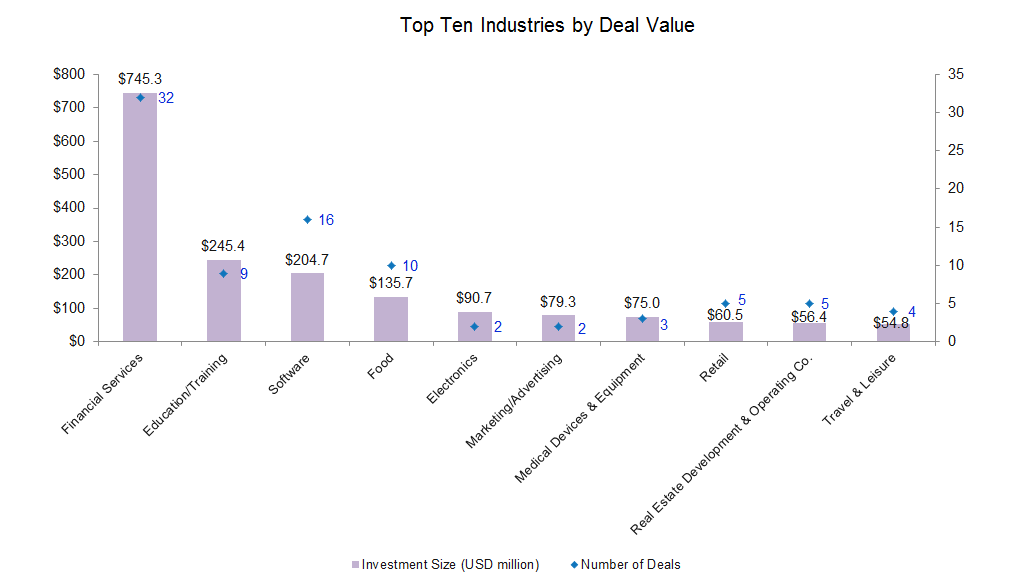 Fintech has emerged as one of India's fastest-growing sectors, evincing interest from all stakeholders, both within and outside the country. The Indian fintech market is expected to reach $150 billion in valuation by 2025, Minister of State for Finance Pankaj Chaudhary said at a media conference in June.
Other fintech startups that secured funding during the month include FlexiLoans, Kissht, Slice, Solv, GetVantage, Innoviti Payment Solutions, Siply and WeRize, among others.
The education industry, which has been the worst hit post the opening of schools and colleges, garnered $245 million across nine transactions. PhysicsWallah's $100-million Series A round helped push the industry to the second spot at a time investors have adopted a cautious stance towards the sector. Several edtech companies, including BYJU'S, Unacademy Group, Lido Learning, Vedantu and others have laid off employees in the past few months in a bid to tackle student dropouts and rising operational costs.
Software, which led fundraising in May, slipped to the third position with a total of $204.7 million in funding across 16 transactions. Together the top three industries — financial services, education/training and software — raised a total of $1.2 billion, accounting for about 60% of the total deal value in June.
Early-stage deals push up volumes
Early-stage deals comprised more than 68% of the total deal volume in the month. Companies at the pre-seed and seed stages raised a total of $89 million across 45 deals in June, recording a jump of about 28% in value over May.
Startups that raised seed rounds in June include credit management platform CheQ, no-code mobile app building platform Plobal Apps, proptech startup Ivy Homes, decentralised finance (DeFi) protocol MoHash, climate career platform Terra.do, banking app Mewt, SaaS procurement startup Spendflo, online test preparation platform Toprankers and B2C solar products startup SolarSquare, among others.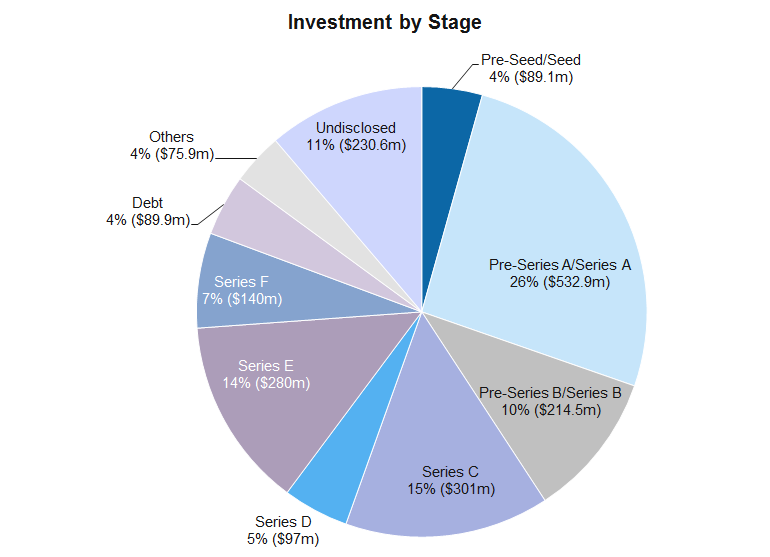 The pre-Series A and Series A deals also rose significantly to touch $533 million in the month across 42 deals. In comparison, the number of pre-Series A and Series A deals stood at 29, with a deal value of $166.3 million in May.
Companies at Series B and above stages grabbed the larger share of the deal pie by collectively raising about $1 billion across a mere 19 transactions, accounting for about 50% of the total fundraise in June. This is, however, a drop of about 23% over May, when growth-stage deals mopped up $1.3 billion across 26 transactions.
Most active investors
Interestingly, Better Capital, a venture capital firm run by Silicon Valley entrepreneur Vaibhav Domkundwar, emerged as the top investor in June, along with LetsVenture and Venture Catalysts, after striking eight deals each. Early-stage venture capital firm Better Capital led investments in Vendekin Technologies, Zorp, Ivy Homes, DPDzero, BiofuelCircle and Mekr. Last November, the company raised its maiden fund of $15.28 million to scale its pre-seed and seed investment strategy.
LetsVenture led funding for startups, including Exprto, PMaps and PumPumPum, while Venture Catalysts, along with its early-stage fund 9Unicorns, led funding in Hesa, G.O.A.T Brand Labs and NOTO.
Meanwhile, Sequoia Capital and Tiger Global stood second with six investments each while Accel and Inflection Point Ventures occupied the third spot with five investments each.
DealStreetAsia Partner Content
'In an era of virtual dealmaking, stakeholders tend to be more transparent' – DFIN's Peter McMillan
Over half the deals in the next 3 months will be hosted virtually according to 79% of the respondents in DFIN's DealMaker Meter Survey. Peter McMillan, Head of Sales for APAC at DCIN speaks of the advantages of virtual dealmaking as well as the pitfalls to be avoided, in an exclusive interview with DealStreetAsia
Bring stories like this into your inbox every day.
Sign up for our newsletter - The Daily Brief