SE Asia Deals Barometer Report: Startup fundraising lowest so far this year in June at $1.4b
Dealmaking in Southeast Asia declined slightly by value month-on-month in June to $1.4 billion — the lowest so far in 2022 — as mega-deals were scarce and deal volume remained muted, proprietary data compiled by DealStreetAsia showed.
There were 89 venture capital and private equity deals in the region last month, slightly higher than the 82 deals tallied in May, but deals worth less than $10 million dominated the June table.
While May saw 82 deals raise $1.42 billion, there were 94 deals worth about $1.99 billion in April. In March, 123 deals raised $1.46 billion. Startups had also raised $1.96 billion from 98 transactions in February and $1.7 billion from 128 deals in January.
The total startup funding in Southeast Asia in 2022, as of end-June, stands at $9.93 billion from at least 614 transactions.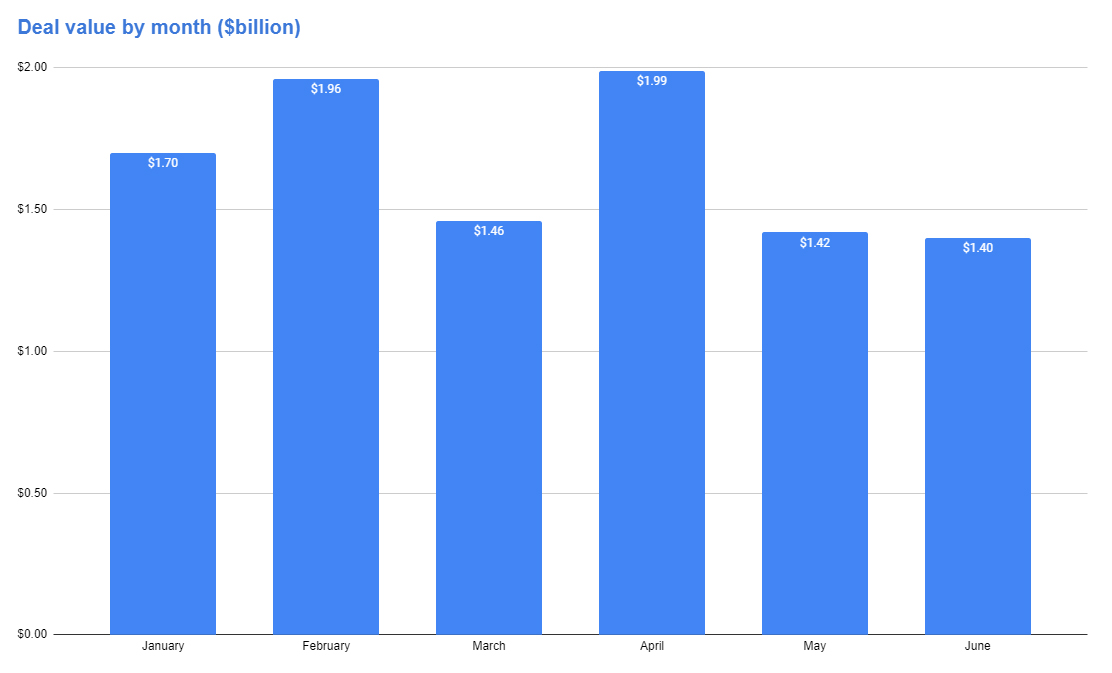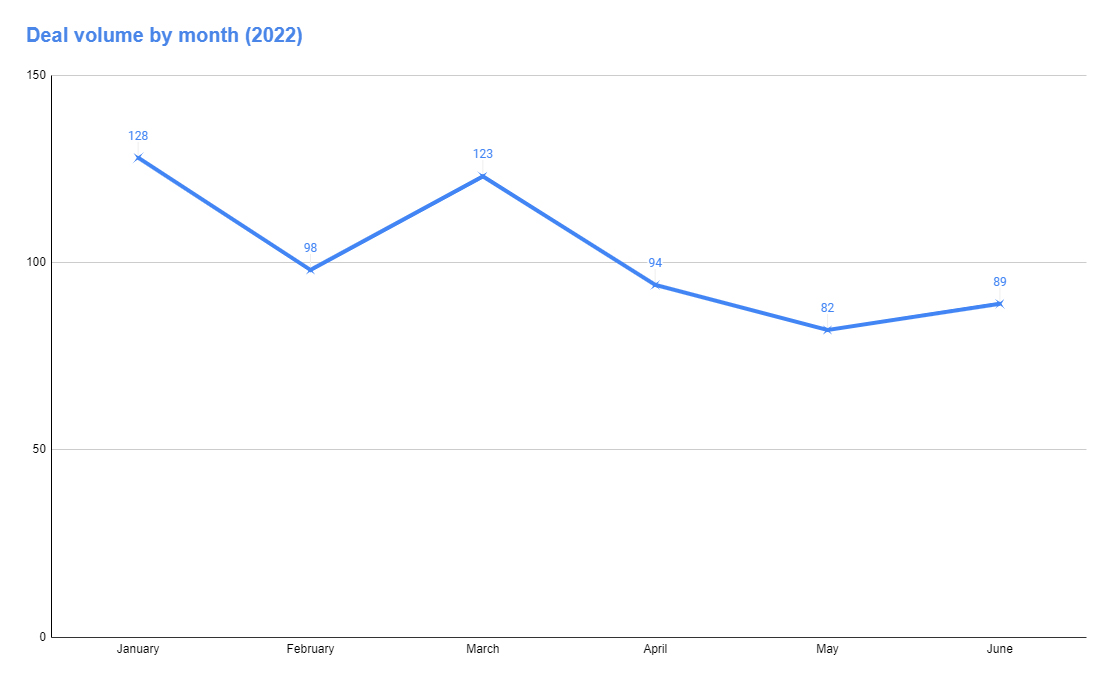 Not many mega-deals in June
Big-ticket transactions remained scarce in June as the region only saw three mega-deals that cumulatively raised $447 million. In May, two mega-deals raised $400 million in total while April saw three mega-deals raising a combined $1.05 billion.
Singapore's Envision Digital was the top fundraiser in June. The AI and Internet technologies software provider raised $210 million in a Series A funding round anchored by Sequoia China and backed by GIC.
Tessa Therapeutics, a clinical-stage biotech company backed by Singapore state investor Temasek, raised $126 million in a Series A funding round in June. The deal, which was led by US-based healthcare and technology investor Polaris Partners, was the second biggest last month.
Indonesia's crypto wallet and trading platform Pintu also bagged $110.8 million in a Series B round from various investors, including Intudo Ventures, Lightspeed, Northstar Group and Pantera Capital, in June, making it the month's third-largest deal.
The three mega-deals ($100m and above) of June 2022
| Startup | Headquarters | Investment Size | Stage | Lead Investor | Vertical |
| --- | --- | --- | --- | --- | --- |
| Envision Digital | Singapore | $210,000,000 | Series A | Sequoia Capital | Greentech |
| Tessa Therapeutics | Singapore | $126,000,000 | Series A | Polaris Partners | Healthtech |
| Pintu | Indonesia | $110,784,144 | Series B | Hedosophia | Fintech |
Singapore takes the top spot in value, volume
Private companies in Singapore dominated Southeast Asia's funding scene in April, both in the number of deals and total amount raised. DealStreetAsia's data showed 41 startups in the city-state amassing about $704 million in total — about 50% of the region's combined investments.
Two of the three mega-deals in June took place in Singapore — Envision Digital's $210-million Series A and Tessa Therapeutics's $126-million funding.
Indonesia trailed Singapore in terms of deal volume and value, with 24 transactions that raked in $579 million. In May, Indonesian startups raised the most amount of funding at about $898 million from just over 28 deals.
Vietnam climbed to the third spot from fifth a month earlier, with eight deals raising a total of $87.8 million. The largest deal that Vietnam saw last month was the $50-million Series B funding in e-commerce solutions provider OnPoint.
Malaysia and Thailand each raised at least $9.7 million in funding while the Philippines secured $8.6 million from eight deals. Myanmar saw one funding activity that raised $5 million — internet service provider Frontiir's funding from investment firm Alliance Asia Holdings.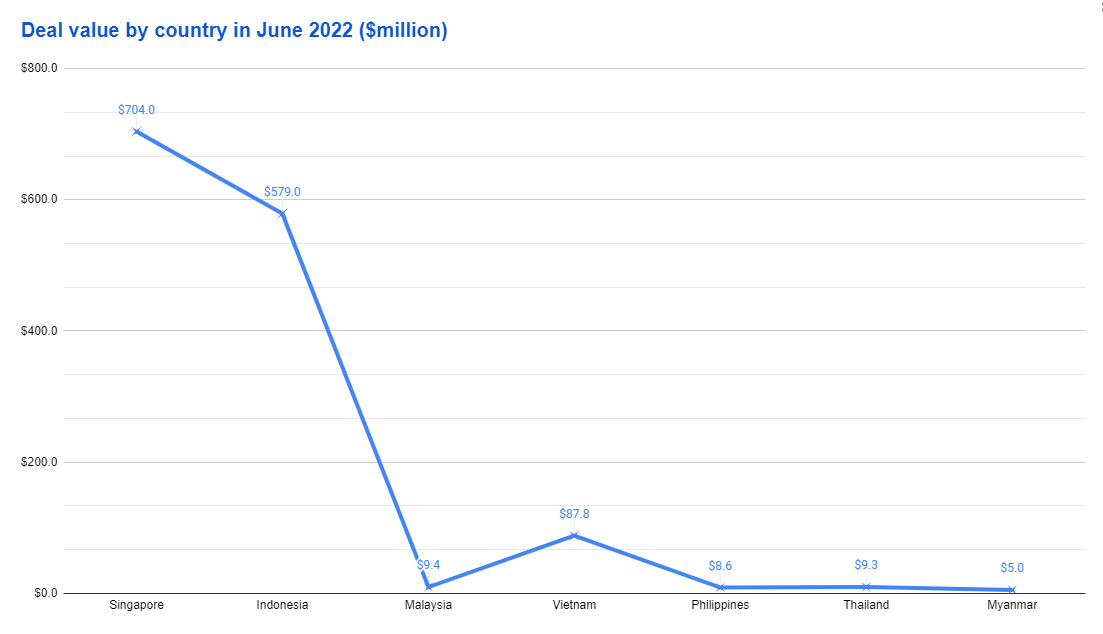 Fintech continues its perch on top
Startups in the financial technology sector were involved in 20 deals that raised at least $422.8 million in total funding, making it the top industry in terms of volume and value.
Pintu's $110.8-million Series B funding round was the largest in the fintech space during the month. Another Indonesian fintech startup, insurtech firm Super, also raised $70 million while e-payment company Aino Indonesia raised $60 million in June to help push fintech on top of the sector leaderboard.
In the first three months of this year, one in four dollars of equity funding went to fintech, according to DealStreetAsia DATA VANTAGE's SE Asia Deal Review: Q1 2022.
E-commerce startups, meanwhile, raised $246 million from 14 deals to take the second spot sector-wise.
ShopBack's $80-million Series F was the largest e-commerce-related deal during the month. The Singapore-based cashback platform secured fresh funding from a host of investors led by Asia Partners.
Green technology, also known as clean technology, saw three deals that raised a combined $210 million while healthtech startups signed up two deals that secured an aggregate of $136.5 million.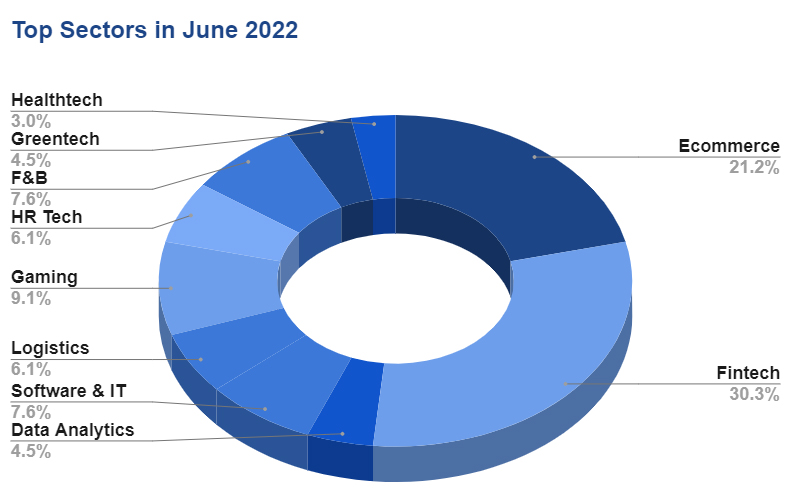 Seed rounds lead deal volume
DealStreetAsia's compilation showed that early-stage fundings continued to dominate Southeast Asia in June in terms of deal volume, with seed taking the lead.
There were 24 seed rounds, 14 Series A rounds, 13 Series B, and 11 pre-seed rounds. June also saw one Series F funding — ShopBack's $80-million round.
Other rounds include debt financing, convertible notes, angel and corporate rounds.
DealStreetAsia Partner Content
'In an era of virtual dealmaking, stakeholders tend to be more transparent' – DFIN's Peter McMillan
Over half the deals in the next 3 months will be hosted virtually according to 79% of the respondents in DFIN's DealMaker Meter Survey. Peter McMillan, Head of Sales for APAC at DCIN speaks of the advantages of virtual dealmaking as well as the pitfalls to be avoided, in an exclusive interview with DealStreetAsia
Bring stories like this into your inbox every day.
Sign up for our newsletter - The Daily Brief