Startups founded or co-founded by women in Southeast Asia raised $2 billion in equity funding in 2022, accounting for 12.6% of all private capital raised during the year, according to DealStreetAsia – DATA VANTAGE's latest report on the gender funding gap in the region.
Funding for female-founded startups – defined as startups with at least one female founder – dropped 32% last year from 2021's $4.43 billion. It is noteworthy that the total equity funding raised by all startups in 2022 dropped 32% to nearly $16 billion from 2021's record highs.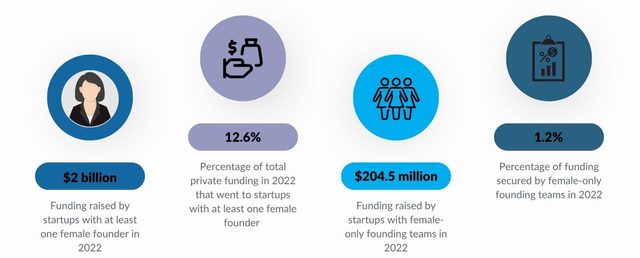 Startups with at least one female founder accounted for a 17.2% share of equity and debt fundraising in 2021. However, the 2022 edition does not cover debt funding and focuses purely on venture capital (VC) funding.
Even excluding 2021's outlier Grab, which had raised $2.3 billion in equity and debt funding during the year, the 2022 funding total for female-founded startups was marginally lower than the previous year ($2.13 billion ex-Grab). 
Founders that DealStreetAsia spoke to for the report pointed out how the VC industry is currently geared towards maintaining the status quo.
"… just last year, only 23% of VC firms in Southeast Asia had female partners. With the industry's overall low turnover rate and preference to maintain the status quo, there is no impetus to shift the gender imbalance. Inevitably, this has had ripple effects as firms tend to back founders who look, think, and act like them," said care and health services platform Homage founder and CEO Gillian Tee.
Still, there is a reason for cheer. Startups with only female founder(s), referred to as female-founding teams in the report, raised higher sums in 2022 and improved their share of total capital raised. 
The report also looks at fundraising by female-founded startups with a woman at the helm. These startups accounted for 5.2% of all private funding secured in 2022.
With a $960.6-million haul, Indonesia overtook Singapore to become the favoured home base of female-founded startups last year. However, it was ranked second in terms of total deals closed during the year, losing out to the city-state.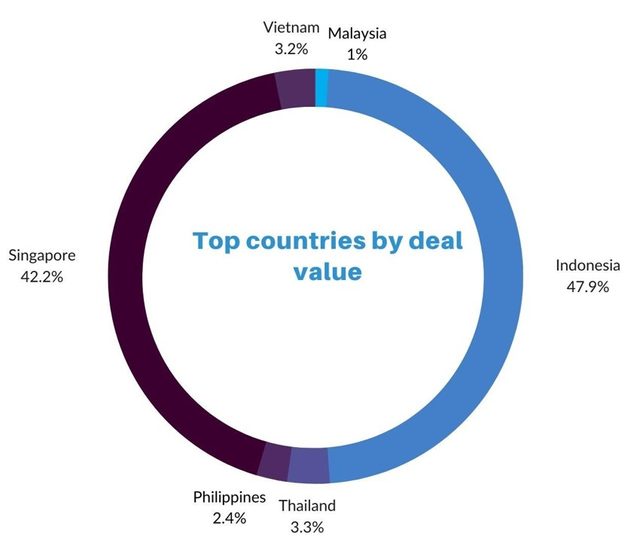 E-commerce startups took the lead in terms of capital raised by female-founded startups in 2022, securing a total of $488.6 million. Fintech was a close second with $475.4 million in proceeds.
The report features interviews with several female founders who share the challenges and biases they have experienced.
"I once had a VC ask my co-founder in my presence why I was doing the talking instead of him," said Aruna co-founder and chief sustainability officer Utari Octavianty.
"As a female solo founder, it is even worse. I sometimes got ridiculous questions. 'Are you married? What is going to happen if you decide to have children? How do you deal with stress? Do you have someone to talk to about it?'" said EQUO co-founder Marina Tran-Vu.
With investors currently tightening their purse strings amid a correction in the market, female founders could face tougher times ahead.
"Peer-reviewed research shows that recessions and downturns hit women and minorities harder. Funding is not an exception to this rule," pointed out Docosan co-founder and CEO Beth Ann Lopez.
---
Female Founders in Southeast Asia 2022 provides:
Data on fundraising by female-founded startups in 2022 and comparison with 2021
Fundraising data by countries, verticals and funding stages
Deal volume by cities, verticals and funding stages
Data on fundraising by startups with only female founder(s)
Data on fundraising by female-founded startups with a female CEO
A list of top dealmakers among female-founded startups
Interviews with female founders on their entrepreneurship journey and challenges