SE Asia Deals Barometer Report: Startup fundraising falls to five-month low of $1.42b in May
Dealmaking in Southeast Asia dropped by almost 30% month-on-month in May to $1.42 billion — the lowest so far in 2022 — due to a scarcity of megadeals, proprietary data compiled by DealStreetAsia show.
There were only 82 venture capital and private equity deals last month, which was also the lowest deal volume in January-May 2022. Only two megadeals — investments worth at least $100 million — were recorded in the month, which raised a combined $400 million. There were twelve deals where the amount raised was not disclosed.
The fundraising in May was lower than the $1.99 billion that private companies in Southeast Asia raised from 94 deals in April. In March, there were 123 deals that raised $1.46 billion. Startups had also raised $1.96 billion from 98 transactions in February and $1.7 billion from 128 deals in January.
Total startup funding in Southeast Asia in 2022, as of end-May, stands at $8.53 billion from at least 525 transactions.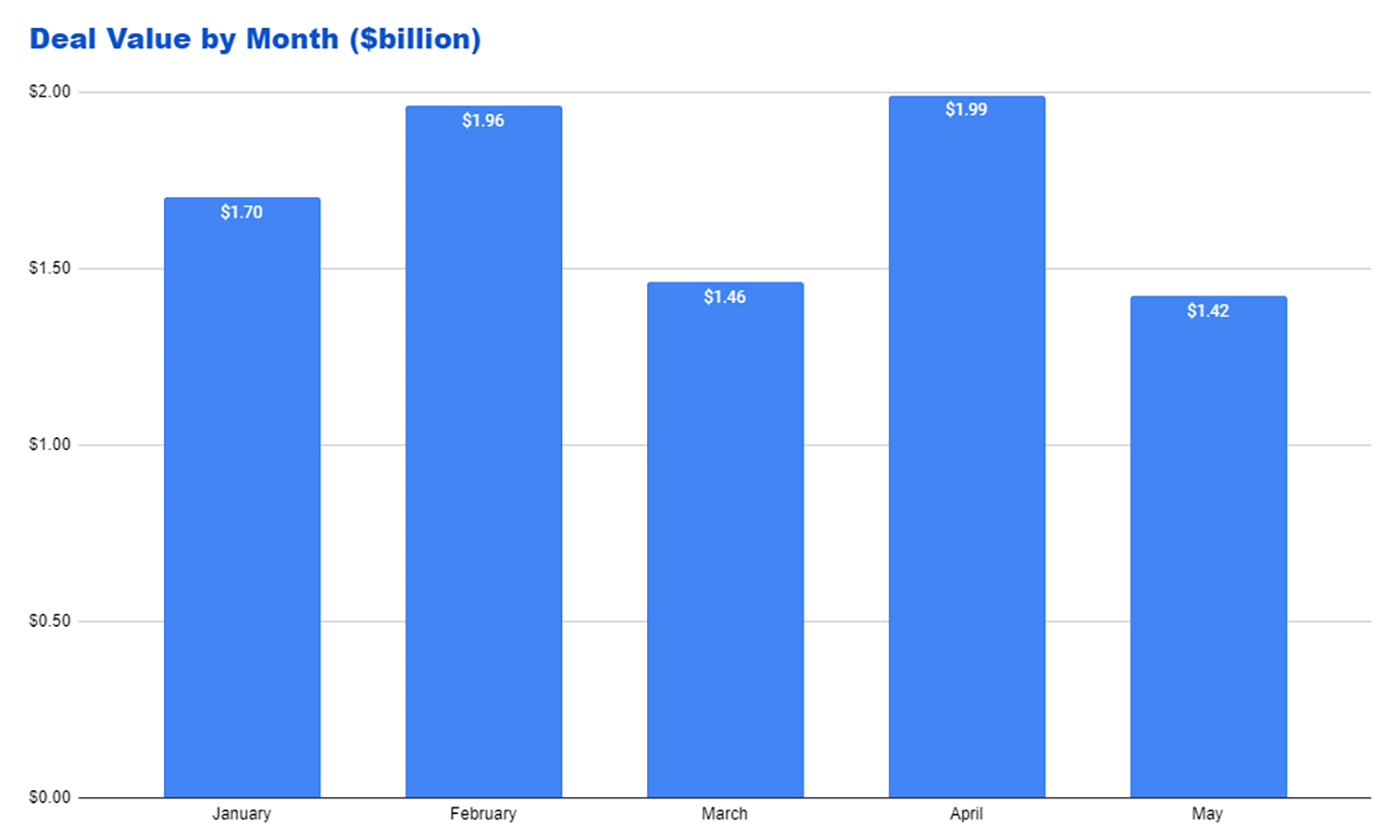 Megadeals plunge in May
A major reason for the drop in overall funding in May was the lack of big-ticket deals. The only two megadeals of May cumulatively raised $400 million, which was less than that in April when there were three megadeals that raised a combined $1.05 billion.
Indonesia's Xendit was the top fundraiser in May. The digital payments platform raised $300 million in a Series D funding round led by global investors Coatue Management and Insight Partners. The round was also joined by Accel, Tiger Global, Kleiner Perkins, EV Growth, Amasia, Intudo, and Justin Kan's Goat Capital.
Singapore eyewear house Neso Brands raised the second-biggest investment at $100 million. Neso Brands said it will partner and invest in consumer eyewear brands around the world and grow these brands by leveraging synergies across the Lenskart Group to accelerate international expansion.
The top five deals of May 2022
| Startup | Headquarters | Funding Amount | Stage | Lead Investor/s | Vertical |
| --- | --- | --- | --- | --- | --- |
| Xendit | Indonesia | $300,000,000 | Series D | Coatue, Insight Partners | Fintech |
| Neso Brands | Singapore | $100,000,000 | Seed | | Retail |
| Moladin | Indonesia | $95,000,000 | Series B | DST | Sequoia Capital India, Northstar Group |
| Bibit.id | Indonesia | $80,000,000 | Venture – Series Unknown | GIC | GIC, Prosus Ventures |
| FLN | Indonesia | $69,999,968 | Venture – Series Unknown | Undisclosed | Undisclosed |
Indonesia tops in money raised, SG leads in deal volume
Private companies in Indonesia raised the most amount of funding in May at about $898 million from just over 28 deals. Singapore startups, on the other hand, were involved in most transactions (43) but raised only $454 million.
Indonesia's lead was propelled by the $300-million Series D funding of Xendit, a unicorn.
In April, Indonesian startups had raised $419 million from 21 transactions. Singapore was top in April, in terms of volume and value, with 55 startups amassing $1.2 billion in total investments.
Last month, however, the city-state only saw one megadeal — the $100 million fundraising by Neso Brands — from among the 43 transactions. The rest of the deals were only worth $58 million and below.
The Philippines remained in the third sport in terms of deal value, with local startups amassing $36 million from three transactions.
These included the $30 million that fiat and crypto wallet services provider Coins.ph raised in a Series C financing led by Ribbit Capital. E-commerce startup BuiltaMart and cloud kitchen player Kraver's Canteen raised $3 million each during the month.
Thailand-based startups scored $26.3 million in funding from three deals, including the $23.5 million that Thai agritech startup Freshket raised in its Series B funding round.
Vietnam saw four transactions in May but only one company disclosed financial details – edtech startup Educa Corporation, which raised $8 million from Jungle Ventures.
Marketing tech startup KOLHUB raised $266,000 to become the only reported funding deal in Malaysia last month.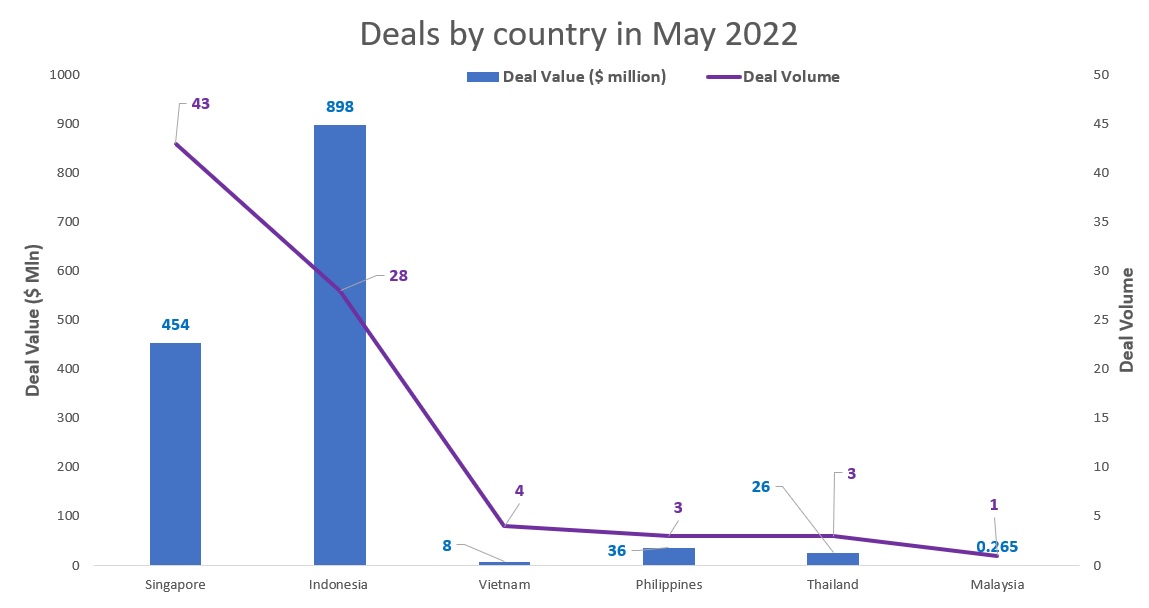 Most funded sectors: Fintech, e-commerce
Startups in the financial technology (fintech) and e-commerce sectors continued to corner the most funding and the most number of deals in May. DealStreetAsia's data showed fintech firms were involved in 20 transactions that raised a combined $601 million, with Xendit's $300-million funding leading the pack.
The figures, however, pale in comparison to the $1.3 billion in total funding that fintech players raised in April from over 26 deals.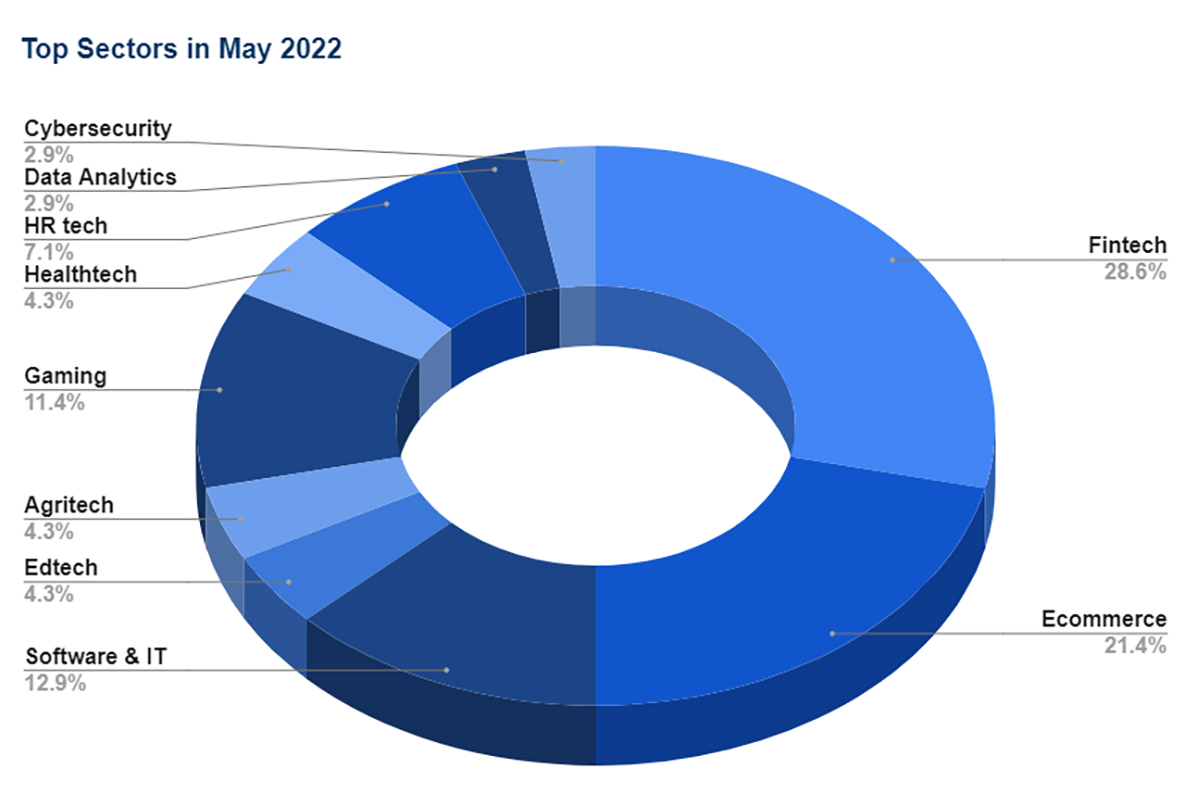 In the e-commerce space, startups saw 15 transactions last month that raised a total of $245 million.
Moladin, an Indonesia-based marketplace for used cars and motorbikes, raised the biggest investment in e-commerce at $95 million, in a Series B funding round led by DST Global.
Software & IT posted $175 million in total funding from nine deals while cybersecurity scored $51.7 million. Edtech, agritech, gaming, healthtech, data analytics, and HR tech comprised the top 10 sectors in terms of the number of deals.
In terms of funding rounds, investments in Southeast Asia were largely made in startups at early stages, with Seed and Series A rounds talking up the bulk of the transactions with 23 and 19 deals, respectively.
DealStreetAsia Partner Content
'In an era of virtual dealmaking, stakeholders tend to be more transparent' – DFIN's Peter McMillan
Over half the deals in the next 3 months will be hosted virtually according to 79% of the respondents in DFIN's DealMaker Meter Survey. Peter McMillan, Head of Sales for APAC at DCIN speaks of the advantages of virtual dealmaking as well as the pitfalls to be avoided, in an exclusive interview with DealStreetAsia
Bring stories like this into your inbox every day.
Sign up for our newsletter - The Daily Brief